Cake mix is typically mixed with either water or milk. However, you can expect better results when using milk because it can make the cake more moist and flavorful. Because Whole Milk contains a higher percentage of fat than other liquids such as water, using milk instead of other liquids such as water can result in a softer and richer end product. Milk also contains more protein, giving your cake a finer crumb texture.
Instead of using water, using actual cream can enhance this effect while contributing to a better taste of the finished product. This brings us to another advantage of using milk instead of plain water. The cream is mostly fat, whereas milk can have 4% protein.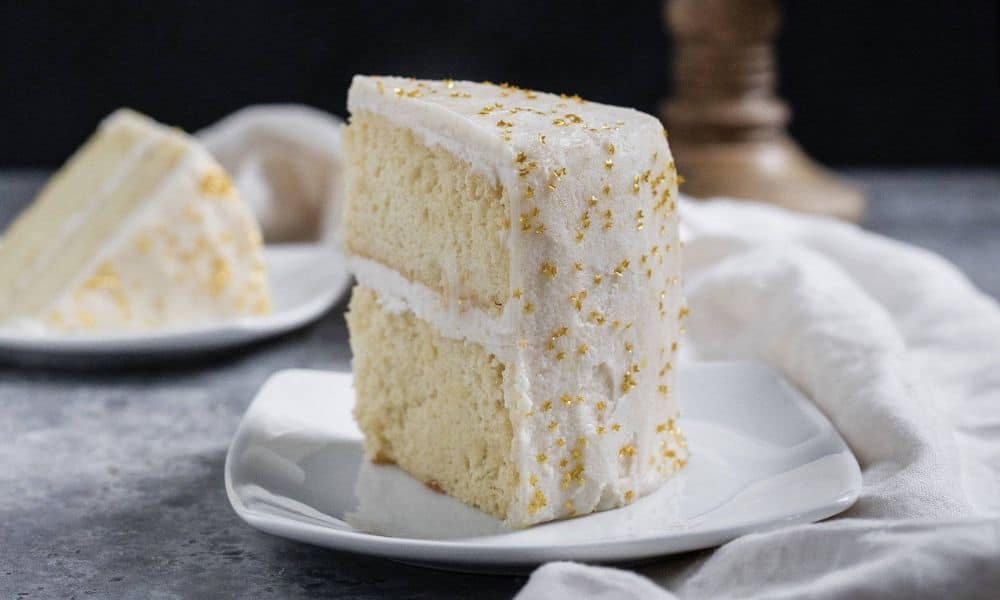 Boxed mixes arose from the need to create a food product with few ingredients quickly. Boxed cake mixes assist harried homemakers and frazzled fathers in whipping up a delicious dessert in a matter of minutes using readily available ingredients. While most recipes call for water, you can use a variety of other tasty liquids with good results.
Can I Substitute Milk for Water in Cake Mix?
Yes, you can use milk instead of water when making cake mixes; however, the cake may be slightly drier than if made with water. Keep in mind that milk will add calories and slightly alter the nutrition. Using milk instead of water in a cake mix increases the density and body of the finished product.
Because milk contains approximately 88 percent water, We can use it in place of water ounce for ounce. Cakes made with milk, on the other hand, taste richer, denser, and moister because milk contains about 3% fat. Milk also adds calcium and vitamin D to the cake and more calories, but it has no discernible effect on the flavor. Skim milk has fewer calories and fat in the final product, whereas whole milk has more.
Here are Some Simple Substitutions and Additions to the Cake Mix:
Use an extra egg: Most boxed mixes require three eggs and four for a richer-tasting moister cake. This is a tip I use almost every time I make a boxed cake mix.
Dairy substitute: Dairy should be used in place of the water specified on the package. Buttermilk is my favorite for that extra tang; dairy adds fat and makes the cake taste more homemade.
Replace water with other liquids: If you're not using dairy, substitute another liquid for added flavor. Make a deep, dark chocolate cake with coffee or a light, bright yellow cake with ginger ale. To get the added fat, combine 3/4 cup liquid and 1/4 cup sour cream or buttermilk.
Include a mix-in: Mix-ins always make a cake more unique and taste more homemade. Cream of coconut plus shredded coconut is a favorite combination of mine. Fold in the remaining mix-in, up to 1 cup, last.
Go all-citrus: Make an all-citrus cake by replacing the water with the juice and adding plenty of zest. Orange, lemon, or lemon-lime are all good options. We can add lemon and lime zest to a cake made with lemon-lime soda as the liquid.
Add extracts: A little more vanilla never hurts, and add an extra teaspoon of extract to enhance the flavor. Vanilla is always a good choice, but any extract can improve a flavor. Why not add a teaspoon of almond extract to the strawberry cake mix?
Incorporate some pudding into the mix: Combine the cake mix with a small box of pudding mix. (Do not prepare the pudding.) The mixture adds flavor, moisture, and a denser texture.
Create a filling: A filling in the center screams (or, at the very least, politely says) "homemade!" A cup of mini chocolate chips, 1/2 cup light brown sugar, and 1/2 cup chopped pecans make a simple one. Fill a Bundt pan halfway with cake batter, and place the filling mixture on top. Bake the remaining cake batter over the filling.
Frost with homemade frosting: I'll admit that I like canned frosting—but only on graham crackers, not cakes. Top a cake mix cake with homemade frosting to make it more special. A homemade frosting does not have to be fancy or time-consuming, but it will elevate your cake to the next level. Use Fluffy Mocha Frosting above on a devil's food or yellow cake.
Can I Add Dry Pudding to Cake Mixes?
Dry pudding mixes contain only sugar, thickeners, and flavorings, but they improve the taste and texture of cakes when added to the mix. After company executives noticed that many of their baking contest winners used dry pudding mixes in their prize-winning desserts, a manufacturer began adding dry pudding to its cake mixes. Choose a pudding flavor that complements the boxed cake mix to use pudding to enhance it successfully.
Adding Pudding to the Mix
Pour a small amount of instant pudding mix into the bowl of your stand mixer or a bowl if you want to add pudding to a cake mix. Before adding the wet ingredients, combine the dry cake mix and stir it in. Use a cake mix that does not include pudding; read the package carefully because many mixes already include dry pudding ingredients.
Try the End Results
Adding pudding to a cake mix does not significantly change the flavor, but it does aid in creating a moist, flavorful cake. Cakes containing instant pudding may also last longer. Because of these considerations, a pudding mix is ideal for sheet cakes, quick bread, and tube or bundt cakes. When using a thick filling or heavy frosting, pudding mixes don't work as well; your cake may become too heavy and even wet.
Optional Flavors
Instant vanilla pudding has a neutral flavor that goes well with almost any cake mix and with white, yellow, carrot, spice, and strawberry-flavored cakes. Lemon pudding goes well with lemon or orange cakes, and chocolate pudding goes well with any chocolate-flavored cake.
When adding pudding to a cake mix for the first time, follow the manufacturer's instructions exactly for the number of eggs and oil/water proportions. Mix the ingredients lightly on low speed to avoid toughening the cake. The cake will take a little longer to bake but start checking it 5 minutes before you think it's done. Remove from the oven when a toothpick inserted into the center comes out with moist crumbs. Allow at least 15 minutes for the cake to cool before removing it from the pan. If the cake is too moist, try cutting back on the oil the next time. If you're using a pudding mix, leave out the sour cream. Add real vanilla, almond, or lemon extracts for a homemade flavor. You can also use melted butter in place of some of the oil.
What is the Impact of Using a Milk Substitute?
Milk makes several important contributions to the final product of a baking recipe. First, milk adds moisture to a recipe by interacting with the dry ingredients. It also influences the final texture of your baked good. Another critical factor? Milk's fat content enhances the flavor of baked goods.
You can still make that delicious recipe by using a milk substitute, whether baking a cake or muffins, preparing a loaf of banana bread, or making pancakes for breakfast. Some substitutions may result in a richer final product due to higher fat content, or even a cake or muffin with more moisture than you're used to. If you use these substitutions wisely, you'll be able to bake something delicious.
What is the Effect of Adding Applesauce to Cake Mix?
Applesauce is an ingredient in many cake recipes and is commonly added to boxed cake mixes. Some recipes benefit from applesauce's moisture, sweetness, acidity, and fresh fruit flavor. It can be added as a supplement to a regular cake or used to replace some or all of the fat or liquids.
Flavor
The flavor of applesauce is arguably the most obvious reason for adding it to cake mix. Too white or yellow cakes, applesauce adds a pleasant tang and depth of flavor. It evokes the flavor of caramel apples in butterscotch or caramel-flavored cakes, a pleasantly nostalgic childhood memory. In spice cakes or gingerbread, applesauce complements the warm spices, making the finished cake even more aromatic. The delicate apple flavor is overpowered by the taste of the cake's other flavoring ingredients in more strongly flavored cakes, particularly rich chocolate cakes.
Moisture
Adding applesauce to a cake batter also results in a moister, richer crumb. This is why, even though We cannot taste it, bakers frequently include it in chocolate cakes. To compensate, reduce your other liquids, so if your recipe calls for 1 1/3 cups of liquid, use 2/3 cup regular liquid and 2/3 cup applesauce. If you do not reduce the liquids, the cake will be dense and tough after baking.
Substitutions
We can use applesauce instead of oil or melted butter in your cake recipe, reducing the total fat and calories in your recipe and making it more nutritious. Cakes made entirely of applesauce will be slightly denser and chewier, so some bakers prefer to use only half the oil. If you're baking for vegetarians or allergy sufferers, We can use applesauce instead of eggs or milk in a cake mix. Using applesauce instead of milk has little effect on the final product. Using applesauce instead of eggs makes the cake chewier, but adding an extra tablespoon of oil improves the texture.
Other Purees
Applesauce is the most versatile addition to cake mixes due to its light flavor, low cost, and ease of availability, but We can use other fruit purees in similar ways. Pumpkin puree complements chocolate or spice cakes and can be used in place of all other ingredients. We can also use tomato puree to add moisture and tang to chocolate cakes. If you have pear puree, you can substitute it for applesauce. We can add finely shredded zucchini to cake mixes for extra moisture, but We should peel light-colored cakes. Vegetable purees, such as baby food, can be added to any cake to add moisture and nutrition.
How to Replace Water with Soda in a Cake Mix?
Cake mixes are a quick and easy dessert option for days when making something from scratch is not an option. Most home bakers know a few ways to alter the mix, improve flavor and texture or reduce fat and calories. Using soda in the mix can achieve these goals, depending on whether it is used to replace only the water or the eggs and oil.
Prepare the cake mix as usual, but use soda instead of the water specified on the box. The soda bubbles provide additional leavening, causing the cake to rise higher and have a lighter texture.
Use the soda to give the cake a complementary flavor. Cola and root beer, for example, go well with chocolate cake, whereas cream soda or lemon-lime soda go well with white or yellow cakes.
Reduce the fat in a cake by replacing the oil, eggs, and water with soda. The crumb will remain tender and moist, but it will be slightly chewier than usual. Instead of regular soda, use diet soda to reduce the total number of calories in the cake.
Bake the modified batter in cake or muffin pans according to the package directions. Before frosting or packing, allow cooling completely.
Tip: If you want to cut fat and calories, start by replacing half of the eggs and oil with soda. If the texture remains acceptable, you can replace the other half. We can make a usable cake with one 12 oz. can of soda and one standard box of cake mix.
Conclusion
There's nothing worse than going down the list of ingredients for a recipe and realizing you're missing one. For some ingredients, it may be necessary to abandon the plan and try another day again. We hope you now understand how to use different cake mix substitutions.