Many people believe that the big holiday feast would be incomplete without a glossy, baked spiral ham in the center of the dining table. There's no need to be afraid of making this holiday staple because it's actually quite simple to learn because it comes pre-cooked. Spiral ham tastes best when it's warm and fresh from the oven, but it's even better when drenched in a rich, sweet glaze. Whether you're preparing for a holiday gathering or a special occasion, learn how to cook a delightful spiral ham in the oven so you can share the delicious tradition with your friends and family.
Spiral Ham Pro Tips
A glaze is an easy way to add flavor and moisture to spiral ham.
While this recipe calls for brown sugar and honey, other common glaze ingredients include maple sugar, bourbon, citrus, mustard, pineapple, and fresh herbs.
Leftover ham is great for sandwiches the next day or for breakfast with eggs.
If the oven is already occupied with other holiday dishes, spiral hams can be cooked in the slow cooker.
Because spiral ham is sold pre-cooked, it is critical not to overcook it, or you will end up with a dried-out ham.
To ensure the proper cooking time for your ham, consult the weight chart included in the recipe post.
Spiral Ham Cooking Time
Spiral cut hams are typically 8 to 11 pounds in weight and come fully cooked (make sure your package says pre-cooked). This means that when cooking a ham, you only need to heat it through. The best way to achieve this is to cook it at a low temperature so that the outside does not dry out before the inside is heated. To avoid drying out a spiral ham, use a meat thermometer to reach 140°F and do not overcook it. I usually take it out when it gets to 135°F while watching the thermometer at intervals to ensure it reaches 140°F.
Cooking time for a Spiral Ham will vary depending on size, but plan on 13-16 minutes per pound at 250°F, uncovered. If your ham is ready early, remove it from the oven and set it aside to cool slightly so it doesn't continue to cook. When slightly cooled, cover with foil and set aside until ready to serve.
Print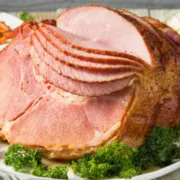 How Long Does It Take to Cook a Spiral Ham
---
---
1

(8-10 lb) bone-in spiral ham

1/2 cup

of apricot jam

1/4 cup

of brown sugar

1 tablespoon

of Dijon mustard

1/2 tablespoon

of grounded red pepper

1

lemon sliced thin

1/4 cup

of honey
---
Instructions
Preheat the oven to 275 degrees Fahrenheit.
Place the ham cut side down in a roasting pan. Place in a baking bag or tightly wrap in foil.
Bake the ham at 275° for 12-15 minutes per pound, depending on the size of the ham. (It takes about 2 hours)
Brown sugar, honey, orange juice, pineapple juice, and Dijon mustard should all be combined in a small saucepan. Whisk well and cook on low for 8-10 minutes, stirring frequently, until it reduces and thickens into a glaze.
Remove the ham from the oven 15 minutes before it is done and brush it with the glaze.
Cook the ham for the final 15 minutes, uncovered.