Pork is one of those proteins you get what you pay for; better flesh means better flavor at meals. They have long been considered a working-class dish, and they're inexpensive, lean and healthful, and easy to prepare.
Though, pork chops have also been known to arrive at the dinner table very dry and withered. But not any longer – today is the day to put that notion to rest because rough and dried-out pork chops have become a thing of the past.
Your favorite spices, a hot grill, and the appropriate estimated timing are all that's really required to achieve a perfectly soft and juicy grilled pork chops recipe every time. Read on as you learn how to cook boneless pork chops on the grill – pay attention to the cooking time I highlighted.
Pork Chops Nutrition Facts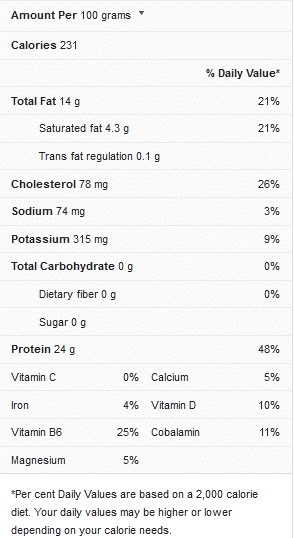 Tips on How to Cook Boneless Pork Chops on Grill
Picking the appropriate pork chop for grilling – While lean chops are desirable, sirloin chops, for example, are not suitable for grilling. For taste and tenderness, you should pick center-cut rib chops and center-cut loin chops with a little extra fat.
Well, both fat and skinny chops win. Pork chops that are thin are ideal for grilling because they cook quickly and dry out less. Pork chops that are thicker than thin can be just as tender and delicious.
It all boils down to the cut you desire, though. You can simply chop pork chops with a thin, fat cap that is about 1 inch thick for a quick-cooking boneless pork chop.
Cook the pork chops without drying out on the grill – To prepare juicy pork chops, all you need are good quality chops, some canola oil, and your favorite pork chop flavor. I actually prefer making homemade spice blends.
To make the marinade, you should combine the spices, oil, and apple cider vinegar in a mixing bowl until paste forms. The boneless pork chops are tenderized by the vinegar, and the wet rub keeps them from drying out on the grill.
You should season the pork chops with the pork chop spice; you need to make sure you carefully coat both sides thoroughly. Allow the rub to soak into the pork chops while the grill heats up; this ensures the flavor permeates into the meat before searing and sealing in the taste.
After that, now all you have to do is toss the pork chops on the grill and let them cook completely. Note that the chops should only be turned once while on the grill.
Check for doneness – Cooks have been told for years to cook pork until it is well done, resulting in a dry piece of meat that no one wants to eat. Well, that is not the case anymore.
Pork chops cooked medium rare are now safe to eat, according to the latest USDA regulations. The safe recommended internal cooking temperature is 145° F; you can use a digital cooking thermometer to accurately check for doneness.
So, cook the pork chops until they reach an internal temperature of 140°F and are still somewhat pink inside, then set them aside for 5 minutes to allow the residual heat to continue cooking and raising the internal temperature.
How to cook boneless pork chops on the grill – People appear to avoid preparing pork chops because they believe they would be dry and rough. Cooking them to the proper temperature ensures that they are juicy and delicious. It's also necessary to keep your grill at a consistent temperature.
You Can Follow This Step-by-step Guide to Help Your Cooking:
Heat up the grill.
You should combine the rub ingredients while the grill is heating up.
Then sprinkle the dry rub on both sides of the chops and massage into the meat.
You can allow about 5 minutes for the pork chops to rest.
Proceed to cook the boneless pork chops for 6-8 minutes per side on the grill.
When the pork achieves an internal temperature of 145 degrees, you should remove it from the grill.
Cover with foil and set aside for 5-10 minutes before serving.
This is medium-rare, so your pork chops will stay juicy. It's perfectly fine if there's a little pink in the middle.
How Long to Cook Boneless Pork Chops on Grill
On the barbecue, pork chops cook relatively rapidly. Though the grilling time for pork chops will vary depending on the thickness of the cut.
Make sure your grill grates are hot, whether you're using gas or charcoal. The temperature of the pork chop grill should be between 350° and 450°F. Hot grill grates prevent food from sticking, which is especially important with lean pork chops.
You should lightly oil the grill grate and prepare it for direct cooking over medium-high heat. Cook the pork chops for 5-6 minutes on a gas grill with the lid closed. Cook for another 5-6 minutes, flipping once more and closing the lid (if using a gas grill). You can allow for 5 minutes of rest before serving.
| | | |
| --- | --- | --- |
| Preparation Time | Cook Time | Total Time |
| 10 minutes | 12 minutes | 22 minutes |
Print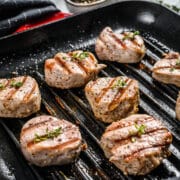 The Best Juicy Grilled Pork Chops (4 Servings)
---
4

boneless pork chops (6-ounce)

1 tablespoon

of canola oil

1

–

2

tablespoons of dry rub pork seasoning
---
Instructions
Start the recipe by cleaning the grill grates and preparing the grill for cooking over medium-high heat (350°F to 450°F).
Then go ahead to brush both sides of the boneless pork chops with olive oil after patting them dry with a paper towel.
Make sure you season the pork chops well with the dry rub, pressing it into the meat on both sides.
While the grill heats up, rest for 5-10 minutes.
Grill the pork chops over direct heat, with the lid closed, for 8-12 minutes total, flipping once, until well-marked.
The chops should be barely pink in the middle and 140°F for delicious boneless pork chops.