How daring does it sound to consider cooking a whole chicken in an air fryer?! But as the appliance grows popular each day, so do its appeal and modifications. Today, we have sizable air fryers that'll comfortably take a whole chicken for cooking. And if you have such at home and are planning to try it out, here's how to calculate the required cooking time for your recipe.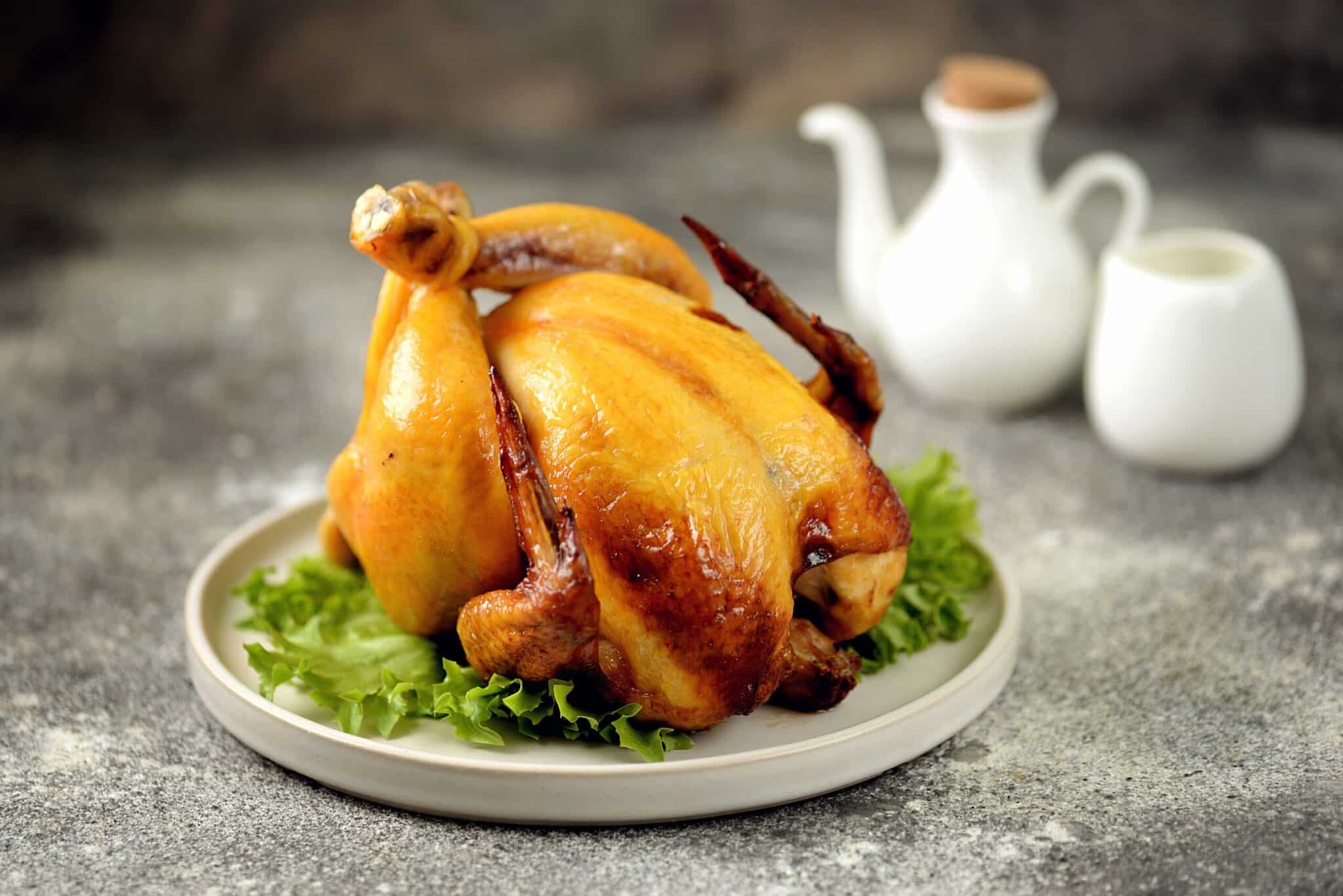 Chicken Nutrition Facts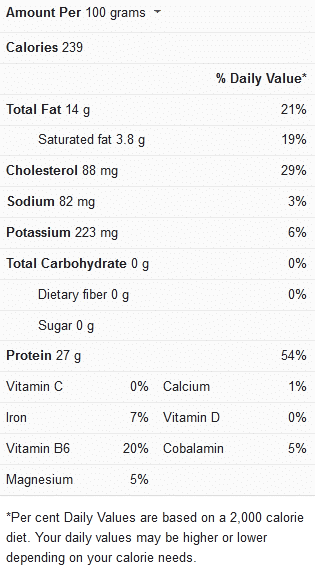 Why an Air Fryer for Whole Chicken
It may sound preposterous to consider using an air fryer to cook chicken, but many have done this for years. And surprisingly, it comes with tons of perks, which explains why it's gotten so popular;
Crispy Skin: The air fryer's dry air technology creates enough heat to render food with the crispiest exterior ever, and chicken isn't let out.
Fast Cooking: Air fryers are renowned for their speed, making them an excellent choice for a quick batch of chicken dinner in a short time.
Less Cleanup: You'll minimize after-cooking cleanup by using an air fryer, as it only calls for a few containers.
Easy Process: The appliance's operation is straightforward, and requires little prep for the whole chicken to cook.
Prepping the Chicken
Even if you've bought fresh chicken, unless you're cooking at once, it must've sat in the fridge for a considerable period. So, take it out and let it lose the chill on the counter before cooking. Then, blot any excess moisture with paper towels- this step is imperative if you want crispy skin.
If the whole chicken is frozen, thaw it in the fridge overnight, or in a bowl of cold water. Also, change the water every 20 minutes, for the second option, so the chicken thaws quickly. Afterward, dry thoroughly with paper towels and season.
Chicken Vs. Basket Size
It helps to note your air fryer basket size before choosing your chicken for the recipe, as you'll need ample space for the dry air to circulate and cook efficiently. As such, only pick whole chicken that can fit in your air fryer basket, as it won't cook properly if it's too snug. A three-pound whole chicken will comfortably cook in a five-quart air fryer, so use this measure to determine how you select the whole chicken.
You can use a smaller chicken for your air fryer if you please, but note that the cooking time will be affected. Larger birds need more time for full heat penetration and doneness, while a smaller chicken will cook faster. Also, take your air fryer's speed into account before proceeding, and to be safe, consider checking for doneness halfway through your planned cooking time. This way, you can adjust the duration so the chicken doesn't get overcooked.
Seasoning Tips
A simple blend of ground black pepper and salt will make a suitable rub for air fryer whole chicken, but the bird also needs to be coated with butter or oil so the spices adhere. Of course, this isn't the only seasoning option you can go for, as other spices, herbs, and seasoning mixes can also be considered. You can try ingredients like cayenne, chilli powder, paprika, red pepper flakes, Cajun seasoning, and Ancho powder for a spicy boost. And ginger powder, poultry seasoning, onion powder, cumin, and garlic powder can help with a blend of sweetness and savour.
View this post on Instagram

Cooking Temperature and Time
You'll be cooking the whole chicken in a 360F air fryer for a total of 60 minutes. The chicken is first air-fried for 50 minutes with the breast side down. This way, the thinner parts won't cook faster but reach uniform doneness with the rest of the meat. Then, it's flipped and cooked for the final 10 minutes to doneness.
The chicken should hit internal doneness of 165F which you'll check with a meat thermometer. A remote type is best for the air fryer, and the probe can be stuck at the thickest part of the thighs, dodging the bone so the reading is accurate. Also, ensure to spray the air fryer basket with cooking oil so the chick doesn't stick as it cooks. And once it's done, give at 10-minute rest time before carving.
Print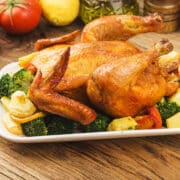 Air Fryer Whole Chicken (6 Servings)
---
One whole chicken; five pounds cleaned, giblets removed

Two tablespoons

of avocado oil

One tablespoon

of kosher salt

One teaspoon

of garlic powder

One teaspoon

of black pepper, freshly ground

One teaspoon

of smoked paprika

Half a teaspoon

of dried thyme

Half a teaspoon

of dried oregano

Half a teaspoon

of dried basil
---
Instructions
Mix the oil and spice ingredients to make a seasoning paste and rub this all over the chicken.
Grease the air fryer basket with avocado oil and set the chicken inside it with the breast side down.
Roast the chicken at 360F for 50 minutes, then take it out, flip, and cook again for another 10 minutes or until the internal temperature says 165F.
Tent the chicken in foil over a carving board for 10 minutes before serving.
For more ideas, watch this video recipe.