With the numerous methods for whole chicken recipes, it's easy to get confused about cooking time. But the pressure cooker method is one technique anyone can master in a short time. Of course, the worry about cooking time is paramount when dealing with chicken, especially with the tons of complaints about overcooking by enthusiasts. But this problem is easily solved with the right guidance, a keen eye, and a simple understanding of planning cooking time.
Chicken Nutrition Facts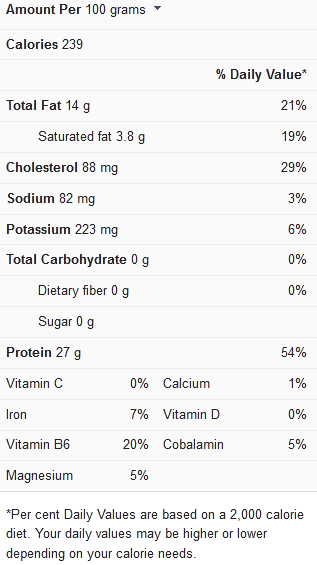 Why Pressure-Cook a Whole Chicken?
Before delving into cooking time for pressure cooker chicken, let's ask why the appliance is needed to begin with. Chicken already tastes good when cooked from the oven, and we still can't get enough of its grilled varieties. But take a moment's pause because if you haven't considered pressure cooker chicken, then you're about to be blown away;
It's Quick- The pressure cooker is recognized for its super-quick cooking efficiency, and it renders a tasty serving of tender whole chicken in an unbelievably short time.
It's Simple- Most techniques call for steps that have you nursing the recipe as it cooks, which can be quite a hassle. But the instant pot solves that issue as you only need to toss the chicken in with the ingredients, set the timer, and relax.
It's Flexible- The pressure cooker allows you to introduce a myriad of flavor options for a whole chicken, giving you enough chance to get creative.
It's Super Delicious- Tasty and tender whole chicken has never been made better than with a pressure cooker! The steam pressure seeps into the meat, giving you a soft and moist result that blends in with any recipe!!
Steps for Pressure-Cooker Whole Chicken
Following the right steps helps you master the cooking time for whole pressure-cooker chicken. And below are the simple procedures you'll need;
Preparation
If you bought your whole chicken fresh, you'd only have to clean out the giblets. But if it comes frozen, you'll need to thaw it first. Do so by leaving it in the fridge overnight or keeping it in a basin of cold water until it fully defrosts. If you're cooking a larger bird, consider replacing the water every 20 to 30 minutes until the coldness is gone.
After the chicken has been defrosted, pat it dry with paper towels instead of rinsing. Also, consider keeping the giblets aside if you're making gravy, as they make a tasty contribution.
Seasoning Tips
You'll need to season the bird both inside and out, and a dry spice rub is excellent for this purpose. You can use any of your favorite spice mixes for chicken recipes or a basic combination of black pepper and salt. But remember that the pressure cooker allows flavor flexibility, so try combining your favorite herbs and spices. You can choose spices like paprika, red pepper flakes, cayenne, and hot sauce and blend them with herbs like thyme, marjoram, rosemary, oregano, and sage.
You can also fill the cavity with aromatics, fruits, and fresh herbs like halved citrus, shallots, garlic, leeks, celery sticks, and rosemary. And if you prefer the cavity empty, rub it with dry spices, and make an aromatic bed in the pressure cooker with the previous suggestions.
The pressure cooker uses steam to cook food, so a liquid base is required. And while you can use water, the broth is also considerable, especially if you want a deeper flavor. Ensure to go for low-sodium or sodium-free options if you're worried about such.
View this post on Instagram

Cooking and Doneness Time
The chicken's weight and the cooker's speed determine how quickly your recipe will be ready. But you can follow the general rule below for pressure-cooking whole chicken.
Four pounds – 24 minutes
Five pounds – 30 minutes
Six pounds – 36 minutes
Seven pounds – 42 minutes
Chicken needs to cook to a minimum safe temperature of 165F, and you can check for this with a meat thermometer. Stick the probe into the thickest parts of the bird- inner thighs and breast- to get this number. If the doneness temperature hasn't been reached, return the bird to the pot, cover, and cook for six more minutes.
Note that the pressure cooker won't result in crisp skin after cooking, but you can fix it. Once the bird is done, transfer it to a broiler pan and let it broil close to the heating element for six to 10 minutes or until the skin is crisp to your preference.
Print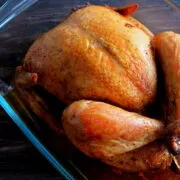 Pressure-Cooker Chicken (4 Servings)
---
One whole chicken, four pounds, thawed, giblets removed

One cup

of chicken broth, gluten-free

Two tablespoons

of olive oil

Half a tablespoon

of paprika

One teaspoon

of oregano

One teaspoon

of dried thyme

One teaspoon

of salt
Half teaspoon of garlic powder
A quarter teaspoon of pepper
Half a lemon
---
Instructions
Pat the chicken dry with paper towels and put the lemon half in its cavity. Then, combine the oregano, thyme, paprika, pepper, salt, and olive oil in a bowl.
Brush the seasoning-oil mix on the chicken, and set it aside. Then, pour the broth into the instant pot and add the gibbets. Place a trivet inside the pot, and the seasoned chicken on the trivet.
Cover the pressure cooker, seal the vent, and cook on HIGH for 24 minutes, followed by a 12- minute natural release. Then, release the vent to let out the remaining pressure, open the pot, and check the chicken.
The chicken is done at a minimum internal temperature of 165F. If it isn't reached, cover, seal, and cook for another six minutes, until it's done. You can also drain the pot juice to make gravy.
More tips can be followed in this video.