Mostly cooked on a grill, carne asada is a southern American dish that's either served alone or as a side dish and eaten with tacos, burritos, or any other meat stuffed dish. Carne asada just means grilled meat that's been seasoned and cooked over high heat and one thing you should know is that the meat usually used is mostly beef but most often, it may vary to other kinds of beef.
Asides from cooking carne asada on the grill, it can also be easily prepared in an oven or on the stovetop in a pan and it has almost the same cooking time as when it's been cooked on the grill. To really get into all that rich beefy texture and taste, you definitely would want to cook beef at a very high temperature whether in the oven or on a grill since it's an important part of making this dish. If you're not familiar with this food recipe or how to prepare it in an oven, this article contains all there is to know.
Cooking Tips for Carne Asada in the Oven
Go for beef that works – The rich quality and deliciousness of your carne asada depends entirely on the type of beef you're going to be using. A high-quality beef you can use for carne asadas is the monks beef flank steak, one of the finest cuts of beef there is that can be purchased online. If you're not able to purchase high-quality beef, no need to worry as cuts of flank steaks and outside skirt steak also does the magic, equally bringing out the flavors and tenderness of beef. The cheapest option still remains flap meat that's more tender than the other types of beef.
Whatever type of fairly thin cut of beef you're using, either relatively affordable or expensive, once cooked following the traditional Mexican method will surely taste amazing.
Marinate your beef – A key to great flavors in carne asada is to marinate your meat, trust me, this is one aspect you clearly don't want to miss out doing. It's either you're just rubbing on some basic spices over your meat or you're using a trifecta of citrus (lime, orange, lemon juices) mixed with other aromatic ingredients like cayenne peppers, garlic, paprika, jalapenos, cilantro and so on. The whole point of the citrus mix is to facilitate the breakdown of tough muscle fibers, making the meat really tender and juicy. If you're also wondering how long you can marinate your beef, it's best to leave it in the refrigerator for a period of 24 hours or less (if you're in a hurry). If you also can, it helps when you start marinating your beef the night before cooking.
Using the right cooking pan – Making use of an appropriate cooking pan is necessary when preparing carne asada since you'll be needing all the meat to get into the pan at a go. An ideal pan for this recipe is the cast iron skillet and you might want to pre-heat the pan to get the steak sizzling hot once you begin cooking.
Appropriate cooking time – Carne asada being cooked in the oven shouldn't last for a longer period unlike a full pound of steak due to its fair thinness. The recommended cooking time however is 4 to 6 minutes per side and at high pressure. The cooking time varies based on the thickness of the beef, so you can use a digital instant-read thermometer to check its internal temperature halfway through. A medium-rare should be about 130 to 140°F, a medium at 140 to 150°F, and a medium-well at 150°F or more. If your steak is not too thick, it might still cook during the resting period before you finally slice it up.
View this post on Instagram

Cooking Time for Carne Asada in the Oven
The ideal timing guidelines for preparing a mouth-watering carne asada dish in the oven have been outlined below:
| | |
| --- | --- |
| Cooking procedure | Cooking time |
| Cooking carne asada on the grill over medium-high heat | 4 to 8 minutes per side |
| Cooking carne asada in an oven under the broiler at high heat | 4 to 6 minutes per side |
| Cooking carne asada on the stovetop over medium-high heat | 4 to 8 minutes |
Print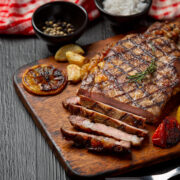 Oven-roasted carne asada (2 to 4 servings)
---
2

lbs of thin flap, skirt or flank steak (trimmed of excess fat)
For marinade and seasonings
Equipments required
Digital instant-read thermometer
Cooking foil (optional)
Measuring cup (optional)
---
Instructions
Generously combine the marinade ingredients and seasonings carefully stirring it together, then in a resealable plastic or zip line bag, pour marinated mix and place your raw steak into plastic bag. Make sure to thoroughly mix them up together to help the beef absorb all that juicy goodness. Store it in the refrigerator for at least 3 to 24 hours and afterwards, remove for cooking.
Heat your broiler or skillet to a high temperature and place your beef on an aluminum foil in the broiler. Cook in the oven for 4 to 6 minutes on each side and only remove steak from oven once you confirm it's internal temperature with the instant-read thermometer by inserting it into the thickest part of the beef.
By this time, your steak would have developed a nice dark crispy crust. We've got 115 to 120°F for rare steak, 120 to 125°F for a medium-rare steak, 130 to 135°F for medium steak then 140 to 145°F for medium-well steak. Allow beef sit for 5 minutes before slicing against the grain then serving.
This is one food recipe that really brings out the deliciousness of good beefy Mexican food. Not only served at restaurants, it can also be prepared at the comfort of your home with some homemade hot sauce and salad. For more procedures on how to cook your carne asada in an oven, how about checking out this video recipe.