Chicken pot pie is truly comforting food at its finest, typically combining a flaky, buttery crust with onions, diced chicken, peas, and carrots in a creamy sauce. You can always readily get pre-made chicken pot pie in practically any grocery freezer department, but cooking your own homemade version is definitely a worthwhile experience.
Chicken pot pies promise an entirely delicious experience, as long as they are made the right way. We have recommended ideal methods of preparing this recipe and some really helpful tips to help you achieve the best results.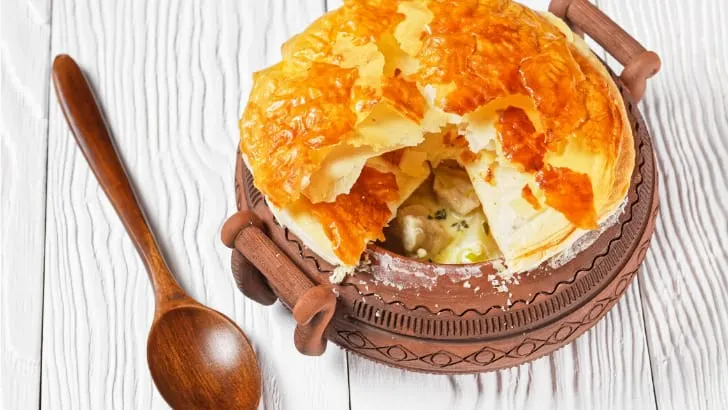 Chicken Pot Pie Nutrition Facts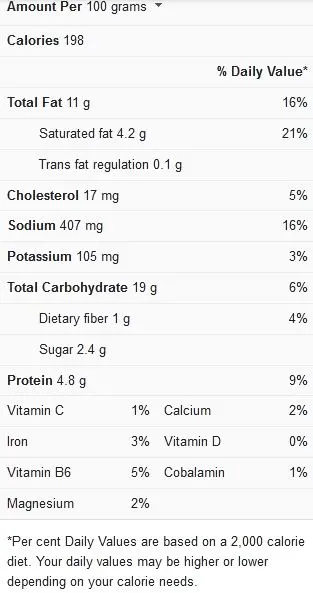 Tips for cooking chicken pot pie
When making chicken pot pie recipes, the following tips will help you achieve desirable results:
You may use store-bought crust variations – It's OK to use a store-bought crust. If you have the time, though, using a homemade crust is a great idea and won't disappoint you. The crust is just as crucial as the filling in making a flawless pie.
How to prevent a soggy lower crust depends entirely on the filling – it must not be runny. Instead, when it comes off the heat, it should be thick. If you use too much broth, it will soak through the crust before it is baked.
Prepare some parts of the recipe in advance, if you like – It's a great approach that gives you an advantage if you can complete some of the cooking tasks ahead of time.
Pie crust: You can prepare the pie crust according to the recipe's directions, but instead of rolling it out, flatten it into a disk. Refrigerate for up to 3 days or freeze for 3 months after wrapping it tightly in plastic wrap. Allow it to thaw in the refrigerator before rolling out if it comes out frozen.
Bake the chicken: Up to 2 days ahead of time, the chicken can be baked, cooled, and refrigerated in airtight containers.
Create the filling ahead of time: You can make the filling up to a day ahead of time. Allow cooling completely before storing in an airtight jar in the refrigerator.
Cooking chicken pot pie
Follow the timing guidelines in the table below when making a chicken pot pie recipe:
| | |
| --- | --- |
| Cooking procedure | Cooking time |
| Refrigerating the dough before baking | 30 minutes |
| Baking the chicken at 400 F | 30 to 40 minutes |
| Baking the pie at 375 F | 45 minutes |
Print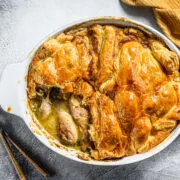 Chicken Pot Pie (6 to 8 Servings)
---
For the crust
For the filling
4

chicken breasts, boneless and skinless (or

3 cups

of cooked chicken, shredded)

½ cup

of butter, add extra for the baking dish
kosher salt
Black pepper, freshly ground

2

large carrots, peeled and diced

1

medium-sized onion, chopped

3

cloves of garlic, minced

¾ cups

of all-purpose flour

3 cups

of low-sodium chicken broth

¼ cup

of heavy cream

1 cup

of frozen peas

2 tablespoons

of freshly chopped parsley

2 teaspoons

of freshly chopped thyme leaves
Egg wash
Flaky sea salt
---
Instructions
Making the dough
Before beginning the crust-making process, place the flour and butter in the freezer for 30 minutes.
Pulse the flour, baking powder, and salt in a large food processor until they become properly mixed. Pulse in the butter until it is pea-sized with some slightly larger chunks.
Add 1 tablespoon of ice water to the feed tube at a time, while the machine is operating, until the dough just comes together and is moist. Make sure the dough is not wet and sticky (test this by squeezing some of the dough with your fingers).
Turn dough out onto a lightly floured surface, divide into two balls, and flatten into two discs (ensure that you avoid or minimize cracks). Refrigerate for at least 30 minutes after wrapping in plastic wrap.
Cooking the chicken
Set the oven to 400 degrees Fahrenheit and preheat.
Butter the inside of a big baking dish and one side of a large piece of parchment paper.
Place the chicken in a baking dish and season it all over with salt and pepper. Place the buttered side of the parchment paper over the chicken and cover completely.
Bake for 30 to 40 minutes, or until chicken is thoroughly done. Allow 10 minutes for the mixture to settle before cutting into cubes.
Start working on the filling
Melt butter in a large pot over medium heat. Cook, stirring occasionally until the onions and carrots begin to soften, about 10 minutes.
Stir in the garlic, then add the flour and cook, stirring constantly, until the flour mixture is brown and bubbling.
Whisk in the chicken broth gradually. Bring the mixture to a boil and cook for 5 minutes, or until it has thickened. In a large mixing bowl, combine the heavy cream, cubed chicken, peas, parsley, and thyme.
Season with salt and pepper to taste.
Assembling the pie
Roll out one disc of dough into a large round shape, approximately ¼-inch thick on a lightly floured board.
Fill a small pie plate with the dough, then top with the filling. Place the second disc of dough on top of the filling and roll it out into a huge round figure, approximately ¼-inch thick. Trim and crimp the edges, then cut slits in the top with a paring knife.
Brush the top of the pie with egg wash and sprinkle some flaky sea salt on it afterward.
Baking the pie
Reduce the heat of the oven to 375°F and bake the pie for 45 minutes, or until the crust is brown.
Allow for at least 15 minutes of cooling time before serving.
This recipe can be made in a total of 1 hour and 45 minutes, including a prep time of 30 minutes. If you'd like more inspiration on how to make chicken pot pie recipes, then check out this video recipe.