Chicken in the instant pot is juicy and delicious but chicken tenders in the instant pot is another incredible recipe together, you could easily pair this meal with everything you like and it's easy, healthy, and can be eaten by any age group which is why the little ones love them.
From appetizers to the main dish this chicken tender recipe could be anything you want and the chances of ruining it is so slim especially since the instant pot is perfect for locking the juices in and chicken tenders are incredibly soft, the recipe would come out succulent and flavorful.
if you're new to this recipe you don't have to worry just follow the cooking instructions and time and you'll be able to make a delicious and juicy dish each time. With that being said, let's look at some great tips to note when making chicken tenders in the instant pot.
Chicken Tenders Nutrition Facts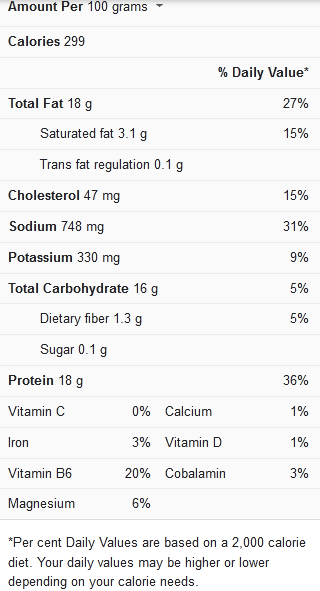 Tips to Consider when Making Chicken Tenders
Before you start making your chicken tenders, try incorporating these tips for a smoother cooking process.
Use chicken broth instead of water; this recipe would do just fine with regular water but if you have chicken broth then use that instead for this recipe, it would make the chicken tenders more flavorful when cooked.
Let the chicken rest; after cooking you should let the chicken rest for at least 5-10 minutes before cutting or shredding them.
Use a meat thermometer; to make sure the chicken tenders are at the safe internal heat temperature of 165° F, use a meat thermometer to insert into the thickness part of the meat.
Brown the chicken; the step is optional but it also helps in locking the chicken's juices in and making it taste more appetizing. Use the saute option and brown the chicken tenders for a few minutes before cooking them on a trivet (using the trivet prevents it from burning).
Feel free to use any seasoning and sauce of your choice; you could always season the chicken to your liking, you could make it spicy by adding some spicy peppers like cayenne pepper and while serving the chicken you could use any type of topping you'd want like Barbecue Sauce, Ranch Dressing, vegetables, garden salads, etc
Natural release and quick release; when the chicken tenders are ready, let the instant pot naturally release pressure for about 2-3 minutes then do a quick release after that. The quick-release right after natural release prevents the chicken tenders from overcooking.
You could cook the chicken from frozen; you could either choose to thaw the chicken tenders first before cooking or you could just add them directly into the instant pot on a trivet with a little amount of broth or water underneath to help it defrost faster.
Then cook on the manual high-pressure setting for about 5 minutes, after that do a natural release followed by a quick release.
Drain the broth out of the pot, add some olive oil into the pot and add some to the chicken tenders then season the chicken tenders and saute on both sides for about 1-2 minutes each, serve and enjoy.
Buy chicken breast instead of chicken tenderloins to save cost; chicken tenderloins are usually more expensive than chicken breast so if you want to save cost try getting chicken breast instead and cutting them into strips. The difference in taste and texture isn't much so this would work easily.
Freeze chicken tenders ahead for meal prep; you could buy chicken tenders or breast in larger quantities (if you eat chicken a lot) and cook them how you'd normally do when making chicken tenders, let them cool then dice or shred them up and save for later.
You could store this in zip-top bags and freeze them whenever you need them and simply thaw them for about 20-30 minutes when you want to cook them.
View this post on Instagram

Cooking Time for Chicken Tenders in an Instant Pot
The table below shows the cooking time to follow when making chicken tenders in an instant pot.
| | |
| --- | --- |
| Cooking method | Cooking time |
| Cooking chicken tenders in an instant pot | 25 minutes |
Ingredients
Print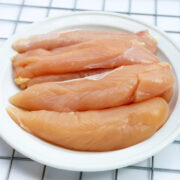 Juicy instant pot chicken tenders (4 servings)
---
---
Instructions
In a bowl, mix the ½ teaspoon dried oregano, ½ teaspoon salt, ¼ teaspoon ground black pepper, ¼ teaspoon onion powder, ¼ teaspoon garlic powder, 1 tablespoon Italian seasoning, and set it aside.
Cut the chicken breast into even strips and rub it with ½ tablespoon of olive oil.
Take the olive oil and add ½ tablespoon to the instant pot and choose the saute option.
Sear the chicken tenders for about 1-2 minutes on both sides until they are slightly golden brown with the help of a tong. This would help the chicken get more flavor and texture.
After searing the chicken, remove it from the pot and set it aside on a plate.
Use chicken broth or water to deglaze the pot, make sure you scrape any extra bit of chicken stuck at the bottom of the pot with a spatula.
Place the trivet or steamer basket and carefully put the chicken tenders on it and cover the lid.
Press cancel on the instant pot set it on high pressure and cook for 5 minutes.
Once the instant pot is done cooking, allow it to naturally release for 3 minutes followed by a quick release of the pressure.
Remove from the pot and serve it however you want like using your favorite sauce or adding it to another meal.
If you would be cooking them from a frozen state, you could thaw them first or just add them directly first on a trivet with broth before searing.
Making chicken tenders is easy, especially in an instant pot, you could follow these easy steps above, or for more ideas check out this video recipe