Red lentils are a quickly cooked legume with a moderate, slightly sweet taste. They decompose while cooking, making them ideal for savory meals of various kinds.
Notably, you will find that red lentils can be used in various dishes, including soups, stews, curries, and even dips. Moreover, red lentils are also delicious on their own or combined with roasted vegetables.
Lentils Nutrition Facts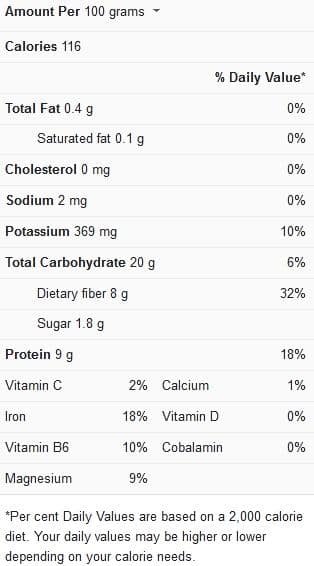 Why Cook Red Lentils
Red Split Lentils are the easiest of the lentil family to cook. Unlike many legumes, they do not require to be soaked before cooking, and because they are split (the skins are removed, allowing them to split naturally into two halves), they cook rapidly.
Behind soybeans and hemp, Lentils have the third-highest protein content of any legume or nut, with roughly 30% of their calories coming from protein. The essential amino acids isoleucine and lysine are found in proteins. Folate, vitamin B1, minerals, and dietary fiber are all found in red lentils. These lentils are available in bulk on our wholesale webshop, where the more you buy, the lower the per-kilo pricing.
Tips for Cooking Red Lentils
Red lentils are ready to cook without soaking. However, before cooking, it is good to rinse lentils in a bowl of water or a filter to quickly remove any debris.
The flavor and texture of red and yellow – or golden – lentils are extremely similar, and they can be used interchangeably. Only their color distinguishes them.
Combine 1 cup of red lentils with 2 cups of water or 3 cups while cooking red lentils in an Instant Pot or boiling lentils on the stovetop. Alternatively, simply ensure 2 to 3 inches of water above the lentils.
If you are making red lentil soup, you will need to add more water to ensure enough liquid is left after cooking. Most red lentil soup recipes ask for 4 to 8 cups of water/broth.
Lentils cooked in the Instant Pot are more soft and mushy. It's best to cook them on the stovetop if you want more texture. In addition. The instant pot recipe features a total of 8 minutes, including active cook time, release time, and the time it takes for the Instant Pot to heat up.
The ability to execute pot-in-pot cooking is one of the biggest advantages of the instant pot (pressure cooker). This means that you can cook numerous things at once by putting a tiny pot inside the main pot and cooking in it. A tall trivet and stainless steel containers can be used within the main pot and are required for pot-in-pot cooking.
Remove the pan from the heat and season with a pinch of red chili powder. Since Kashmiri red chili powder is not spicy, I recommend it. When serving, drizzle the tempering over the dal. It offers a lovely splash of color.
How to Cook Red Lentils
How to Cook Red Lentils in an Instant Pot
To avoid sticking, add red lentils and water – or vegetable broth – to the Instant Pot and stir to combine.
Seasonings can be added now in the second step if you're making dal or soup. Pressure cook on high for 3-4 minutes (3 minutes for more textural, 4 minutes for a more tender texture/the Instant Pot will pressurize for around 8 minutes before cooking begins).
You can allow 15 minutes for natural release after the timer goes off, then release any remaining pressure. Once the steam has completely escaped, carefully remove the lid. There should be no liquid left behind to filter.
Serve right away in dals, soups, or lighter desserts. Cool leftovers can be stored in the refrigerator for up to 5 days or frozen for one month. Reheat on the stovetop in a saucepan, adding a little water as needed to keep it from sticking.
View this post on Instagram

Cooking Time
Time
Texture
3 – 5 minutes
Each lentil has fully broken down, plus it is very soft and creamy.
How to Cook Red Lentils on Stovetop
Proceed to combine 1 cup of red lentils and 3 cups of water in a mixing bowl.
You can now bring the water to a boil, then reduce it to a low simmer, cover, and cook.
Cook the red lentils for 5 to 12 minutes, depending on how soft you want them. You should note that the red lentils will absorb the most – if not all – of the water.
Serve and enjoy
Cooking Time
Time
Texture
5 – 7 minutes
It gets tender/firm
8 minutes
It gets tender/soft
9 minutes
It is soft and begins to get mushy
10+ minutes
It starts to get very mushy
Print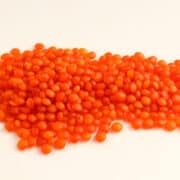 Red Lentils Curry (Masoor Dal)
---
One tablespoon

of Oil

One teaspoon

of Cumin seeds
One green chili pepper

½ cup

of onions (diced)

½ tablespoon

of garlic (minced)

½ tablespoon

of ginger (grated)

1 cup

of tomatoes (chopped)

1 cup

of red lentils (Masoor Dal)

3 cups

of water

One tablespoon

of lime juice
Cilantro (to garnish)

½ teaspoon

of ground turmeric

½ teaspoon

of coriander powder

½ teaspoon

of red Chili powder

½ teaspoon

of garam masala

One teaspoon

of salt (adjust to taste)
---
Instructions
Start by setting the pressure cooker to "saute mode" and then wait for it to heat up.
Then proceed to add the oil and cumin seeds together in a bowl.
Allow it to saute for 30 seconds.
You can now add the green chile, onions, ginger, and garlic once the cumin seeds have turned color.
Then saute for 3 minutes – make sure to turn often – until the onions are golden brown.
Toss in the tomato and seasonings.
Then stir it well and saute for another 2 minutes.
You can proceed to add in the lentils and water stir thoroughly.
Place the trivet – for pot-in-pot rice.
Combine all of the ingredients for basmati rice in a bowl and set it on top of the trivet. With the vent in the sealed position, close the lid.
You should press "cancel" and close the lid with the vent in the sealed position.
Set the instant pot to manual or pressure cook for 5 minutes at high pressure.
Allow for a 5-minute natural pressure release once the instant pot chimes, then manually release the pressure.
Remove the lid from the pot. Stir in the lime juice and the dal.
You can now serve with cilantro as a garnish. Dal can be served with roti, naan, or rice.
You can watch this video recipe to learn how to cook red lentils.