If you've tried out some salmon recipes, then you know how much of a bother it can be. The fish is notorious for releasing its fatty albumin, which many consider an indication of a ruined recipe. Plus, salmon can be tricky, especially when you have to cook it in an unsupervised environment like an oven. But sticking to a particular temperature can help you master your salmon baking skills. And here, we'll analyze the best ways to attain an impressive dish in a 350F oven.
Salmon Nutrition Facts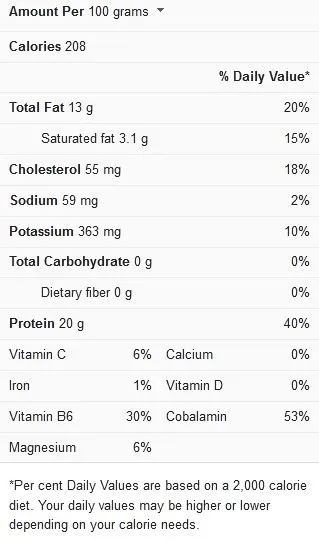 Cooking Tips for 350F Baked Salmon
Every step that leads to the oven is as important as the cooking itself. So, take note of these clues when planning to bake salmon fillets.
Choosing the Fish
You can decide between buying whole fillets and using cut portions. But whichever you select may come with or without skin. Note that baking the salmon with the skin on retains more moisture in the tissue. But you can buy skinless salmon or remove it from your fish after cooking.
Preparing the Fish
If the salmon is frozen, you'll want to thaw it completely before cooking in the oven. Keep the frozen fillet in the fridge overnight, and when you want to cook, bring it to stay at room temperature for 20 to 30 minutes before cooking.
If you're cooking a whole fillet, you'll notice the ends are thinner than the center. To prevent these areas from cooking faster, fold them in to look almost as thick as the middle. But be sure to season the first before you do the folding.
View this post on Instagram

Seasoning the Fish
A marinade or dressing is the best seasoning option for salmon cooked at 350F. The reason is that this temperature is considered low and will allow the fish to cook without the sauce burning out. But you can also use a dry rub mixture of pepper, paprika, onion powder, thyme, and garlic salt.
Brush the fish with high smoking point oil and sprinkle it with pepper and salt. Canola oil is an excellent option for such, but olive oil also works too. Also, make sure the oil gets under the skin as well.
Cooking Time for 350F Baked Salmon
The cooking duration for baked salmon depends on many factors. First, we must consider the size of the fish, followed by its thickness and the oven temperature. But since we've gotten ours down to 350F, all that's left are the size and thickness.
You should note that whole fillets are thicker and cook for longer compared to portions. For instance, a two-pound fillet won't cook as fast as it was cut into eight-ounce slices! As such, a one-inch thick whole salmon will need about 20 to 24 minutes to cook, while portions will take about 16 to 18 minutes. Any additional thickness should be factored in by adding four to six minutes for every ½ inch thickness.
View this post on Instagram

Checking Baked Salmon Doneness
Color and texture can be used to determine the doneness of oven-baked salmon. Overcooked salmon tends to come out chewy and dry, while undercooked fillets look translucent and won't flake. But adequately cooked salmon flakes quickly at the top, with an opaque middle. But these visual cues can be tricky, and sometimes, we may end up with a lousy dish due to poor judgment.
It's why a kitchen thermometer remains the best way to determine doneness level in baked salmon. Any type would work, from the popular instant-read thermometer to the wireless probe designs. Whichever you choose, stick the receiver into the thickest part of the salmon fillet. And watch out for these doneness temperatures to get the best results;
135F for rare (also applies to leaner salmon fillets)
140F for well-done (also guarantees a firmer texture)
Note, though, that the approved internal doneness temperature for salmon is 145F. But once the fish has been taken out, the carryover cooking will heat it to this doneness as it rests.
Print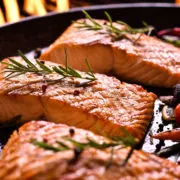 Oven-Baked Salmon (6 servings)
---
Two pounds whole salmon fillets, six to eight ounces each, one-inch thick

One tablespoon

olive oil

½ tablespoon

freshly ground black pepper

½ tablespoon

salt
---
Instructions
Sit the salmon fillets at room temperature for 30 minutes while the oven preheats to 350F. Then place them in a lined baking sheet and drizzle olive oil on them. Brush the oil all over the fish and under the skin, then sprinkle with pepper and salt. And if there are any thin ends, tuck them in.
Bake the salmon for 20 to 24 minutes, or until the internal temperature reads 135F to 140F. Make sure to check for this doneness at the thickest portion of the fillet. Take the salmon down and let it rest for a few minutes until the doneness hits 145F. Then, serve as desired.
More salmon baking ideas in a 350F oven can be watched here.