Not everybody knows, but there is a vegetable that you can make to look like noodles, yes it is the spaghetti squash. If prepared core to, you can even trick your kids into believing they are eating some sort of noodles and not a vegetable. A popular way to cook spaghetti squash is to toss it in the oven, but cooking it this way is time-consuming.
Cooking spaghetti squash in an instant pot is however a lot faster than the traditional oven method, but if you are experiencing difficulty achieving the perfect spaghetti squash with your instant pot then this article is for you. I've also included a table to show you just how long spaghetti squash needs to be cooked in an instant pot. And finally, I've included a simple spaghetti squash and parmesan cheese recipe in case you are short on inspiration
Spaghetti Squash Nutrition Facts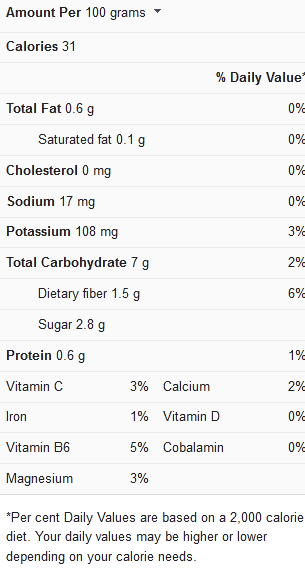 Tips for Cooking Spaghetti Squash in an instant pot
Cooking spaghetti squash is straightforward, so even if you do not possess the same cooking skills as a trained chef, you can still get delicious instant pot spaghetti squash if you follow these guidelines.
Pick the right size spaghetti squash- your spaghetti squash dish would not even get started if you can't fit it into your instant pot, so when shopping for spaghetti squash you have to keep that in mind. Getting a smaller size squash is the way to go, I would recommend getting a squash that is about 2 pounds. A 2lb squash would fit perfectly in the instant pot. Another thing to consider when getting a spaghetti squash is the color. Fully ripe spaghetti squash will be heavy with firm skin, with a dark yellow or golden yellow color.
Cut the squash crosswise not lengthwise- there are two ways to cut your spaghetti squash, and those are crosswise and lengthwise. However, if you cut the squash crosswise, you would get longer strands that resemble spaghetti better. The spaghetti squash is usually very hard so you need a paring knife to successfully cut through, for safety, you should also wear a cut-resistant glove if you have one.
Microwave the squash- the spaghetti squash has very tough skin which may be difficult to cut through for most people. A simple trick to soften the spaghetti squash would be to microwave it for a couple of minutes before you cut it. Do not allow the squash to cook in the microwave, a couple of minutes should do the trick.
Scoop out the seeds- after cutting the squash into two halves, you should get a spoon to scoop out the seeds from the center. Some people cook the spaghetti squash whole and remove the seeds afterward, but if you do this you may lose some of the goodness of the squash, you would also be scooping out some delicious strands of spaghetti squash.
Add water to the instant pot- do not throw your spaghetti squash directly into the instant pot because the heat from the pot starts from the bottom, if you do this, you will have a burnt spot on your squash. The proper way to cook the squash would be to elevate it with the trivet inside the pot and pour in about 1½ to 2 cups of water.
Release the pressure immediately- some instant pot recipes involve releasing the pressure naturally, this does require some time, so it isn't the best thing for spaghetti squash because it will leave you with soft, soggy spaghetti squash, and we can all agree it is unappealing. After cooking your squash, you should release the pressure from the instant pot immediately, also get some mittens to carefully remove the squash from the instant pot because it would be very hot.
Poke holes in your squash –well this is effective when you decide to cook the spaghetti squash whole. To prevent the squash from exploding inside the instant pot, you should make small cuts all around the squash to allow the steam to escape, this will also make the spaghetti squash cook better.
Cooking Time for Spaghetti Squash in Instant Pot
To get the best results when cooking spaghetti squash in an instant pot, follow the timing guidelines in the table below:
| | |
| --- | --- |
| Cooking Procedure | Cooking Time |
| Cooking small to medium spaghetti squash (2lbs-4lbs) under high pressure | 7 minutes |
| Cooking large spaghetti squash (8lbs to 9lbs) under high pressure | 12 – 15 minutes |
Print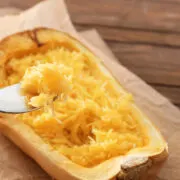 Quick spaghetti squash recipe ( 2-3 servings)
---
---
Instructions
Microwave the spaghetti squash for a couple of minutes to soften up the skin
Cut the spaghetti squash into two separate portions and scoop out the seeds with a spoon
Place the spaghetti squash elevated inside the instant pot, also pour in 1 cup of water to help it cook.
Set the instant pot to cook for 7 minutes on high pressure. When the timer goes off, release the pressure immediately, and take out the squash with a mitten.
Allow the spaghetti squash to cool, then work out the strands into a dish with a fork. Set that aside and prepare the sauce
Heat some olive oil in a pan on low heat
Add some chopped garlic and shallots and cook for 1 minute until they become translucent
Add some parsley and 1 tablespoon of butter, and cook until the butter melts. Turn off the heat and mix in some shredded parmesan cheese.
Add your spaghetti squash into the pan and mix properly with a tong.
Transfer to serving dishes, season with salt and pepper, and also add some shredded parmesan cheese as a topping.
Spaghetti squash tastes a lot better when it's eaten with a sauce. This garlic-cheese sauce is sure to add plenty of flavors to your tender spaghetti squash dish, make sure you try it out if you need something fast for dinner, it's really simple and fast to make. If you would love to see other recipes ideas, check out this video recipe.