The bluefin is currently one of the world's largest, fattiest, and most expensive quality tuna, originally from Australia and prepared using various methods. Being the most popular among others; Yellowfin, Albacore, Bigeye, and Skipjack, the bluefin tuna is known as the "Wagyu of the sea" and is known to contain a lot of health benefits.
When cooked, bluefin naturally has a rich meaty, and savory flavor that the whole family can enjoy at any time of the day. If you're a fan of some delicious seafood recipes but haven't got a clue on how to prepare this large oceanic fish, then this article should come in handy for you.
Bluefin Tuna Nutrition Facts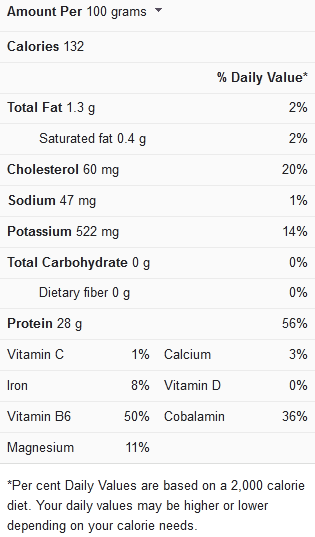 Tips for Cooking Bluefin Tuna
To achieve an all-round delicious bluefin tuna, endeavor to take note of the cooking tips, directions, and recommendations below:
Buying bluefins – A major factor to consider whenever you're purchasing bluefin tuna from the grocery store or a particular fishmonger, be sure to look out for the freshest and bright-looking ones. This is because tuna tends to look a bit dull or sometimes brownish on the outer surfaces if they're not properly stored under the right temperature. Keep a lookout for the ones that are tightly packed in olive oil or those that had been stored in the freezer for a while. Remember, the lighter the color of the tuna, the more fat contents it has, and best of all, the more flavorful.
The bluefin tuna is mostly sold in packs as chunks or loins, so another important factor to consider is to check for phrases like "FAD-free" or "pole-and-line-caught" as this indicates that the tuna wasn't illegally caught or sold.
Recommended cooking methods – In some countries, a tuna is never too overcooked since it's mostly enjoyable when it's still a bit raw. There are different methods to use when cooking bluefin tuna, from grilling to braising to baking in an oven, however, the best method to implore is to sear until it's a medium-rare in the centre. Here, you would find the taste and texure of the tuna amazingly enhanced as the outside is a fine crispy and savory crust while the inside is more tender and succulent. An additional bonus fact is that searing your bluefin tuna actually gets rid of the bacteria that may still be found on the tuna's surface which can likely make one sick. However, just in case you would prefer a method other than searing, braising it is another best option as its fat contents adds a deliciously supple flavor to the tuna remember not to cook your tuna beyond medium-rare.
Seasoning your tuna – Before proceeding to cook, be sure to throw in some seasonings to your bluefin tuna for additional flavors and a dazzling crust. You can make use of some nicely crushed sesame/fennel seeds mixed up with black peppers, garlic powder, a few pinches of kosher salt, or other notable spices. Just marinate your tuna in the seasoning mixture for some minutes. After seasoning, put your tuna in a plastic bag (this is optional) for half an hour to really get the spices soaked in before proceeding with your preferred method of cooking.
Searing bluefin tuna – Okay, so some people who aren't still used to cooking tunas might be wondering what searing is all about. Well, for a typical bluefin tuna dish, its cooking time is a bit faster than when you're cooking something beefy mainly because of the searing process. It's advisable you sear tuna on medium-high heat and on each side for about a minute or two. Of course, doing this would amount to using an oiled cast-iron skillet or a nonstick pan since fishes, in general, tend to stick). Plus you wouldn't want your tuna's nicely done outer layers to be seared. It's also necessary to get the cooking pan searing hot for three to five minutes before throwing in your tuna. This helps the outside surfaces to cook very fast while the inside remains a bit raw.
Storing the tuna – When it comes to preserving fish, you may want to do this properly either before or after cooking. When storing fresh bluefin tuna, it's necessary to cover it with kitchen foil or in an airtight container and place it on the lower part of the refrigerator, until you're ready to prepare it. Tuna steaks, however, can be preserved in a freezer for up to two to three months.
View this post on Instagram

Cooking Time for Bluefin Tuna
Below is a compilation of the appropriate cooking procedure and times to take note of when preparing a bluefin tuna:
| | |
| --- | --- |
| Cooking procedure | Cooking time |
| Cooking tuna in the oven at 450°F | 8 to 12 minutes |
| Cooking tuna on a grill over high heat | 1 to 2 minutes per side |
| Cooking tuna in a pan on the stovetop over medium-high heat | 1 to 2 minutes per side |
Print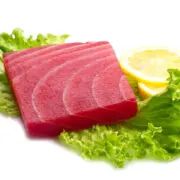 Stovetop marinated bluefin tuna steaks (2 to 4 servings)
---
6

1-inch-thick fresh bluefin tuna steaks (

3

pounds)

1 tbsp

of kosher salt

1 tbsp

of freshly ground black peppers

2

tbsps of coriander/garlic powder

2

tbsps of fennel/sesame seeds

3

tbsps of extra-virgin olive oil

4

tbsps of unsalted butter

2 tbsp

of fresh lemon/orange juice
Some lemon wedges (for serving)

¼ cup

of soy sauce (optional)
---
Instructions
Placing your bluefin tuna on a counter, take out the loin, carefully separating the meat from the bone of the tuna from it's spine with a kitchen knife (this is mostly applicable if you purchased a large tuna). Remove some of the bloodlines as this could get really bitter if cooked. Then wash and pat dry tuna with some paper towels.
In a large bowl, add the juices, olive oil, and other spices together and mix thoroughly. Sprinkle tuna steaks with a generous amount of salt and pepper, then properly coat your tuna steaks in the marinated mix and cover up in the refrigerator for half an hour.
Adding the remaining extra-virgin olive oil, ensure your non-stick pan or cast-iron skillet is very hot before searing and once the pan begins to shimmer, take out your tuna steaks from the refrigerator and place in the simmering pan. Sear fish for 40 to 50 seconds on each side of the fillets, adding some of that unsalted butter (optional), flip over and cook for 15 seconds more or to desired readiness.
Allow it to rest for a few minutes before serving. Also remember that the center of your tuna should be raw just like sushi and the outside crispy and firm because any meat or fish that comes off the grill/oven might begin to dry out and become tough, so do well to drizzle some olive oil or soy sauce once you're ready to serve it.
Serve as desired with some tomato salad, rice and green beans topped with lemon wedges on the sides.
This bluefin tuna recipe is one that'll leave you with an amazing mouth-watering result but only when the steps and guidelines are followed closely. For more insightful and wonderfully tasty tuna recipes, we recommend you see more great food recipes.