Pan-frying is the popular way restaurant kitchens cook cod and similar white fish, and it is very easy to make at home. It is a great option for cod fillet as it ensures that the delicate and flaky flesh of the cod is not overcooked, thereby giving it time to produce a lovely crispy skin.
Cod is a mild, firm-bodied fish that is excellent for beginner cooks as it is difficult to overcook due to its natural oils. Its flavor is pure, does not taste fishy, isn't too overpowering, and can be paired wonderfully with many side dishes. It is also good for the body as it provides Vitamin-B, protein, and minerals. It is a great starter for people who don't like fish.
There are a lot of different methods for making an awesome codfish. The methods range from making air fryer cod to baking cod, and these methods help keep the fish tender and moist.
Codfish Nutrition Facts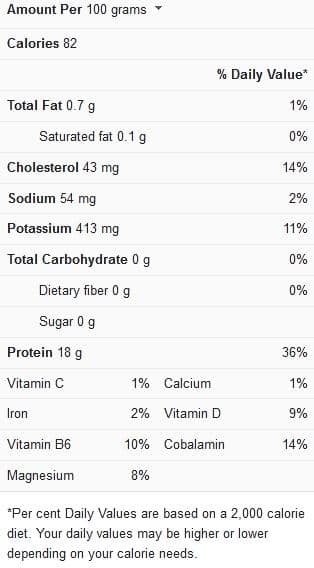 Print
How To Cook Codfish In A Pan
---
Codfish is easy to make, and as such, there are only a few simple ingredients that will be needed for this recipe. This recipe consists of just spices; no flour or breading is used. The ingredients for pan-fried code includes:
Cod fillets
Spices: garlic powder, celery seed, onion powder, smoked paprika
---
Instructions
Pan-fried cod is not as intimidating as it seems, and you don't have to worry if you have never pan-fried a fish before. It is very easy to make, and it takes less than 10 minutes to make it. Below are a few steps to follow to make pan-fried cod:
Combine your seasoning, which may include smoked paprika, garlic powder, onion powder, and celery seed, into a small bowl.
Sear your fillet by drying it and then season the fillets.
Use a large skillet to have enough space for more than one fillet. A cast-iron, non-stick or stainless steel can be used for this recipe. Preheat the oiled skillet to 180°C/gas mark 4 for 6 minutes and lay the fish inside it.
To add flavor to the skillet, use a combination of olive oil and butter. More depth is added when you fry with both types of fat. (You can use only olive oil for dairy-free). After flipping the fillets over, add your butter and use the butter to baste the fish. Cook until you can use a fork to flake the fish easily.
Pan-fried the cod for 2 minutes, then flip and fry for extra two more minutes. When your fish starts to flake when you use a fork to prick it, then you'll know that the fish is done.
Continue to cook for about 2 to 3 minutes, then remove the codfish from heat. Add your herbs, sprinkle your freshly chopped green onions on it and immediately add your lemon or drizzle the lemon juice on the top of your codfish to give it a more flavorful taste.
For more visual information on how to cook a codfish in a pan, Click here to watch this video.
Tips on how to ensure that your cod does not stick to the pan
It can be discouraging when you want to fry your codfish, but you're scared that it might stick to the pan. Flipping is one of the most intimidating parts of cooking fish on the stove due to it sticking to the pan. Below are some tips to prevent your cod from sticking and breaking up in the pan.
Make sure your pan is hot. An essential tool to make sure that your fish doesn't stick to the pan is a hot skillet.
Dry the fish and properly season it. You must make sure that your cod fillets are dried thoroughly and seasoned properly before beginning the recipe.
Don't change the fish's position, and the fish mustn't be moved around once you've placed your fish in the skillet. Until it is time to flip your fish over, make sure it cooks undisturbed.
View this post on Instagram

How do you Know When Cod is Cooked?
It is very easy to know when your codfish is done. Codfish cooks quickly, which might be confusing to some as to whether it is well cooked. However, here are the following signs to show that your cod is cooked:
It will change from being translucent to looking opaque. A raw cod will be veiny and translucent, and it will look very raw and unable to eat. However, it will turn to a beautifully looking opaque color once the cod is already fully cooked. Remove it immediately from the heat once it achieves this color. This is to prevent the fish from overcooking.
Flaky Fillet. The cod will easily flake with a fork once the cod is cooked. If you have difficulty separating it, you'll know it is too tough and not yet done.
Tips on how to preserve and store
You can best enjoy this recipe when made on the same day. Cooling the exact number of cod you want to eat that day is advisable to avoid having any leftovers, as the best time to enjoy this recipe is when it is made. However, if there are leftovers, here are a few tips for preserving and storing them.
Storing. The leftover cod can be refrigerated for up to 1 day in an airtight storage container.
Reheating. Warm the cod by gently reheating it in a skillet over medium-low heat.
Cooking Time For Cod Fish
Cooking codfish take time due to cleaning, prepping, and cooking. The various timing guidelines to follow can be seen below:
| | |
| --- | --- |
| Cooking method for codfish | Cooking time |
| Prepping | 10 to 15 minutes |
| Frying | 8 to 10 minutes |