Here's a fun fact about hamburgers: Some reports indicate that people in the U.S. eat roughly 50 billion burgers a year, or about 136 billion burgers a day. So if you're wondering about cooking hamburgers at home — specifically how to cook hamburgers in the oven without a rack — you're not alone.
Sure, you can get a decent burger already made from your choice of fast- and medium-food restaurants. You can even get a gourmet burger topped with fancy ingredients if you're willing to drop $20 on it. But there's not much better than a homemade burger. And while outdoor grilling may be the more popular prep method, you can certainly cook a fab hamburger in your oven. Read on to find out how.
Why cook hamburgers in the oven
There are a bunch of different ways to cook a hamburger. You can use the grill, broiler, stovetop, air fryer, oven, George Foreman grill, or even a smoker. Each method has its pros and cons. Pros of the oven prep method are:
Oven-cooking hamburgers is less messy than pan-frying them. The grease is contained in your oven vs. splattering all over your kitchen.
Oven-cooking hamburgers is easier and faster than smoking them.
Oven-cooking hamburgers is appropriate for cold or ultra-windy days when you don't want to be outside grilling.
Oven-cooking hamburgers gives you some charred flavor, while air-frying does not.
And finally, oven-cooking provides a more predictable, even result over other methods.
What about the rack?
You can bake hamburgers in the oven with or without a rack. Here are some points to note:
A rack elevates the patty above your baking sheet, so the excess fat can drip off. The burger may be a little healthier and less moist as a result.
Baking hamburgers directly on a baking sheet without a rack allows the meat to cook in its own juices. You'll likely have a juicier patty but it will be harder to get a good char flavor.
You may be interested in cooking burgers without a rack because you want a juicier burger or because you have no rack. Either reason is valid.
What you need to cook hamburgers in the oven without a rack
To cook your hamburgers in the oven, you'll need a baking sheet, aluminum foil, a spatula, and a meat thermometer. A food scale is helpful, too.
Optionally, you'll want a medium-sized bowl to season the meat, along with salt, pepper, and any other seasonings you like. For serving, you may also want sliced cheese, buns, ketchup, mustard, lettuce, tomato, and pickles.
Step-by-step, oven-cooked hamburger
1. Choose the right ground beef
The right fat content for a hamburger is a source of debate. Personally, I like a fattier burger because it's juicier. If I had no regard for eating healthfully, I would only make burgers from ground beef or chuck with 20% fat content. But I like to compromise with 85/15 meat. 90/10 or 95/5 ground beef is too dry for my taste.
As long as your doctor hasn't told you to cut out red meat, start with 85/15 ground beef and adjust based on your tastes. So if the 85/15 seems too rich, go lighter next time.
2. Preheat the oven
Preheat your oven to 375°C or 190°C. Also line a baking sheet with foil. This makes clean up easier later.
3. Season and form your patties
Place the ground beef in a bowl and season it with salt and pepper. You can optionally add extra seasonings like garlic powder or onion — granulated, diced, or diced and grilled. My brother uses BBQ sauce which is surprisingly delicious. Mix in the seasonings gently with your hands. Don't overwork the meat.
Here's where your food scale comes in handy. For smaller appetites, form each patty from ¼ lb. of meat. Otherwise, use 1/3 lb. The more evenly sized your patties are, the better they'll cook.
Shape each patty to be about 1-inch thick. Use your thumb to create a slight depression in the middle of each — this keeps them from puffing up while cooking.
Place each patty on the prepared baking sheet.
4. Bake, check temp, and serve
Pop the baking sheet in the heated oven and let the burgers cook for 10 minutes. Flip them. After 8 minutes, open the oven and check the temperature with a meat thermometer.
The safe cooked temperature of hamburger is 160°F or 71°C. If your burgers are within a few degrees of this threshold, add cheese slices, and return the sheet to the oven for a couple minutes.
Alternatively, you can turn the broiler on for a minute or two and let the patties get a bit charred. Then turn off the oven, add the cheese, and put the burgers back in the oven for a minute so the cheese melts.
Toppings for oven-baked hamburgers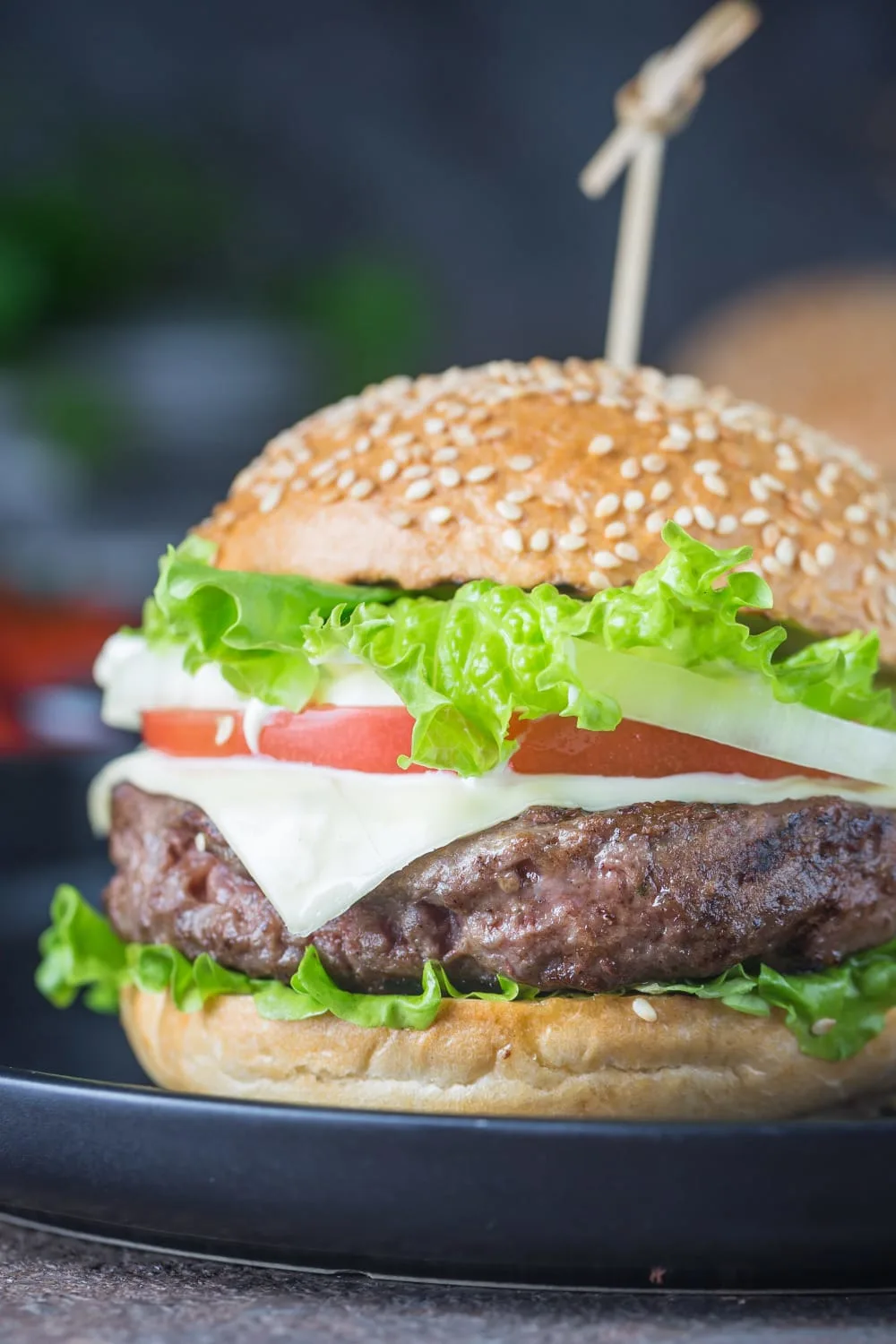 If you're cooking the burgers for a group of adults (rather than your kids), it's always fun to provide various options for buns and toppings. For example:
Buns
Basic white or wheat buns work, but you can step things up with pretzel buns or ciabatta buns. If you have low-carb friends on the guest list, consider setting out some keto buns too. You can also toast or broil the buns for serving.
Toppings
Lettuce, tomato, pickles, and onions are the usual suspects. Some upgraded options include bacon, avocado, fried egg, chiles, mushrooms, cole slaw, and chili.
Condiments
Ketchup and mustard are obvious choices. You can also kick things up by offering BBQ sauce, Dijon mustard, mayonnaise, thousand island dressing, and ranch dressing.
Cooking burgers in the oven without a rack
Ready to try cooking your hamburgers and cheeseburgers in the oven on a baking sheet? The process is predictable, and the clean-up is easy. You might like it better than grilling!
Yield: 3 servings
Oven-baked Hamburger
Here's an easy recipe for baking homemade hamburgers in the oven.
Ingredients
1 lb 80/20 ground beef or chuck
Salt and pepper
3 slices of cheese (your choice: cheddar, Swiss, provolone, etc.)
3 hamburger buns
1 tablespoon melted butter, optional
Instructions
Preheat the oven to 375°F or 190°C. Line a baking sheet with aluminum foil.
Place the ground beef in a medium-sized bowl. Add a few each of salt and pepper, according to your tastes.
Divide the meat into three equal portions or use a food scale to measure three portions of 1/3-lb each.
Shape each portion into a patty that's about 1 inch thick. Gently press your thumb into the center of each patty.
Place the patties on your prepared baking sheet and cook for 10 minutes. Flip and optionally baste with melted butter.
Continue cooking the patties until they reach an internal temperature of 155°F or 68°C or higher. Add cheese. Return patties to oven.
They're done when the cheese is melted and the internal temperature has risen to 160°F or 71°C or higher.
Serve on toasted buns with ketchup, mustard, and your choice of toppings.
Nutrition Information:
Yield:
3
Serving Size:
1
Amount Per Serving:
Calories:

432
Total Fat:

23g
Saturated Fat:

11g
Trans Fat:

1g
Unsaturated Fat:

9g
Cholesterol:

100mg
Sodium:

595mg
Carbohydrates:

24g
Fiber:

1g
Sugar:

3g
Protein:

30g
Nutrition information isn't always accurate.
Our best hamburger recipes
Want more hamburger inspiration? Try a few of our most popular hamburger recipes:
Plus more hamburger-cooking tips:
Oven-cooking hamburgers FAQs
Can I cook hamburgers in the oven without a rack?
Yes, you can cook hamburgers in the oven without a rack. Use a baking sheet lined with foil or an oven-proof dish.
How long should I cook my hamburgers in the oven?
The cooking time depends on how well-done you like your hamburgers and the thickness of the patties. Generally, baking at 375°F or 190°C for 20 to 30 minutes should cook the burgers to a medium-well level.
How can I make sure my hamburgers don't turn out dry?
Start with proper type of ground beef. Anything leaner than 85/15 will tend towards dry. You can also hold in moisture by adding chopped onions, egg, or breadcrumbs to the meat.
How can I get a nice sear on my oven-cooked burgers?
Broiling your burgers for the last few minutes of cooking will produce a nice sear. Add cheese after broiling so it doesn't disintegrate under the heat.
Should I flip my burgers while they're cooking in the oven?
Yes, flipping your burgers halfway through the cooking time will help them cook more evenly.
What temperature should my burgers reach to be safe to eat?
The USDA recommends an internal temperature of 160°F or 71°C for safe consumption of ground meat.
Can I cook a frozen hamburger in the oven without a rack?
Yes, you can. The process is the same, but add 10 to 15 minutes to the cook time.