When you need quite a lot of food for many people at a time, try cooking hot dogs in a crockpot; you'll find that it's such a game-changer. It's also a great technique to maintain the warmth of your cooked hot dogs warm throughout your get-together, and the results are just as tasty as food cart hot dogs!
In this article, we'll teach you how to cook many hot dogs at a time using a crockpot and the best techniques to ensure desirable results. We'll also give you some helpful tips and timing guidelines to get you started on the right track.
Hot Dogs Nutrition Facts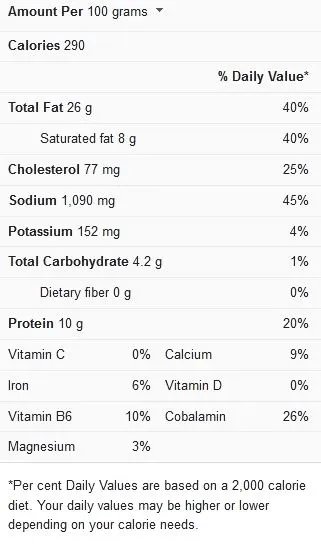 Tips for Cooking Hot Dogs in Crock Pot
You'll find the following tips quite useful when cooking hot dogs in a crockpot, so pay close attention:
Ideal cooking procedure – Take note of the recommended steps to cook hot dogs in a crockpot, and also pay attention to the tips below:
Begin by placing the hot dogs in the crockpot. Arranging the hot dogs in a vertical position does not exactly influence whether they get cooked through, but cooking them this way should help you cook more hot dogs simultaneously, and it also makes them simpler to grab using tongs as soon as they're done.
Because the moisture contained in the hot dogs is enough to generate steam, no additional liquid is required. A 2.5-quart crockpot can typically hold 20 hot dogs comfortably, while larger slow cookers can hold up to 60 at once.
Make sure to cover the hot dogs with the crockpot lid, then cook them on high for 1 to 2 hours or low for 3 to 4 hours.
Set the crockpot to "warm" to avoid overcooking as soon as the hot dogs are done. This approach effectively retains moisture and flavor, but it lacks the burnt quality that many people crave in their hot dogs.
If you care about this, consider charring the dogs briefly over a hot grill before putting them in the crockpot. A little more work is required to get this done, but it still leaves the grill open for other sides, such as hamburgers and grilled vegetables, if you choose to include them in your recipe.
Place the slow cooker on a table alongside your tongs, buns, and other condiments you plan to serve with. To help the hot dogs remain at the optimum serving temperature, keep the crockpot plugged in and set it to "warm." In addition to the standard mustard and ketchup (though some people are offended by ketchup on a hot dog), you can try keeping some spicy sauce, onions, relish, chili and cheese on hand to make your hot dog bar look even more inviting to your guests.
Serving a hungry mob doesn't seem quite so daunting or expensive with a plan such as this one. You'll also have an appreciative crowd on your hands due to the great tasting results you'll achieve.
Test your slow cooker – Because the way all slow cookers tend to cook varies, cooking times should always be used as a general guideline. Try recipes with your slow cooker first, then modify the time.
Serving suggestions to try – Hot dogs pair well with various sauces and, of course, hot dog buns. Tomato sauce, caramelized onion, guacamole, ketchup, mustard, and various other condiments are just a few of the options you can explore.
If you have a spare crockpot, you can create a BBQ sauce or tomato relish to serve with your hot dogs. These sauce options are quite tasty and well worth the extra bit of work.
Working with homemade chili is a great idea if you want to cook chili dogs. Pour your chili over the hot dogs and leave them to cook for a couple of hours. You'll have wonderful hot dogs soaking up a hearty chili at the end of the cooking process.
View this post on Instagram

Cooking Time for Hot Dogs in Crock Pot
The timing guidelines in the table below are necessary to achieve desirable results when cooking hot dogs in a crockpot:
Cooking Procedure
Cooking Time
Cooking hot dogs in a crockpot
2 to 3 hours on high
Print
Slow Cooker Hot Dogs (5 to 20 Servings)
---
10

to

60

hot dogs (these should fit into a 6-quart crockpot)
---
Instructions
In the slow cooker, place the hot dogs. This recipe was achieved with a 6-quart crockpot, but a larger crockpot should also typically work. Place them vertically in the crockpot; you can have as many as you want in the pot at a time.
The crockpot should not be filled with water.
Cook the hot dogs for 2 to 3 hours on high, or until all of the hot dogs get fully warmed and heated through.
Afterward, reduce the heat to low in the crockpot to preserve the warmth of the hot dogs.
This recipe for slow cooker hot dogs is perfect for a party! It also yields delicious results that your guests will appreciate. If you'd like to see more ideas for slow cooker hot dogs, we recommend checking out this video recipe.
Notes
Ideally, you rotate the hot dogs halfway through cooking if you want them to cook uniformly. Thanks to this rotation, the hot dogs at the top will cook simultaneously with the bottom ones.
If the hot dogs are cooked for too long, pouring water into the crockpot is not a good idea as it may cause them to split.
When removing the hot dogs, use tongs instead of forks, as forks tend to tear through hot dogs and force their juicy contents to spill out. The sausage may become a little dry as a result of the leakage.
Water is not required for the hot dogs to cook properly. If you're concerned about uneven results (getting some hot dogs more cooked than others), you can always rotate them in the slow cooker.