Looking for the perfect words to describe stuffed chicken breasts with stuffing? Think perfection on a plate! This is definitely the recipe to make if you're seeking a unique dinner idea that your entire family will be obsessed with.
If you've always craved stuffed chicken with stuffing but can't satisfy your craving because you have no idea how to cook it, you've come to the right place. This article will teach you all you need to know to make your cooking adventure a success and deliver awesome-tasting results onto your plate.
Chicken Breast Nutrition Facts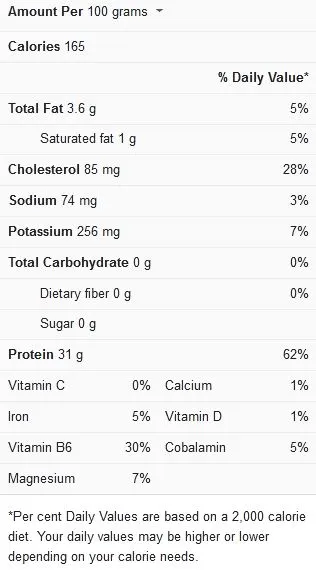 Tips for Cooking Stuffed Chicken Breast with Stuffing
The following tips should be kept in mind when cooking stuffed chicken breasts with stuffing:
Prioritize safe measures – It is of great importance to clean all cooking and cutting surfaces as well as your hands using soap and warm water before you begin. Also remember to wash your hands, utensils, and cutting boards after handling raw meat or eggs.
Use a separate cutting board for meat and another for other ingredients that need to be cut. Taking this measure helps to avoid cross-contamination of food items. Also, check that you're cooking at a safe temperature and that any leftovers are chilled within two hours.
Use normal-sized chicken breasts – Buy chicken breasts that aren't too big! If you use bigger chicken breast sizes, the meat will take longer than usual to cook, and the stuffing will get too brown on top as a result of the extra time. In the grocery store, look out for standard-sized chicken breasts to preserve your stuffing in the correct form
When cutting the chicken – Use a plastic chopping board as a cutting surface and begin by placing your palm flat atop the chicken breast to keep its form steady while you cut.
To ensure that cutting through the flesh is made as easy as possible, use a sharp knife. Make sure you don't cut all the way through to the other side of the chicken!
Sear your chicken breasts – After stuffing the chicken breasts, take some time to brown the outsides in olive oil before placing them in the oven to continue cooking. When you desire a more golden color on your chicken breasts, it's advised that you brown the exterior aspect of the chicken in this manner.
Saute your veggies for extra tenderness – Sautéing the celery and onions before incorporating them into the stuffing isn't strictly necessary. There's no need to pre-heat the vegetables because they'll soften naturally while they bake.
If, however, you would prefer for your onions and celery to be especially mushy in your stuffing, you can take some time to sauté them in a bit of olive oil before putting them in the stuffing mixture to be placed into the chicken breasts.
Reheating leftovers – When it comes to reheating, the oven is your best bet! To reheat your stuffed chicken breasts, simply heat up the oven to 350 degrees Fahrenheit (177 degrees Celsius). Afterwards, place the chicken breasts in a casserole dish, and cover it with foil after drizzling it with a little broth or water. Bake the chicken breasts in the oven for about 20 to 30 minutes, or until it reaches a temperature of 165°F (74°C) on the interior.
View this post on Instagram

Cooking Time for Stuffed Chicken Breast with Stuffing
The ideal timing guidelines to follow when cooking stuffed chicken breast with the stuffing have been outlined in the table below:
| | |
| --- | --- |
| Cooking procedure | Cooking time |
| Cooking stuffed chicken breasts with stuffing in the oven at 375 degrees Fahrenheit | 20 minutes wrapped in foil; 15 minutes uncovered |
Print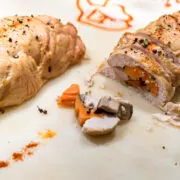 Stuffing Stuffed Chicken Breast (4 Servings)
---
1½ cups

of chicken broth

6 ounces

of Stove Top Stuffing boxed mix (

1

box or

1

packet in a twin pack)

½ cup

of milk

2 tablespoons

of butter

24 ounces

of chicken breasts (

4

medium-sized boneless, skinless chicken breasts)

½ teaspoon

each of salt & pepper (to taste)

¼ teaspoon

of onion powder

½ cup

of white onion (optional, for stuffing – diced, or yellow onion)

½ cup

of celery (optional ingredient for stuffing)

½ cup

of dried cranberries (optional ingredient for stuffing)
gravy (optional ingredient for serving)
---
Instructions
Preheat the oven to a temperature of 375 degrees Fahrenheit (190 degrees Celsius) and coat a 9×13 baking dish or pan using oil or a nonstick cooking spray.
Heat up your chicken broth on high for 2 minutes inside the microwave or in a small pot atop the stove until it comes to a low boil.
Stir the Stove Top Stuffing Mix, warm broth, butter, and milk in a large mixing basin. If desired, add alternative ingredients like onion, celery, and/or dried cranberries. Set the mixture aside after combining it thoroughly.
Trim any excess fat off the chicken breast pieces, then cut through ¾ of the thickest portion of the chicken breasts with a sharp knife (use the butterfly-style). Make sure not to cut all the way through the breasts by doing this with caution.
Use a quarter of the stuffing mix to fill up each chicken breast, then set them in the baking dish that has been prepared. Season each of these stuffed breasts with a seasoning mixture of salt, garlic powder and pepper.
Tent the stuffed chicken breasts using aluminum foil and bake them for 20 minutes at 375°F (190°C) in the middle of the oven's center rack. Take the foil off the chicken breasts and simmer them for another 15 minutes, or until the chicken breast pieces get thoroughly done. Before serving them, the internal temperature in the stuffed chicken breasts should register at least 165°F (74°C).
When the dish is done, remove it from the oven and serve right away. If desired, pour gravy over the top while serving.
This amazing Stuffing Stuffed Chicken Breast recipe is an instant favorite that is quite simple to prepare and that the whole family will certainly enjoy! The entire cooking time for this recipe is 45 minutes, including a prep time of 10 minutes and a cooking time of 35 minutes.
In case you're interested in more recipe ideas for stuffed chicken breasts cooked with stuffing, we recommend that you take a look at this video recipe.