If you're looking for an alternative to turkey this Thanksgiving, you've come to the right place. This article provides options for your vegetarian and vegan guests, from gluten-free to vegan. You'll be able to find a delicious, protein-packed dish without giving up traditional holiday traditions. Read on to learn more! Listed below are some of the most popular turkey substitutes. You can even try seitan, a wheat-gluten-based dish that mimics the texture of meat.
A vast bird isn't for everyone, so this Thanksgiving might be the time to break with tradition and try something new that will be welcomed with just as much—if not more—appreciation. What if it's not turkey? The options here are equally as stunning as a complete or carved bird, and they're stunning enough to stand alone. Whatever entrée you choose, don't let the fact that it's out of the ordinary keep you from preparing lots of the perhaps more essential holiday sides.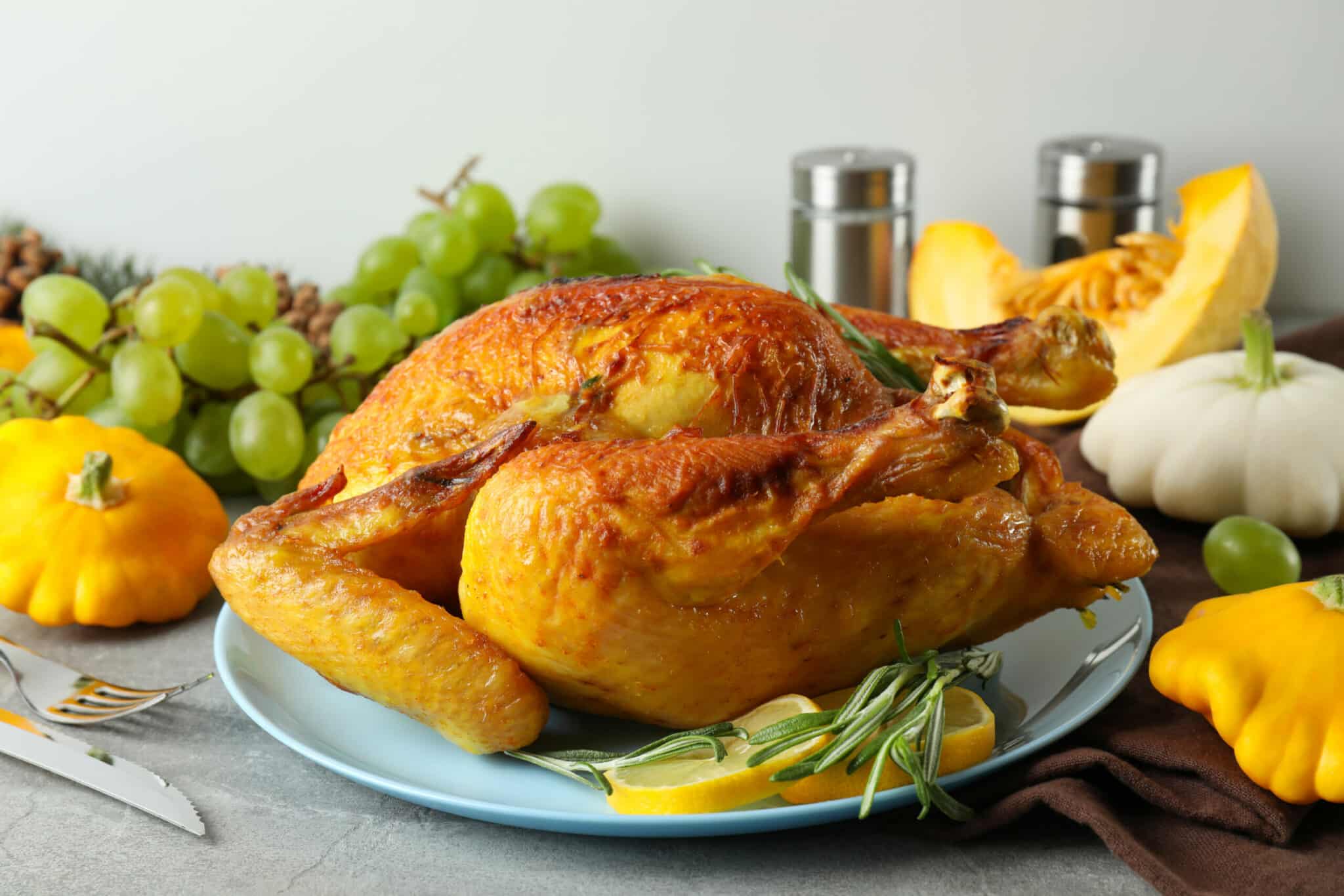 What is Turkey?
Although turkey is a traditional main entrée for Thanksgiving dinner, you are not required to offer it. Pomegranate-Glazed Salmon with Oranges, Olives, and Herbs, Crackling Coppa Roast with Fennel and Onions, and Garlic-Butter Rib Roast are just a few of the alternative Thanksgiving dinner ideas we've gathered for you. Need a meatless meal? There are also veggie "steak" choices available. Continue reading for those recipes and several more turkey-free Thanksgiving feast ideas.
Some Best Alternatives to Turkey
1. Roasted Crowns
Consider a crown roast for a centerpiece that rivals an entire bird. These beautiful circular roasts cook in a fraction of the time it takes to roast a turkey, serve a crowd, and include stuffing. There are enough pork chops to serve up to 16 people and enough lamb chops to serve six to eight people with 16 chops around the crown (which accounts for the fact that lamb chops are much smaller). Our Crown Roast of Pork with Chestnut-Rye Dressing and Crown Roast of Lamb with Pilaf Stuffing are two foolproof and delicious autumnal dishes to explore.
These lovely crowns appear complicated but are very simple and enjoyable to make—the end result is so rewarding. Use our Crown Roast 101 for a step-by-step explanation of preparing the meat and building a crown with two racks of pork.
2. Tenderloin Roasted
Tenderloin is one of the most tender slices of beef and hog, as its name suggests. It also cooks quickly and looks fantastic when cut on a dish and topped with roasted veggies and herbs. We recommend trying our Marinated Beef Tenderloin (which infuses the meat with a tart Worcestershire and lemon marinade), adding a festive crust like our Leek Crusted Beef Tenderloin, or serving it with harissa and vegetables in our Succulent Pork with Couscous and vegetable recipe.
3. Wellington Beef
Make Beef Wellington instead of roasting a turkey and impress your guests. Even though it's old-school, this dish has stood the test of time. It is traditionally made with beef tenderloin coated in pate and a mushroom combination, wrapped in Parma ham and flaky golden buttery puff pastry. It's a complete dinner in itself. Try our Pork Wellington with Prosciutto and Spinach-Mushroom Stuffing for a modern twist, which combines new flavors with the classic crust.
4. Centerpieces of Vegetables
If you're replacing turkey with a main vegetable course, choose something different from the sides. Which path is best? Consider the possibilities. Bring out a tray of stuffed squash—these mixed grain stuffed acorn squash are incredibly gorgeous decorated with a pomegranate relish—or place a sizeable roasted head of cauliflower in the center of the table with a nice sauce beside. Slice up our hearty Broccoli and Potato Samosa Pie as another alternative.
5. Seafood
While seafood may seem out of the ordinary for Thanksgiving, consider the following: According to culinary historians, the traditional Thanksgiving feast consists primarily of seafood. A side of salmon roasts quickly in the oven and tastes great when drizzled with a brown sugar and maple glaze before baking. Grilled lobster is a delicious and luxurious centerpiece for the Thanksgiving table if you live somewhere warm or can take a few steps into the cold.
6. Other Animals
Roasting a whole turkey is sometimes just too much time, effort, and sometimes even food. Replace the turkey with chicken, Cornish game hens, or fill and roast individual quails for each guest for a plated supper that is quite exquisite. The Cranberry Stuffed Cornish Game Hen and Roast Chicken with Sourdough Stuffing add a festive Thanksgiving feel to the table.
7. Ham
Finally, baked ham has warm, rich fall flavors that we expect from a Thanksgiving spread. It's just as fun to cut at the table, and leftover ham pieces make great sandwiches. Looking for a starting point? Make your ham seasonal with a jammy pomegranate glaze and our excellent ham baking guide.
Which Wines go Best with Turkey on Thanksgiving?
Red Zinfandel and Maple-Glazed Turkey
A turkey recipe like our Maple-Glazed Turkey aims to get a delicious, crunchy crust on the bird's skin. Crystalline exterior forms when the bird is coated in maple syrup during the last hour of cooking, giving it a sweet, earthy flavor. A maple-glazed turkey is flavorful enough to stand up to a glass of red wine. Red Zinfandel, such as the 2018 Bogle Old Vines Zinfandel ($10.99, wine.com) or the 2019 Ridge Paso Robles Zinfandel ($33.99, wine.com), is one of America's oldest grape varietals. It's a fruity, red severe wine with all the baking spice flavors with your succulent maple turkey and favorite side dishes.
Sparkling Wine and Deep-Fried Turkey
When you deep fry your turkey, you get delicious, rich meat with a crispy, gently fried outside. If you don't pair your fried foods right, they might be pretty weighty. As a result, we propose a wine with high acidities, such as sparkling wine. Pairing sparkling wines with fried meals is a pleasant way to balance your taste while you enjoy the meal, as the acid in the wine cuts through the weight of the fried poultry, much like pickles do on a fried chicken sandwich. A blanc de noir (also known as a sparkling wine created with red grapes) or rosé is a good choice.
Red grapes give sparkling wines more body than white grapes, allowing them to stand up to heavy fried dishes. Try the 2018 Gerard Bertrand Cremant de Limoux Brut Rose ($22.99, wine.com) or Chandon Blanc de Pinot Noir ($18.99, wine.com).
Some Herbs that Give Flavor to Thanks Giving Dinner
Thyme
Comforting fall meals benefit from the flavor of woody-stemmed herbs. Thyme has a strong flavor with earthy and floral undertones that gives turkey and stuffing a slight pepperiness. When given ample time to cook, the herb's smells and oils achieve their full potential, making it ideal for the lengthy process of roasting a turkey. The thyme leaves can be removed off the stem and used in cooking. If you retain the thyme intact, you'll need to remove the stem before serving any dish that contains it.
Sage
The dish wouldn't be complete without sage, whether you're creating a standard stuffing or one with more unusual ingredients, like our chorizo-almond stuffing. The herb has a strong flavor with overtones of mint, eucalyptus, and lemon. Sage works nicely in heavier meals with rich components, such as stuffing or cornbread dressing, because its robust scents don't get buried quickly. They become heavenly when fresh sage leaves are crisped in melted butter in a skillet. "Float the leaves in a bowl of pumpkin soup or use them as a garnish on the platter with your carved turkey," adds JeanMarie Brownson, recipe developer and owner of JMB Culinary Consulting.
Parsley
You could overlook parsley during Thanksgiving since it's so widely available, but it's a crucial herb to have on hand for the big meal. Use flat-leaf or Italian parsley instead of curly parsley, usually used as a garnish because of its mild flavor. Stuffing, roasted turkey, mashed potatoes, and other Thanksgiving mainstays are all parsley. It can also be used to produce a rich, savory stock in the days following Thanksgiving.
What are Some Other Vegan Turkey Substitutes?
Tofu from Burma (Aka Chickpea Flour Tofu)
Burmese tofu, a healthy tofu-like dish made from chickpea flour, oil, and water, is a mildly flavored alternative to turkey that may be treated like any other protein. If you want to stay with the "traditional" Thanksgiving flavors, serve it with vegan gravy, vegan cranberry sauce (which is typically always vegan! ), dairy-free mashed potatoes, and vegetarian stuffing.
Pistachios & Turmeric-Tahini Sauce over Whole Roasted Cauliflower
Instead of turkey, how about a vegetable? You bet. On paper (or in your family's Thanksgiving planning spreadsheet), "whole roasted cauliflower" may appear straightforward, but wait till you put it on the table. The brassica is garnished with a herb mixture, almonds, sliced chilies, and dried Kalamata olives, so it's not just a cauliflower. Sounds difficult? I guarantee it will take less time than bringing a turkey.
Vegan Shepherd's Pie with Potato and Parsnip Mash
This warm lentil shepherd's pie is essentially a vegan Thanksgiving dinner in a single serving. The rosemary and thyme-scented mushroom and lentil mixture are topped with mashed potatoes (and parsnips!) to satisfy gravy and protein cravings. Don't dismiss them until you've tried them!). Serve the dish with a large loaf of sourdough bread for a filling vibe.
What are the Sides and Sauces that Must be Served for Vegetarians?
Gravy for Vegans
Try the Vegan Mushroom Gravy recipe from the New York Times for a crowd-pleasing plant-based gravy. Add in vegetable stock (create your own with veggie scraps), mushrooms, and a dash of soy sauce, and generously pour it over everything from main meals to sides. Make sure you save enough for leftovers the next day.
Vegan Biscuits And Breads
Bring your own vegan-friendly buns or biscuits even if you're not hosting. Make these Pumpkin Sage Biscuits from Minimalist Baker for a festive twist on a typical biscuit recipe.
Stuffing Vegan Style
This Thanksgiving traditional is still as tasty and simple to prepare with plant-based ingredients. Simply substitute vegan-friendly options for the chicken or beef broth and traditional bread. Looking for additional information? Check out this Real Simple stuffing recipe.
What are Cheaper Alternatives of Thanksgiving Turkey?
Pie for shepherds
According to Tangela Walker-Craft, author of the lifestyle blog Simply Necessary Inc, Shepherd's pie is a meat and potato dish that can be produced inexpensively.
Shepherd's pie is traditionally made with lamb, according to Walker-Craft. However, there are exceptions.
"When beef is used instead of lamb, the recipe becomes cottage pie," she explained. "However, in the United States, cottage pie is commonly referred to as shepherd's pie."
The dish consists of onions and other vegetables mixed with beef or lamb, followed by a layer of melt-in-your-mouth mashed potatoes. According to Walker-Craft, Shepherd's pie usually is less than $20 to cook and serves 10 to 12 people.
Pot pie with pumpkin
There are endless versions of this popular vegetarian recipe if you Google pumpkin pot pie. Pumpkin (of course) and a handful of vegetables of your choice (usually celery, carrots, peas, and onions) are the essential ingredients in this recipe. (For more methods to save money on fruits and veggies, see these nine ideas.)
Pumpkin pot pie is another budget-friendly option, with pumpkins as low as $5 this time of year and the rest of the components costing only a few dollars each.
Lemon chicken with rosemary
Another meat alternative for individuals who don't want to eat turkey is rosemary lemon chicken, which is delicious and simple to prepare, according to Walker-Craft.
"What makes this dish even better is that you can perform most of the prep work ahead of time," she added.
The chicken can be prepared up to 24 hours ahead of time and roasted right before dinner. It's a dish that works well with both dark and white meat.
According to Walker-Craft, this dish, like shepherd's pie, is easily under $20 and may serve 10 to 12 people.
Conclusion
Thanksgiving is all about giving thanks, spending time with family, and eating fantastic food. Most American dinners feature a conventionally roasted turkey, but it is far from the only option. There are more main dish recipes than ever for an inexpensive star on the Thanksgiving table beside the usual whole roasted bird, whether the goal is to explore a different culture's dishes, to include non-carnivores in the meal, or to explore other protein options such as pot roast, pork loin, baked ham, or even roasting a whole fish. Here are 30 main-dish alternatives to turkey roast.