Pork baby back ribs are extremely pleasing to the senses, especially when they're grilled. If you want to make this food recipe but you don't know how to go about the steps, you're definitely in the right place. Baby back ribs are very easy to cook once you have a detailed understanding of the processes and directions to take.
In this article, we'll be walking you through useful cooking tips and instructions, including the necessary guidelines to know when attempting to cook baby back ribs on a gas grill. Just sit back, relax and ensure you take notes of all we have to offer in this article.
Ribs Nutrition Facts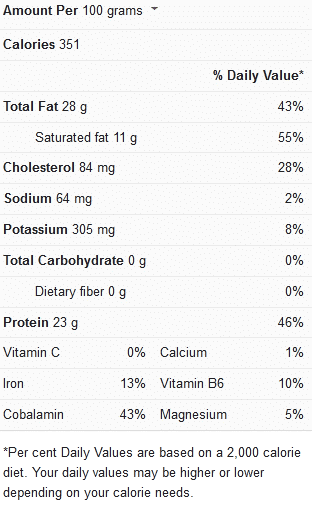 Tips for Cooking Baby Back Ribs on a Gas Grill
Slow-cook the baby's back ribs – this is a method where I preheat the gas grill for a while, and then I turn off one side of the grill or turn it to very low, while the other side remains on high. I once saw this method of cooking baby back ribs using a gas grill on YouTube. It's a very excellent way of slow cooking your meat to ensure it's savory and tasty when ready.
Moisturize your meat – leaving the meat bare on the gas grill will eventually dry out all the moisture from the meat and that wouldn't be so nice to eat. To ensure your baby's back ribs lock in their moisture, wrap up the meat in foil some minutes after cooking it bare. For more flavor, put some brown sugar, a little bit of cayenne pepper, etc in the foil before putting the meat in and wrapping it up. You can also spray some water and apple cider vinegar on the meat while it's cooking.
Wear some grill gloves – although most people can touch the wrapped up steaming baby back ribs with their bare hands, it's still advisable to wear grill gloves. Especially if it's your first time making this recipe so that you don't burn your fingers.
Allow the meat to rest – resting your meat after it has been cooked helps it to soak in most of its juices back, while simultaneously letting the heat penetrate out from it. This helps the meat to cool off a little, also making it more tender and savory to the taste.
Trim your meat ribs – normally, baby back ribs contain some amount of hard fat on their surface that won't melt down when you cook it and is not fun to eat at all. Use a knife to trim off all the excess hard facts you can find on the surface of the meat.
Cut off only the hard fat and leave the internal marblings which is the softer fat in your meat. When it renders out on the grill, it's sure to give your food bonus flavoring and juices. Another thing you should remove when prepping your meat is the loose meat at the edges. Loose meat tends to burn up easily and will just become a charred piece of meat. They are often found at the sides of the ribs and it's better to cut them off when the meat is raw than when it's cooked and the loose meat is already burnt.
You should also remove the membrane from under the ribs. Membranes tend to stop the rub from penetrating the rest of the meat and it only turns hard when you grill it. You can remove it by using a knife on its edge and then pulling it out. It's very thin, so it's easy to take out.
Save your loose meat – you might think loose meats on a rib are practically useless since they'll eventually burn up in the grill. But you can in fact save the loose meat after you've cut it off from the baby's back ribs, and store it in your fridge so it can be used for other recipes that you want to add a little bit of meat too, like beans or potatoes.
View this post on Instagram
Cooking Time for Baby Back Ribs on a Gas Grill
Below are the most suitable timing guidelines you should take note of when attempting to cook baby back ribs on your gas grill.
| | |
| --- | --- |
| Cooking procedure | Cooking time |
| Cooking baby back ribs on a gas grill at 250° F. | 5 hours |
Print
Grilled Baby Back Ribs (4-5 servings)
---
2

medium baby back ribs
Dry spice rub

½ cup

apple cider vinegar

½ cup

water

5 tbsp

brown sugar, for each meat rib

2

packets of butter

1

bottle BBQ sauce
---
Instructions
Take out your baby back ribs and remove the parts of the meat you don't want from it. Next, add a generous amount of mustard to the meat and season with the rub. Ensure that this gets to all sides of the rib.
Let the meat set. Prep your grill and let it get to a 250° in temperature with one side on high and the other turned low. Place a pan of water on the part where the grill is turned on high so the meat doesn't dry out fast.
Add the ribs to the grill.
In a bottle, pour in half water and half apple cider vinegar for your spritz. This gives moisture to the meat when cooking. You can use just water for this too, but the apple cider adds some more flavor. For the first three hours of your cooking, spray the mixture on the meat and flip it 180° every 45 minutes.
After three hours, take out some sheets of foil. In the foil, add the brown sugar, butter and maple syrup to the foil before you placing your meat. Wrap everything up tightly, you can double wrap it if the bones are poking the foil.
Take the wrapped up meat back to the grill and cook for another 2 hours. After two hours, take the ribs out of the foil and back to the grill. Add your BBQ sauce to the meat and spread all over with a brush. Leave the ribs on the grill for another 45 minutes.
After 45 minutes, you'll see the meat coming right off the bone which indicates that its ready to take down.
You can pull the bones off because the meat will be very tender, or you can cut it into serving sizes for the people you want to feed.
If you're interested in more tips on how to cook baby back ribs on a gas grill, feel free to check out this video recipe.