Is fish a favorite in your household around the holidays? My family not only enjoys it but eating a large plate of crab legs has become a particular custom for us every year.
Trust me, crab is always a show-stopper at a fancy holiday party or dinner. They can be as formal or as casual as you want them to be, which is one of the many reasons I enjoy cooking snow crab legs in the oven.
Baking crab legs is not only easy, but it's also a fantastic technique to infuse flavor into the crab with little effort. Do you enjoy crab legs but are unsure how to prepare them? It's no problem! I have put together for you a step-by-step guide on how to bake snow crab legs in the oven.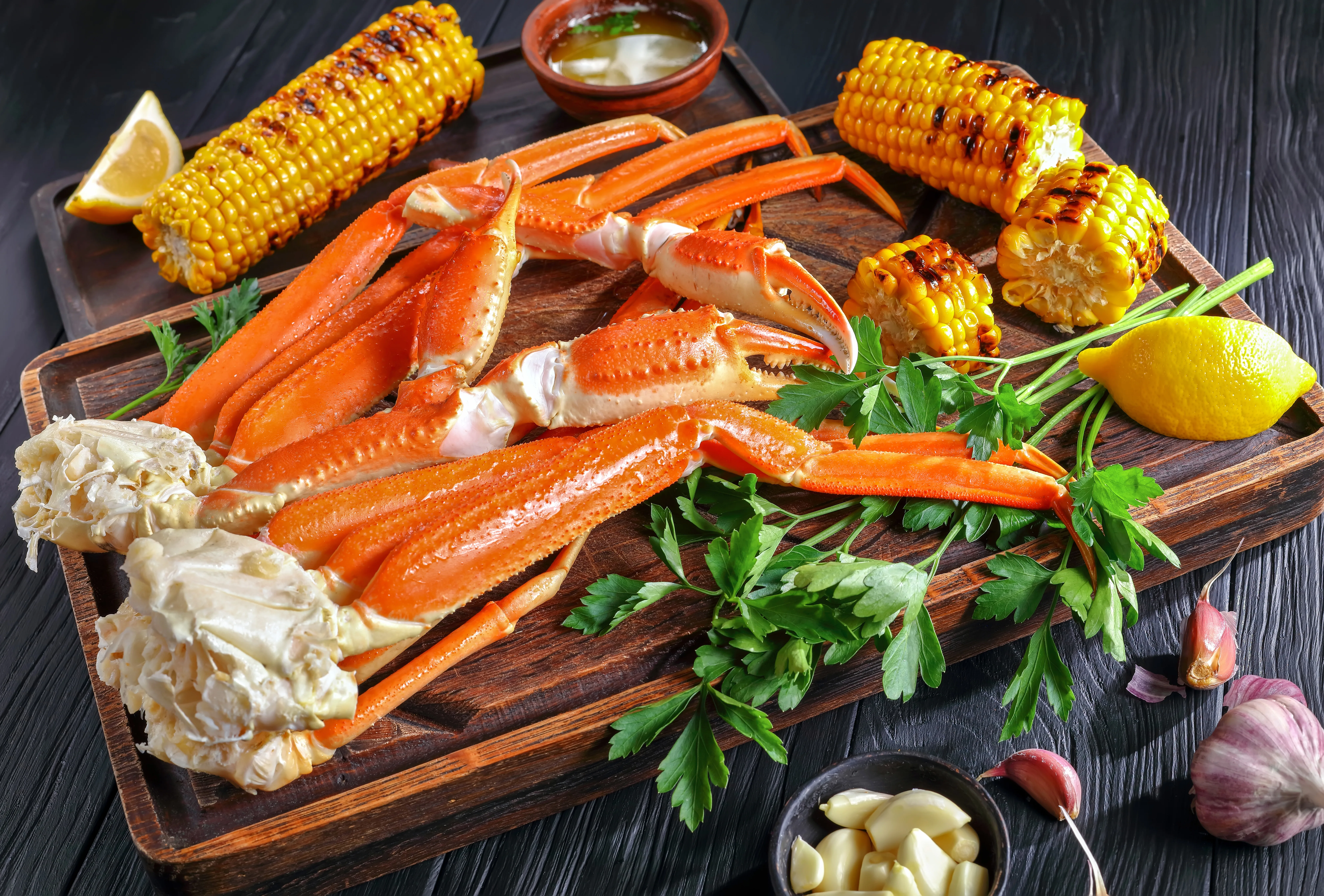 Tips on How To Cook Snow Crab Legs in the Oven
It doesn't get much easier than this when it comes to cooking crab legs at home. Even the most inexperienced cooks can prepare tasty and exquisite crab legs. You can follow through with cooking snow crab legs in the oven by using the enlisted tips as the perfect guide.
Picking the snow crab legs – When purchasing seafood that you aren't familiar with, my best advice is to rest heavily on the knowledge of the person working at the fish counter. They're experts at what they do, and I'm sure they'd be pleased to answer any questions you might have about getting good snow crab legs.
Notably, crab legs are pre-cooked and frozen before being purchased, which is a nice tidbit to know. So, when you buy them, all you're doing is reheating them! As a result, it makes no difference whether you buy them fresh (defrosted) or frozen.
How to eat snow crab legs – Begin by snapping each individual leg from the cluster at the cluster's end. Then snap each leg at the joint to separate it into two pieces.
Make sure you use two hands on each end of each leg component to gently bend back and forth until the shell splits. The meat should readily slide out of the shell that way.
To open the shell for claws, you can use a cracker or your teeth. If you apply too much pressure, the flesh will be crushed though. So, peel back the shell until the meat slides out easily.
How To Cook Snow Crab Legs in the Oven – The beauty of this dish is that it doesn't take much to bring up amazing sweet and tasty snow crab legs.
Preheat the oven to 350°F and place the thawed crab legs on a shallow baking sheet.
The snow crab legs can be thawed one of two ways: in the refrigerator for 12 – 18 hours (this is my preferred method) or under running water for 3-5 minutes.
After the snow crab legs have thawed, proceed to lay them on a small baking sheet lined with foil.
You can begin by squeezing a lemon over the crab. The garlic should then be sprinkled on top. I like having a jar of this garlic on hand since it saves me time from having to mince individual garlic cloves.
You can cut 4 tablespoons of butter into tiny bits and sprinkle them over the crab. Finally, you can add the lemon pepper to taste.
The crab legs are ready to go into the oven once they have been covered with lemon, garlic, butter, and pepper.
It does not really take long to bake the crab because it is already cooked. Reheat the crab in the oven at 400 degrees F for 5-7 minutes, which is the right length of time.
You will have the most wonderful, sweet, and savory crab legs in only a few minutes. These crab legs come together quickly and easily, making them ideal for a holiday party or supper.
You can place the snow crab legs on a big dish with more lemon wedges and a dipping bowl of drawn butter. You can serve right away.
How to serve snow crab legs – The most common way to serve crab legs is with melted butter and lemon wedges on the side. After removing the meat from the shells, you can go ahead and sprinkle lemon juice over it and dip it in melted butter.
You can also try serving snow crab flesh with Old Bay flavor, a special blend of herbs and spices that complements the seafood well, this is another favorite serving choice in the New England area. On a plate, you can sprinkle a little of the spice. Before eating, you squeeze lemon juice over the top and dip it in butter, then finish with Old Bay seasoning.
View this post on Instagram

How Long to Cook Snow Crab Legs in the Oven
| | | |
| --- | --- | --- |
| Preparation Time | Cooking Time | Total Time |
| 10 minutes | 20 minutes | 30 minutes |
Print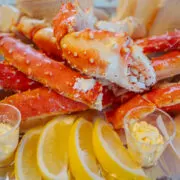 Baked Snow Crab Legs Recipe (4 Servings)
---
---
Instructions
Preheat the oven to 400 degrees Fahrenheit.
Get a baking dish to place the crab legs.
In a mixing dish, you can combine olive oil, garlic, and cajun seasoning. Mix until everything is well combined.
You can separate the oil mixture into two bowls, one of which should be set aside.
Proceed to cover the oven dish with aluminum foil after brushing the oil mixture on the crab legs.
You bake the crab legs for 10 minutes in the oven.
After removing the crab legs from the oven, you can brush them with the remaining oil mixture.
Go on and bake for an additional 10 minutes after covering the crab legs with foil.
After removing the crab legs from the oven, brush them with the other oil mixture you set aside.
Serve and enjoy the dish.
You can watch this video recipe to know how to cook snow crab legs in the oven.