Jimmy John's Beach Club Recipe

If you have never had the beach club sandwich from Jimmy John's you are missing out! This sandwich consists of sliced deli turkey, provolone cheese, lettuce, tomato, cucumber, Alfalfa sprouts, mayonnaise and an avocado spread. What makes this sandwich so amazing is the avocado spread and the Alfalfa sprouts. The avocado spread is a combination of fresh ingredients and a couple of seasonings. The avocado spread is prepared in a blender and it gets a nice little kick from the chili pepper. If you are not a big fan of spicy foods, you can remove the seeds from the pepper before blending. You can use pretty much any type of bread you want for this sandwich. I did not list specific amounts of the sandwich ingredients but the avocado spread will make enough to prepare several sandwiches. Enjoy.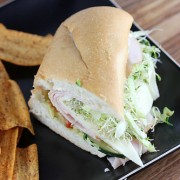 Jimmy John's Beach Club
Ingredients:
Avocado spread-

1 small serrano chili pepper

1 small onion (chopped)

1 garlic clove

1 roma tomato (seeded and chopped)

2 medium avocados (peeled and pitted)

1 tablespoon fresh lime juice

¾ teaspoon kosher salt

1/8 teaspoon dry mustard
Sandwich-

Directions:
Blend the chili pepper, onion, garlic and tomato in a blender or food processor until smooth. In a medium bowl mash together the avocados with lime juice. Add the blended mixture to the mash avocadoes and mix well. Season with salt and dry mustard.

To prepare the sandwich—spread a layer of the avocado spread onto the bottom half of the inside of the sub roll. Top with a layer of cucumber, sliced turkey, provolone cheese, tomato, iceberg lettuce and Alfalfa sprouts. Spread a layer of mayonnaise onto the bottom of the top half of the sub roll.