Rustic Chicken Recipe

If you need a delicious meal to prepare this rustic baked chicken is perfect for dinner. This recipe consists of pan-fried and roast chicken with garlic gravy. You can really use whatever type of chicken you want for this recipe but I used skin-on thighs. The chicken is first fried on the stovetop and then baked in a Dutch oven to finish cooking. The gravy gets a lot of its flavor from the garlic and thyme. This is a fairly easy meal to prepare. I like to serve this dish with mashed potatoes. Enjoy.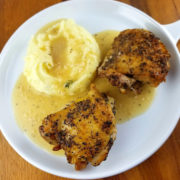 Rustic Chicken
Ingredients:
2 tablespoons cooking oil
6 pieces bone-in skin-on chicken thighs
Salt and pepper (to taste)
20 garlic cloves (peeled and separated)
2 tablespoons flour
¾ cup white wine
1 cup chicken broth
1 ½ teaspoons fresh thyme
2 tablespoons butter
Directions:
Preheat the oven to 400 degrees F. In a Dutch over or over-safe deep skillet with a lid, heat oil over medium-high heat. Dry the chicken pieces with a paper towels. Sprinkle with salt and pepper. Add the chicken to the Dutch oven and cook until browned, turning often, for about 8 minutes. Then remove the chicken to a plate.
Reduce the heat to medium, add the garlic and cook, stirring often until it is starting to brown, about 3 minutes. Sprinkle the flour over the garlic and stir until combined. Add the chicken back to the pot. Cover and bake for 15 minutes.
Remove from the oven and place the pot back onto the stove. Be careful not to touch the pot! Remove the chicken pieces to a clean plate. Whisk in the wine over medium-high heat. Simmer for 1 minute. Whisk in the chicken broth, thyme and more salt and pepper. Reduce heat and simmer, stirring often until the sauce thickens. Turn off heat and stir in the butter. Add chicken back to the pot with the sauce. Serve right away.