If you're looking for a substitute for black Cardamom, you are not alone. Fortunately, there are plenty of spices you can use in place of the real thing. Here are some alternatives: Cloves, Allspice, Nutmeg, and Coriander seeds. These spices all have unique tastes and qualities. Here's how to use them in your cooking:
Black Cardamom Nutrition Fact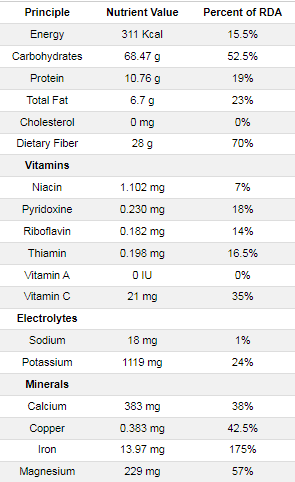 What is Black Cardamom?
Amomum subulatum is the scientific name for black Cardamom. It grows in pods on the Zingiberaceae (ginger) family of herbaceous plants. The pods have tough, wrinkly skin and are about an inch long, with tiny, sticky, dark-coloured seeds inside. The aroma of black Cardamom is pungent, with a citrus and eucalyptus flavour.
Several species of Amomum can be found throughout the mountainous region, from the Himalayas to Southern China. Eastern Nepal, India, and Bhutan are the central production regions. In India, more than half of the world's harvest is produced.
What is Black Cardamom's Chemical Composition?
Learn about the chemical composition of kali elaichi or Badi elaichi.
The spice has a high starch content, a medium amount of crude fibre and protein, and an average amount of volatile oil.
The presence of glycosides, subulin, petunidin, Cardamom in, a1pinetin, leucocyanidin, and flavonoid chalcone in traces is a notable feature of the seed.
The essential oil of big Cardamom is obtained by steam distillation of crushed seeds, yielding a mobile liquid with a cineole-like aroma.
The high content of I,8-cineole is responsible for the oil's harsh, camphoraceous notes.
One unique feature of big cardamom oil is that 11 of the 13 significant compounds were found to be similar to those found in Ethiopian Cardamom (Aframomum korarima)
Substitutes for Black Cardamom
1. Coriander seeds
Besides spicing up drinks, Cardamom is an essential spice in Indian, Mediterranean, and Nordic cuisine. Ground cardamom is commonly used in spice rubs and rice dishes, and its lemony floral taste lends a distinct flavour to many dishes. Additionally, ground coriander is an excellent flavouring agent for baked goods. Here are five ways to use coriander seeds in place of Cardamom in your favourite recipes.
Coriander is an herb found in India and the Mediterranean. It is cultivated in many countries and has a long history of use in traditional cuisine. Since ancient Roman times, coriander has become a staple in British cooking. Its Flavor is slightly different from Cardamom's, but both have a strong citrus taste. Coriander is a good substitute for black Cardamom when you can't find it.
2. Nutmeg
A popular nutmeg substitute is a cinnamon. Both are similar in taste and can be substituted for Nutmeg in recipes 1:1. Cinnamon's distinctive Flavor and aroma make it an excellent substitute for Cardamom. Cinnamon can be purchased in whole seeds or as a ground spice. Both have similar flavour profiles and can be used to enhance any dish. Both are readily available in spice jars or powder form.
Although both spices are expensive, they are not precisely the same. For instance, black Cardamom is used more often for savoury dishes than sweet. On the other hand, Nutmeg is more common and is more versatile. Its mild nutty Flavor makes it ideal for dishes like meats, potatoes, sauces, vegetables, baked goods, and puddings. You can use half a teaspoon of each in a pinch for a nutmeg-like flavour.
3. Cloves
In many dishes, the strong Flavor of black Cardamom can be substituted with other spices, such as cinnamon and cloves. Both spices are derived from the flower buds of the clove tree, and they're both aromatic and have a similar flavour. As a substitute for Cardamom, try using cloves instead of cinnamon or Nutmeg. You'll find that these spices blend well together and make an excellent substitute for Cardamom.
If you want a more subtle flavour, you can use cinnamon or cloves. These spices can be used in place of Cardamom in baking recipes. Cloves are especially good in desserts that call for Cardamom, and they're also suitable substitutes for Cardamom in meat and fish dishes. Both of these spices add a complex flavour to baked goods. You can also use the spices together, such as ginger and cinnamon.
4. Allspice
If you aren't able to find black Cardamom or are not a fan of the expensive spice, you can always use a substitute. Many substitutes are much cheaper and easier to find, and you might already have them lying around your kitchen! Either way, these spices will add a great flavour to your dishes. Here are just a few:
Cinnamon and cloves are a good alternative, and they both mimic the complex bouquet of Cardamom. Cinnamon is known for its strong and spicy Flavor, and cloves are known for their earthiness and citrus tones. You can replace one teaspoon of Cardamom with a pinch of these spices. In a 1:1 ratio, these spices will work well in many recipes. Alternatively, you can use these spices to make your recipes taste like the original.
5. Apple pie spice
If you're looking for a substitution for black Cardamom in your recipes, try using the spice known as apple pie spice instead. This spice is similar to Cardamom in smell and Flavor and is readily available at most grocery stores. Instead of ground cardamom, you can also use a mixture of cinnamon, nutmeg, and allspice instead. The flavour profiles of these spices are similar, but they differ slightly.
Apple pie spice is a great flavouring ingredient. You can use it in many different recipes, including pancakes, french toast, oatmeal, and mulled cider. You can buy pre-made blends of apple pie spice to make the process faster. However, if you run out of apple pie spice, you can use any of these alternative spices to achieve the same Flavor. These substitutes are cheaper and provide similar results.
6. Cinnamon
Cinnamon is said to be one of the best black cardamom substitutes. Cardamom and cinnamon differ in that the former contains more vitamins and minerals. They are, however, relatives in terms of taste. While they may not have the same Flavor, their sweetness is identical. Cinnamon has a sweet woody taste with a hint of citrus, and it also has a spicy flavour that tastes like cloves in your mouth.
It makes no difference whether you use ground or stick cinnamon, and the texture and application are the only differences, and they usually have the same flavour profile. You've probably enjoyed them in apple desserts, cookies, rice pudding, French toast, churros, pumpkin, squash, sweet potato pie, and drinks.
7. Mace
The reddish seed covering of nutmeg seed is called mace. Surprisingly, this nutmeg product has a similar flavour profile to Cardamom, and it's less intense and concentrated than Nutmeg, with a hint of cinnamon and black pepper. Its delicate flavour complements most baked goods, vegetables, meat, fish, preserving, and pickling.
8. Ginger
Ginger has a sweet peppery flavour as well as a spicy aroma. It has a lot of medicinal properties and is widely used in most recipes as a seasoning. It comes in various forms, including fresh, dried, candied, pickled, preserved, and powdered, and can be used in meat, vegetable, and seafood dishes. On the other hand, ground ginger is frequently used in western cooking to flavour cookies, quick bread, and beverages. This flowering plant has a strong odour. It's also a good choice because it's related to turmeric and Cardamom.
Black Cardamom Recipies
1. Basmati Rice with Black Cardamom and Lime
Simple rice dishes are one of the places where black Cardamom takes center stage. Dried chiles, once again, provide a spicy counterpoint to the smoky resin flavours of the pods. But lime juice is the true hero, providing the perfect counterpoint to the black Cardamom. The end result is a spicy, slightly sweet, and surprisingly complex rice dish that goes well with greens, lentils, or plainly cooked meat.
2. Cauliflower with Spices
Other intense aromatics like clove and star anise are used in this gobi sabji to provide some healthy aromatic competition. Star anise echoes black Cardamom's warmth, while black Cardamom's acrid undertone echoes clove's medicinal element. Creating these fluid taste profile exchanges is an integral part of achieving effective spice balance; it spreads and lengthens the intensity of spices, smoothing out the taste.
3. Bhaji Pav
Spiced mashed vegetables are served in soft bread rolls as pav bhaji. They're a staple of Mumbai street food, made with their own masala spice blend. Don't be put off by many ingredients; they're quite simple to prepare.
4. Curry with Monkfish
Spice up your life with this delicious monkfish tail supper marinated in a flavorful rub. A rich coconut sauce and spicy vegetables accompany the monkfish.
5. Pork Ribs Smoked with Lapsang
Tom Parker Bowles infuses tender, sticky ribs with fragrant Lapsang Souchong tea smoke in this clever recipe.
6. Paneer Matar
Matar paneer is a traditional vegetarian curry made with Indian cheese and peas in a tomato sauce. Don't skip the step of frying the cheese until golden because it makes a big difference in the curry's flavour and texture.
7. Curry with Goat
Goat meat is delicious and can be found in many Asian butcher shops or online, but this curry also works with lamb. The bones give the sauce an extra layer of richness. Serve with chapatis or steamed rice.
8. Pilaff of Wild Mushrooms
If you don't have any whole spices, use one rounded tablespoon of garam masala instead when adding the mushrooms. If fresh wild mushrooms are unavailable, use half the dried mushrooms and soak them in hot water for 20 minutes. Drain and rinse thoroughly.
Is Green Cardamom Better than Black Cardamom?
Green Cardamom lacks the smokiness of black Cardamom because it is harvested before the plant matures and not dried over an open fire. Compared to its black counterpart, which packs a punch, green Cardamom leaves a subtle taste in the mouth. Although it is impossible to say which is superior, black Cardamom tastes fantastic when added to a recipe and removed just before serving.
Green Cardamom vs. Black Cardamom
Cardamom comes in two varieties: black and green. Green cardamom pods are harvested before they mature from the Elettaria cardamomum plant, whereas black pods are harvested later and dried over a fire. Because the two pods have such different flavour profiles, black Cardamom should not be used in recipes that call for green Cardamom. (Green can be substituted for black, but the smokiness will be missing.) Black Cardamom packs a punch, whereas green Cardamom adds a subtle, delicate flavour to dishes. Due to its smokey solid and menthol flavours, the black variety of Cardamom is rarely used in sweet dishes, unlike the green variety, which is a popular Scandanavian ingredient.
It is recommended that the seeds of green Cardamom be removed from the pods and ground before using them in recipes. When using black cardamom pods, add them whole to a recipe and remove them before serving.
How Long does Black Cardamom Keep its Flavor?
Find out how long Badi elaichi keeps in storage.
Black Cardamom will keep its best quality for 3 to 4 years if stored properly.
Store black cardamom or Badi elaichi purchased in bulk in airtight containers to extend its shelf life and preserve flavour and potency.
How do I Keep Black Cardamom Fresh?
Learn how to store Black Cardamom, also known as Kali Elaichi.
Keep Badi elaichi (black Cardamom) in a cool, dark place. Keep a pack of black Cardamom refrigerated once opened.
This will extend the shelf life of your badi elaichi or black Cardamom.
Where can I Find Black Cardamom in the Stores?
Black Cardamom is widely available in well-stocked supermarkets, natural food stores, and grocery stores. They're usually found in the condiment or spice section.
They're also widely available in specialty and gourmet food stores and the internet. Black Cardamom is commonly sold in 100-gram jars or packets.
Conclusion
Cardamom is one of the world's most expensive spices. Average home cooks like you and me may not be able to afford it, at least not regularly. Cardamom is more expensive than other spices due to the way it is harvested.
Cardamom is harvested by hand, which takes time and energy. Cardamom is more expensive than other traditional spices harvested using automated methods due to the intense labor, care, and time required. Even if you can afford it, you may not be able to get it as soon as it becomes available, as other foodies will be tapping their feet in anticipation.
So looking for suitable black cardamom substitutes might be the best option.