French toast has become a regular in our breakfast menus for centuries, and we've gotten used to making them on the stovetop for that long. But have you ever considered cooking these tasty slices in an air fryer? French toast comes out just as exquisite in this appliance as it does in a skillet, and maybe even better. So, why not test it out today if you're curious?
French Toast Nutrition Facts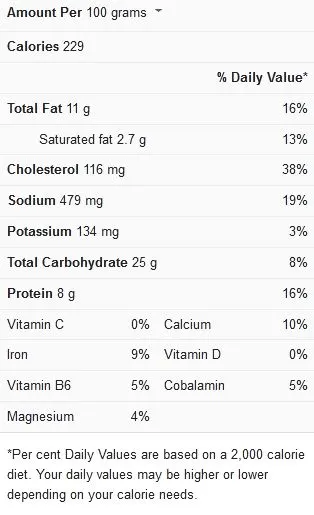 Why Air Fryer for French Toast?

Many perks come with using the air fryer to make French toast. First, the appliance is mobile; it can be used and taken anywhere. This means anyone anywhere can cook a batch of the delicious slices anytime. And because the appliance cooks duper fast, you're French toast will be ready in less than 10 minutes!
Also, air fryers are so easy; even kids can use them. Now, combine such a simplified cooking appliance with a straightforward recipe, and you'll have a family favorite in no time. You also won't have to struggle with washing a burnt pan afterward, as the air fryer is pretty easy to clean. Plus, the air fryer French toast isn't limited to white bread alone, but other health varieties as well.
Cooking Steps
Are you excited about trying out French toast in an air fryer? Well, so are we, so let's get started!
View this post on Instagram

Gather the Ingredients
The first thing to pick is the bread, and you can use any type you want. While most French toast recipes use white bread, you can go further with whole wheat bread as a healthier alternative. Since these are the two most famous types, let's work around them. More bread options are found in the tip section below.
The next step is picking your milk, and as expected, the consensus is whole milk. But you can also use reduced-fat milk if you're skeptical about fat content. But note that fat-free milk isn't an option as it's too fluid and won't add the desired richness to the French toast.
After that, you can pick your desired sweetener and flavorings to suit your taste palette. But the final round-up would be one egg and a pinch of salt for every two slices of French toast.
Combine the Ingredients
Pour the milk in a shallow, high-rimmed bowl and add the eggs, salt, flavoring, and sweetener. Then, whisk the ingredients into an even mixture. If you're using sugar, stir until it's entirely dissolved.
Dip the Bread Slices
Put the bread slices into the batter, so they'll soak on both sides. You'll have to flip, so a high-rimmed shallow container is necessary for bread to dredge 10 seconds per side. And you can do it at once or soak them in batches.
Cook the Toast
Once the bread is fully dredged, arrange them at the bottom of a greased air fryer basket and lower them into the appliance. If the basket can take all slices, then put them at once. But if it can't, cook the slices in batches. You want the bread evenly spaced so the hot air can fully circulate.
You'll be cooking the French toast at 350F for six minutes. First, add a thin film of non-stick spray to the top of the slices. Then, cook them for three minutes, and flip the slices, so the other side cooks for three minutes.
View this post on Instagram

Extra Tips
You can use any bread variety you prefer, besides regular white bread. And options to consider include whole wheat, whole grain, buttermilk, sourdough, oat nut, multigrain, and country white.
This recipe uses vanilla extract, but other options like almond can also be considered. You can also add freshly ground cinnamon or grated nutmeg if you're feeling adventurous.
If you're not keen on white sugar as a sweetener, consider brown sugar, honey, coconut sugar, and maple syrup alternatives.
Do the dredging in a high rimmed dish, as it's best for letting the bread soak evenly.
You can freeze these air-fried French toast slices for up to a month. First, freeze them for half an hour in a single layer on a baking sheet. Then, transfer the slices into resealable bags and store them in the oven.
To reheat frozen air fryer French toast, transfer them from the freezer to the basket and heat for two to three minutes at 400F. Then, flip the slices and continue heating for another minute. Repeat with the remaining slices if you're cooking in batches.
Serve the French toast slices at once with any desired toppings. You can also let them cool, then freeze and save them later.
Print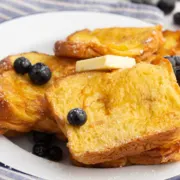 Air Fryer French Toast (2 Servings)
---
---
Instructions
Combine the wet ingredients with sugar and whisk thoroughly until the sugar is fully dissolved. Make sure to use a container with a high rim, like a baking dish or pie plate.
Soak each bread slice in the batter for 10 seconds on each side. You can do it one by one or soak two at once, but ensure they're evenly spaced.
Grease the basket with cooking spray and arrange the slices at a spaced position in it- two at a time, if your basket can't take them all. Add a quick spray at the top of the bread as well.
Cook the slices for three minutes, and take the basket out. Then, flip the bread slices, return the basket, and cook for three to four minutes.
You can serve these air-fried French toast with any toppings of your choosing. And if you're curious about more ideas, watch this clip instead.