The heart of a fantastic chicken burger is a juicy, delicious chicken patty. The key tip is that these patties are packed with shredded cheese and chicken, which keeps them wet and allows the air fryer to cook them quickly without overcooking them – so no more dry burgers!
In my kitchen, I find the air fryer to be a game-changer. Breakfast, lunch, dinner, vegetables, appetizers, and even sweets can be made with it. Chicken burgers are my most recent experiment in the machine, and the results may surprise you.
Cooking frozen chicken patties in the air fryer is quite simple. They are crunchy, excellent for stuffing into burger buns, and they fry properly straight from the freezer. Read on as you learn how to cook chicken patties in an air fryer, paying attention to the required cooking time.
Chicken Patties Nutrition Facts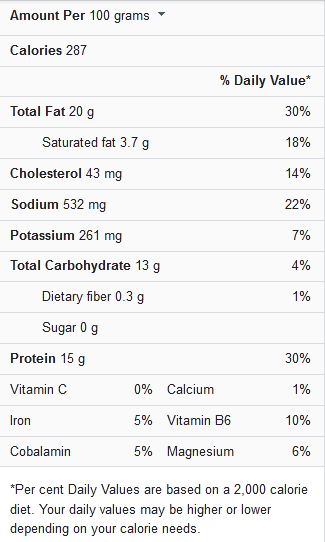 Tips on How To Cook Chicken Patties in Air Fryer
Picking the right chicken patties – Despite the convenience of store-bought chicken patties, I prefer to make my own. Because you can customize the flavors to your preferences. So, utilizing frozen or handmade chicken patties is entirely up to you.
The patties do not require oil when cooked in an air fryer. They cook evenly and in a short amount of time. Make a wonderful chicken burger for lunch with the patties, or you can simply serve it on a bed of lettuce for a low-carb option.
This recipe's main ingredient is ground chicken. You can buy minced chicken or boneless chicken that you can grind yourself. Additionally, frozen chicken mince is an option.
Toss the chicken patties together with your hands – It will be a little messier with this approach, but the components will blend much more easily. To keep your hands clean, put on tight-fitting plastic gloves.
The chicken patties should not be overcooked – The patties should be thoroughly cooked for 8 to 10 minutes (depending on the thickness). Overcooking may cause them to become dry.
How To Cook Chicken Patties in Air Fryer – It's simple to make chicken patties in an air fryer. The following are the easy steps to take:
Preheat the air fryer to 400 degrees Fahrenheit. Preheat the oven to ensure that the patties cook evenly.
In a single layer, you should place frozen chicken patties in the air fryer.
Cook for 7-8 minutes on each side, and ensure you flipping halfway through.
Cook for 1-2 minutes until the buns are crisped up in the air fryer (if desired).
Remove chicken patties from the air fryer, place them on buns, and serve right away, or you can store them in the fridge for up to 3 days and reheat them when you are ready to eat. Since the chicken is already cooked, it does not need to reach 165 degrees.
Servings – The ground chicken patty is tasty in a variety of dishes. Here are some recommendations:
Toppings and condiments like mayo, mustard, dijon mustard, or your favorite dipping sauce can be added. You can use potato buns, wheat buns, or brioche buns to top the burgers with red onions, avocado, bell peppers, and sautéed onions. There are plenty of excellent choices.
View this post on Instagram

How Long To Cook Chicken Patties in Air Fryer
Since all air fryers cook somewhat differently, the timing for your chicken patties may vary. Cooking frozen patties may take a few minutes longer.
In an air fryer, cook thawed or prepared chicken patties for 8 minutes at 400°F (200°C). Halfway through the cooking time, flip the burgers over to brown evenly on both sides.
You can cook for an additional 2-4 minutes if using frozen chicken patties – a total of 10-12 minutes. I suggest you watch the chicken patties while they cook for the best results.
| | | |
| --- | --- | --- |
| Preparation Time | Cook Time | Total Time |
| 10 minutes | 8-12 minutes | 18-22 minutes |
Print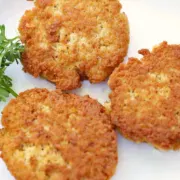 Air Fryer Chicken Burgers (4 Servings)
---
1

pound of ground chicken

1

large egg

1 cup

of shredded mozzarella (or any other melting cheese)

½ cup

of finely chopped onion

½ cup

of panko bread crumbs

2

garlic cloves (minced)

¾ teaspoon

of salt

¼ teaspoon

of ground black pepper

⅛ teaspoon

of red pepper flakes
Sriracha Mayo

¾ cup

of mayonnaise

1½ tablespoons

of Sriracha sauce (more or less depending on your taste)

2

garlic cloves (finely grated)

4

burger buns
Lettuce leaves
Tomato slices
Additional mayo to toast buns
---
Instructions
Get a large mixing bowl to combine all of the burger patty ingredients. Make sure you hand-mix thoroughly.
You should divide the mixture into four equal amounts and form patties (4-5 inches in diameter).
Proceed to preheat the air fryer for 10 minutes at 365°F. When the basket is heated, you should add the prepared chicken patties – spacing equally – and cook for 8 to 10 minutes until cooked through (Note that depending on the thickness of the chicken patties, you may not need to flip).
You should allow the chicken patties to cool for a few minutes in the air fryer basket before transferring them to a platter.
Prepare the sriracha mayonnaise. Refrigerate the mayonnaise, sriracha, and grated garlic until you are ready to serve the dish.
Toast the buns. On the cut side of the buns, you should smear a thin layer of mayo. Then preheat the air fryer to 340 degrees and arrange the buns mayo side up (approximately 4 halves at a time).
The moist, juicy, perfectly seasoned Air Fryer Chicken Burger is healthy, delicious, and ready in under 10 minutes. It's made from scratch, freezer-friendly, and delectable. You can watch this video recipe to know how long to cook chicken patties in an air fryer.