Stuffing is almost as important as the roast turkey recipe on Thanksgiving menus, which explains why it pops up in almost every culinary discussion. But one common ground enthusiasts share regarding this dish is how getting the perfect results can be elusive. But the best turkey stuffing recipe may tick all the boxes on ingredients and still fail if not cooked to the proper doneness. So, if you want to dodge such a problem in your next planning, it's best to take the time to master how long stuffing cooks in the oven.
Stuffing Nutrition Facts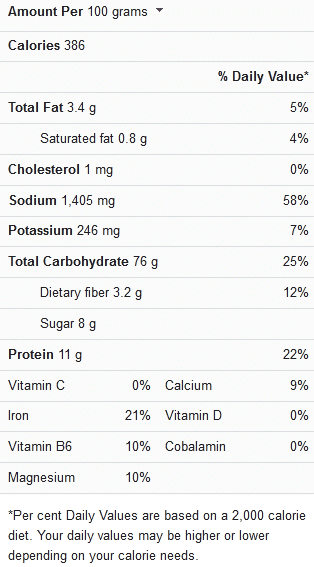 Why Cook Stuffing in the Oven?
Stuffing is a famous side dish that accompanies Thanksgiving turkey and, for centuries, has always been cooked inside the turkey. But over time, we've come to realize that a stuffed turkey takes a longer time to cook, as both ingredients must hit the right doneness before serving. As such, the method of cooking the stuffing separately in the oven was adopted, meaning its recipe's cooking time is planned along with the turkey's. And both are put in the same oven where they cook side-by-side.
Preparing the Ingredients
The key to hitting the right cooking time for stuffing is ensuring the steps are properly sorted, starting from gathering the ingredients to deciding the cooking temperature. And while numerous varieties of turkey stuffing exist, the main elements include dry bread cubes, aromatics, herbs, spices, broth, and seasonings. Sometimes, additions like raisins, carrots, or dried cranberries may be included, but the base will always be dry bread. And you can choose brown or white bread- anyone will work, provided it's dried enough. And the perfect texture should be just enough that it won't crumble into crumbs but with as much moisture expelled as possible.
A good trick for ensuring your bread is dried enough for stuffing is doing it yourself. Try sticking fresh bread cubes in the oven and dry them for 10 minutes at 300F. Also, ensure they aren't toasted or browned when you do. You want the bread to be moistened with the broth but not so much that it easily turns soggy.
Seasoning Options
You can't think of stuffing without poultry seasoning, as it'll be your base flavor enhancer regardless of how you prepare it. Poultry seasoning offers that familiar taste and aroma synonymous with stuffing, so it can't be done without. However, if you've run out, consider making a batch for yourself using sage, rosemary, and thyme. But note that sage is the primary ingredient in poultry seasoning and should be most prevalent in your homemade substitute.
Apart from poultry seasoning, you can also include other fresh herbs in your stuffing like thyme, rosemary, and parsley. Also, don't forget to chop aromatics like celery sticks, onions, shallots, garlic, or onions for the ingredients. Once done, combine the ingredients, add chicken broth, and pour it into a casserole dish for cooking.
Cooking Time for Oven Stuffing
You should cook stuffing for 45 minutes in a 350F oven, and it can be done next to the turkey if you're roasting at this temperature. This entails first cooking it uncovered for 35 minutes, then covering the casserole dish for the final 10 minutes. The stuffing can also be prepared and stored tightly covered in the fridge for later baking, but only for two days. Once it's time to cook, take it out 30 minutes before cooking time, so it completely loses the chill, and bake for the allotted cooking time.
Storing Leftovers
What's a Thanksgiving dinner without leftovers, am I right? And yes, you may have some stuffing left in the dish when all is done. So, put it in a tight freezer-friendly container and store it in the freezer, where it'll keep for months. And if you wish to use it for a recipe, bring it out and reheat it in a 350F oven for 20 minutes. You may need to add a little broth to the stuffing, though, so it doesn't dry out as you rewarm.
Print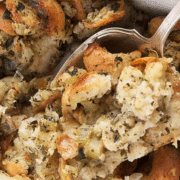 Turkey Stuffing (12 Servings)
---
---
Instructions
Set the oven to heat to 350F, and place a large skillet over medium heat. Melt the butter in the skillet and add the celery, onion, and poultry seasoning. Reduce the heat to medium-low and cook the aromatics for 10 to 12 minutes, or until tender.
Put the bread cubes in a bowl with fresh herbs, parsley, and cooked aromatics. Then, pour the broth on top to make the cubes moist (not soggy), toss, and season with pepper and salt.
Pour the mixture into a casserole dish and dot with more butter. Then, cover the dish and bake in the preheated oven for 35 minutes.
Uncover the dish and finish the baking by another 10 minutes.