Tofu may be familiar to some and strange to others, but one thing about it is that it can be used for almost anything. It can be baked, fried, sautéed, marinated, scrambled, and eaten in a variety of ways. And, surprise, you don't have to be a vegetarian to enjoy it!
Tofu is high in protein and low in fat, making it an excellent meat substitute in a variety of meals. However, many individuals are unsure about the proper cooking time for tofu, which is exactly why we're here.
Tofu Nutrition Facts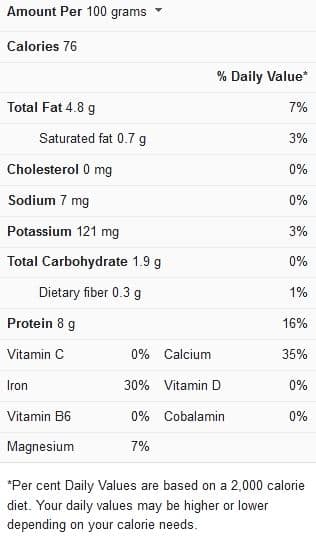 Tips for the Best Tofu
If your plan is to get the absolute best out of the tofu experience, then you'll be needing these helpful tips:
Select the right texture – Tofu comes in a variety of textures, from silky to firm to extra-firm, in supermarket stores. If you're blending tofu into desserts or slicing it into miso soup, opt for soft silken tofu, but if you're serving it as a main dish or topping it onto bowls, go for extra-firm tofu. It has a heartier, thicker texture than other forms of tofu and contains less water.
Press your tofu – Because tofu contains a lot of water, you'll want to press out the majority of it before baking, grilling, or frying it. Tofu presses are sold at stores. However, they are not required. You can use a stack of books or lightly press it in a kitchen towel or paper towels with your hands. Just be careful not to overwork it, or it will fall apart.
Season away – Tofu receives a lot of criticism for being bland, and that's because it is! Make sure it's well seasoned. You can marinade it to infuse it with different flavors of your choice.
Tofu Cooking Time
The time it takes to cook tofu depends on the method you decide to adopt. The following are the ideal cooking time for tofu in different cooking procedures:
Baking – When baking tofu, the ideal time is between 23 to 30 minutes; this allows it to achieve a delicious golden brown color.
Frying – Frying tofu can take up to five minutes per side to allow it to develop a nicely browned and crispy exterior
Sauteing – sauteing tofu takes up to about five minutes to develop a slight crust on each side and brown properly.
Cooking Tofu
There are a variety of ways to choose from when making tofu; it all just depends on how you prefer to enjoy it. When making tofu, following these recommended steps will help you arrive at the best results:
Baking Tofu
Baked tofu is a quick and easy way to make a large batch of chewy tofu bits mixed with sauce and added to noodle bowls or stir-fries. This method is particularly advantageous because it frees up stovetop space while other ingredients of your recipe are being prepared.
Follow these steps to make baked tofu recipes:
For at least 30 minutes, press the tofu if it is very firm. Place the tofu in a glass dish after it has been cut up into cubes or slabs.
Cover and set aside for 30 minutes to marinate the tofu.
Place the tofu on a parchment-lined baking sheet. Bake for 35-40 minutes at 400°F, flipping halfway through. For added flavor, save the marinade and brush it on the tofu while it's baking.
Baked tofu is a versatile dish that may be used in noodle bowls, rice bowls, and salads or even eaten as the main dish.
View this post on Instagram

Sauteing Tofu
Here is another method to cook tofu. To make a wonderfully crispy exterior, sauteed tofu is fried with a modest amount of oil and a little sauce.
The sauteing process for making tofu is described below:
Cut very firm tofu into cubes after pressing it for at least 30 minutes. In a nonstick skillet, heat a tiny quantity of oil over medium-high heat. Add tofu to the pan and brown for 1-2 minutes on each side for a total of 15 minutes.
Add roughly 1/4 cup of sauce once both sides of the tofu are softly golden brown.
Cook the tofu, frequently stirring, until the sauce has been absorbed by the tofu and the edges have caramelized, resulting in a crispy surface.
Tofu may be cooked quickly and easily by frying it. This cooking method helps you arrive at a golden, crunchy skin that makes for a filling plant-based dish.
The following are the steps involved in frying tofu:
Cut extra-firm tofu into triangles after pressing it for about 30 minutes. In a skillet, heat a few tablespoons of oil over medium-high heat. Place the tofu in a single layer in the pan. Make sure the pan isn't too full. Allow tofu to cook for about 4-5 minutes, or until golden brown and crispy on the underside.
Season the cooked side of the tofu slices with salt. Allow for another 4 minutes of cooking on the second side, or until golden brown and crispy. After removing from the pan, drain on a paper towel. Add salt and pepper to season the other side.
After frying, mix the crispy tofu with a sauce for added taste. Tofu triangles are great, but cubed or sliced tofu also works nicely with this way of cooking. To guarantee even crispiness, flip cubed tofu on both sides during the cooking process.
At the completion of the cooking time, if desired, add a sauce, flip the tofu to coat, and let the sauce brown around the edges. To avoid splattering and an overly oily sauce, use slightly less oil during frying if you plan to add sauce during the cooking process.
Print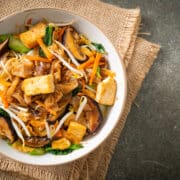 Baked Tofu Recipe (5 Servings)
---
14 ounces

extra-firm tofu, diced and patted dry

1/2 tablespoon

extra-virgin olive oil

2 tablespoons

tamari

1/2 teaspoon

sriracha

1 tablespoon

cornstarch, optional
---
Instructions
Preheat the oven to 425°F and place parchment paper on a baking pan.
Combine the cubed tofu, olive oil, tamari, and sriracha in a mixing bowl. Sprinkle the cornstarch on top of the tofu and toss lightly to coat.
On the baking sheet, evenly distribute the tofu. Bake for 20 to 25 minutes, or until the tofu becomes golden brown around the edges. Remove the dish from the oven and serve right away.
The total cooking time for this recipe is 30 minutes including prep time. For more interesting ideas on how to enjoy tofu, see this video recipe.