A juicy cooked chicken can be grilled or cooked on the stovetop with a special blend of homemade taco flavor. It's great in tacos, burritos, salads, and meal prep.
Speaking of tacos, they have a long and illustrious history as a type of Mexican street cuisine. There is a more Americanized version of the taco, consisting of a tortilla filled with spicy meats and delicious garnishes.
While the real definition and history of a taco are a little hazy, one thing is certain: tacos are our favorite food group. Enjoy this beautiful piece highlighting a simple and straightforward guide on how to cook chicken for tacos.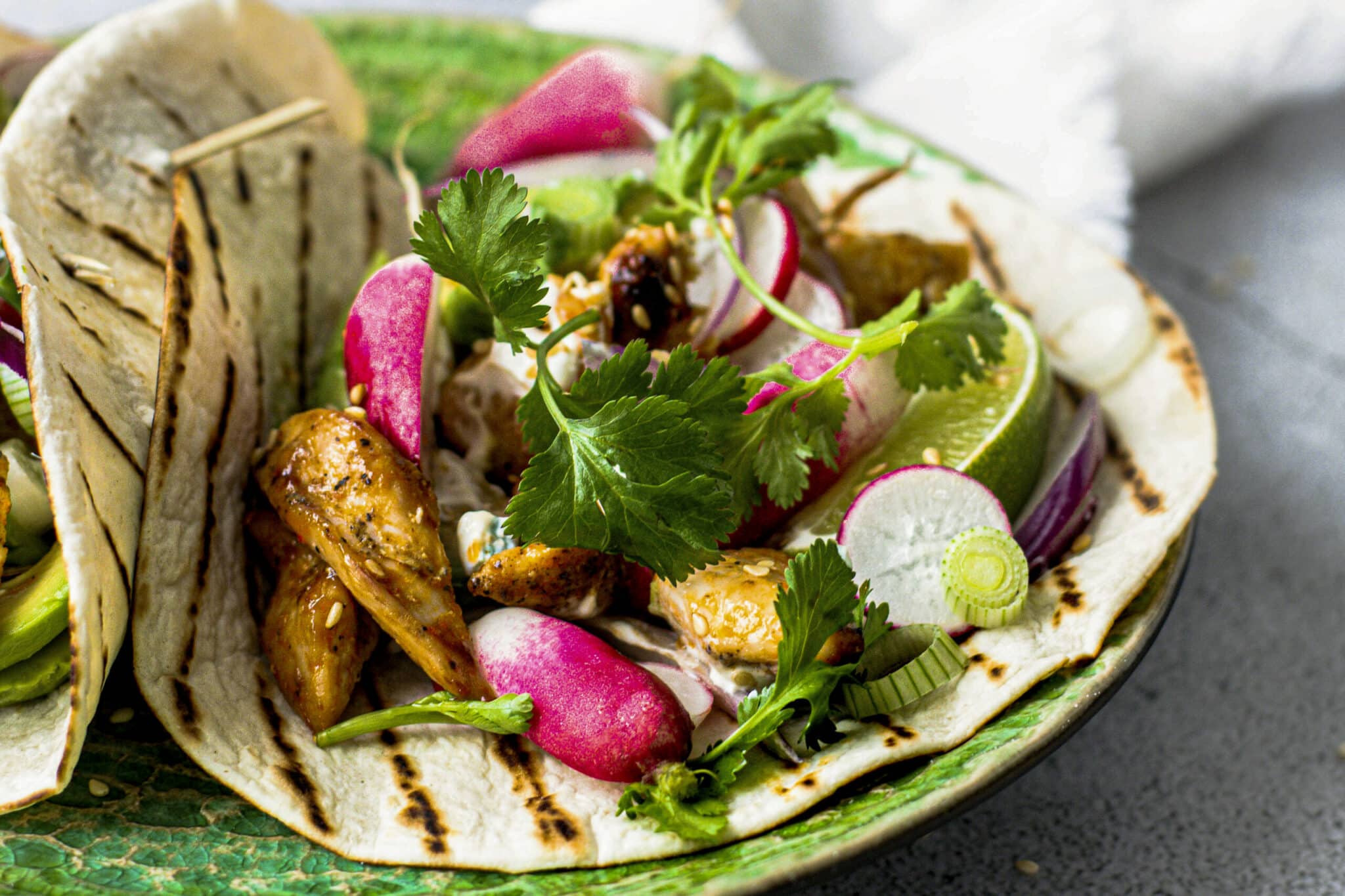 Tacos Nutrition Facts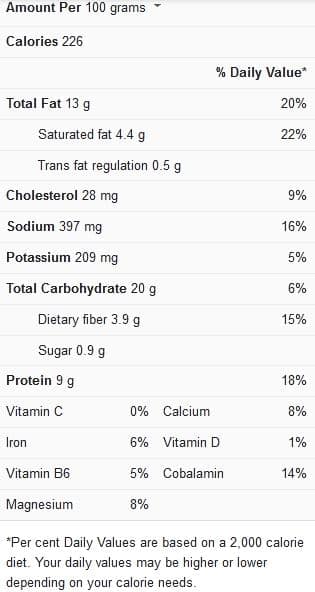 Why You'll Love Cooking Chicken for Tacos
Adjustable recipe – You can make these pulled chicken tacos your own way by adding any and all of your favorite toppings.
It is a flavorful dish – Well, chicken breasts on their own might seem just a little bland. Therefore, to make the boring bland chicken all fun again – and spiced up. You can add salsa, onions, and taco ingredients to these chicken tacos.
It is simple to prepare ahead of time – This dish will fit right into your meal planning since chicken tacos can be made ahead of time and kept for later This shredded chicken taco filling is great as leftovers and works well in taco salads or burrito bowls.
You can marinate the chicken tacos – Pour olive oil, fresh lime juice, chili powder, cumin, garlic powder, paprika, cayenne, salt, and pepper into a large resealable bag with sliced chicken. Refrigerate the chicken for at least 30 minutes before serving. Remove the chicken from the marinade and heat a little additional oil in a skillet when ready to cook. Then cook it until the chicken is completely cooked through.
This meal can be prepared on the stovetop – Shredded chicken can be made in a variety of ways, and the simplest way possible is poaching it right on the stovetop.
Tips for Cooking Chicken for Tacos
Chicken thighs work well in this preparation. They're fatter, brown better, and don't dry out as quickly.
The chicken will be coated with the sauce rather than sitting in it, as with regular ground hamburger tacos. If you want it saucier, add a spoon of tomato sauce at a time, tasting as you go.
You can use a lot of seasonings and make sure you don't go overboard on the salt.
Fresh garlic is far more delicious and pungent than garlic powder. two cloves is an ideal number, but you can add a few more if you desire.
In order to avoid sticking, you can use a nonstick skillet. Also, for more uniform heat dispersion, try to use a hefty skillet.
You can make sure to reduce the burner temperature if the chicken is browning too soon before it is fully cooked.
If you really want to dig the finest flavor, you should use fresh lime. When serving the chicken tacos, you can add more fresh limes.
You may like to warm tortillas in a skillet with a little olive oil until light golden brown spots emerge on each side. Using paper towels, absorb any excess liquid. This is not necessary though, they can be heated without the use of oil.
 

View this post on Instagram

 

How to Cook Chicken for Tacos
Step 1: Toss the chicken with the oil and lime in a medium mixing bowl. You can use 1 tablespoon of olive oil and 1 tablespoon of lime juice.
Step 2: Add your spices. Spices you should toss in – chili powder, cumin, garlic powder, smoked paprika, cayenne pepper, and salt and pepper to taste. You can use around 1 teaspoon of salt and ¾ teaspoon of pepper. Make sure you combine the mixture thoroughly until it is evenly coated.
Step 3: The next step is to preheat the skillet – over medium-high heat – and pour in the oil. You can heat a 12-inch nonstick skillet, then pour in the remaining 1 tablespoon of olive oil.
Step 4: Then proceed to brown the chicken on the first side. Place the chicken in the skillet evenly spaced. Then cook it for about 6 minutes, or until the bottom is browned.
Step 5: Now you can turn the chicken and finish off the cooking. First, reduce heat to medium if necessary and turn chicken pieces. Then cook it for another 6 minutes or until the chicken is cooked through – as to be165 degrees in the thickest area.
Step 6: You will have to allow the chicken to cool before chopping it. Let it cool on a cutting board for a few minutes, then proceed to cut into smaller pieces.
Step 7: You can assemble the chicken tacos as follows – over the tortillas, layer chopped chicken, preferred toppings, onions, and cilantro.
Step 8: You can serve it warm with lime wedges on the side.
Grilling or Baking the Chicken
| | |
| --- | --- |
| Grill | Grill the chicken on a gas grill over medium-high heat for about 10–12 minutes – flip once halfway through – until the internal temperature reaches 165 degrees |
| Oven | Preheat oven to 425°F and bake on a baking sheet covered with olive oil for 30–35 minutes, or until cooked through – temperature reaches 165°F in the center |
Print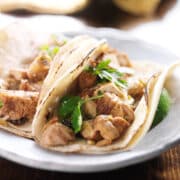 How To Cook Chicken For Tacos
---
---
Instructions
You can start by filling a pot halfway with water and adding the chicken breasts. You set the temperature to be over medium heat, then bring it to a boil.
Then reduce to low heat and continue to cook for 10 to 12 minutes, or until the chicken meat is no longer pink.
Now place the chicken breasts in a bowl, set them aside to cool.
Then now shred the meat with two forks
In a small nonstick saucepan, heat vegetable oil over medium heat. Then saute and stir onion until transparent – this should be about 2 to 3 minutes.
The next step is to add in the shredded chicken, cumin, chili powder, and tomato sauce. Then bring to a boil.
Reduce heat to low and cook for 3 minutes, or until chicken is heated and flavors have combined.
You can watch this video recipe to know how to cook chicken for tacos.