The Instant Pot does not just make life easier (literally) by allowing you to cook a meal from start to finish in one pot. Another significant benefit of using the Instant Pot is how simple it makes cooking essentials, chicken breasts, being a key (and ultimately delicious) example.
If you've never cooked chicken breasts in an instant pot, you'll be wowed when you try it. We've provided everything to make this an easy process for you. Just pay attention to the tips we've outlined; you'll love the results you end up with.
Chicken Breast Nutrition Facts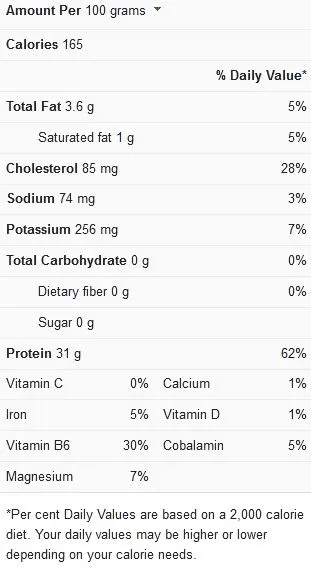 Tips for Cooking Chicken Breast in Instant Pot
You'll be needing these helpful tips to cook chicken breast using an instant pot:
Timing depends on the desired results – You'll want to go for a 10-minute cook time for the firm, salad-ready chicken breasts, but employ a quick release of pressure to keep the breasts juicy and not overcooked.
Keep the pressure on a bit longer if the chicken you'd prefer can be shredded with a fork. Use natural release for five minutes after a 15-minute cook time.
Don't discard the broth – Don't throw away the broth or the water you used in the steaming because the flavors are still intact. In fact, it may have gained some extra flavor, and you'll want that flavor imparted into your soups or ramen recipes.
Natural vs. quick-release – This refers to the process of depressurizing the Instant Pot once it has finished cooking. You don't have to do anything for natural release, and simply allow the Instant Pot to gently release pressure on its own.
To achieve a rapid release, open the steam release valve, and this causes the Instant Pot to depressurize the pot more quickly.
Storage tips – You can refrigerate the leftover chicken for up to four days if it is sealed. If you want to retain your chicken for a longer period of time, put it in an airtight container, freezer bags, or securely wrapped in aluminum foil or freezer wrap in the freezer.
When thawing cooked chicken from frozen, it's best to do so overnight in the fridge before reheating in the microwave or oven. If you don't want to use the microwave, bear in mind that you should cover the chicken before warming it in the oven, so it doesn't dry out. Cover the chicken and bake for 10-15 minutes, or until heated through, at 350 degrees.
View this post on Instagram

Cooking Chicken Breast in Instant Pot
Follow these easy steps to cook chicken breast in an instant pot:
Combine the ingredients in a small bowl and generously rub the spice mixture over each chicken breast. Because the spice mix is frequently used, you can normally prepare a large batch and keep a jar in your pantry. That way, anytime you need chicken spice, you have them readily available for use.
Heat the olive oil in the Instant Pot using the Sauté mode. Add the chicken breasts to the hot olive oil and sear on all sides. It's possible that you'll have to perform this in two batches. Set the chicken aside after removing it from the Instant Pot. You can skip this step if you don't want to fry your chicken breasts and just shred them.
Place the trivet inside the Instant Pot after pouring in the chicken broth. Close the Instant Pot lid and place the chicken on the trivet. Set the Instant Pot to Manual/High Pressure for 5 minutes after sealing the valve, 10 minutes of natural release, and fast remove the remaining pressure.
Place the chicken on a serving plate or a chopping board. Allow 5 minutes for the chicken to rest before slicing or serving.
You have some ready-to-eat chicken after following this process, one you and your family are sure to enjoy.
Cooking Time for Chicken Breast in Instant Pot
These timing guidelines will ensure delicious results when cooking chicken breasts in the instant pot:
| | |
| --- | --- |
| Cooking procedure (fresh vs. frozen) | Cooking time |
| Cooking fresh chicken on high | 10 minutes to come up to pressure |
| Cooking frozen chicken on high | 12 minutes to come up to pressure |
Print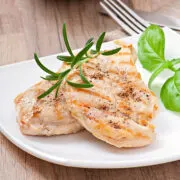 Instant Pot Chicken Breast (4 to 6 Servings)
---
3

pounds of fresh or frozen boneless, skinless chicken breasts (about

4

large breasts)

1 teaspoon

of kosher salt

1 cup

of low-sodium chicken broth or water
---
Instructions
In the electric pressure cooker, combine the chicken, salt, and water. In a 6-quart or larger Instant Pot or electric pressure cooker, place the trivet or steamer basket inside the insert. Place the chicken on the trivet and season it with salt. Over the chicken, pour the chicken broth or water.
Cook the chicken breasts on high pressure for 10 minutes and then quickly release the pressure. Make sure the pressure valve is closed and the cooker is sealed. Set the timer for 10 minutes on high pressure. It will take roughly 10 minutes for the fresh chicken to come to pressure. Frozen chicken, on the other hand, will take 12 to 15 minutes to come up to pressure. After the 10-minute cook period has passed, execute a fast pressure release.
Cook the chicken under high pressure for 15 minutes, then let it naturally release for 5 minutes. You'll only need a few more minutes of cooking and a natural release for chicken that shreds easily with a fork. Make sure the pressure valve is closed and the cooker is sealed. Set the timer for 15 minutes on high pressure.
The pressure cooker will take about 10 minutes to come to pressure with fresh chicken. It will take 12 to 15 minutes for the frozen chicken to come to pressure. After the 15-minute cook time is over, execute a 5-minute natural pressure release before quick-releasing any remaining pressure.
Remove any remaining pressure, serve the chicken breasts, or store for later. Transfer the chicken to a chopping board right away. If you're saving the cooked chicken for later in the week, keep the breasts whole in the fridge to keep them moist. For immediate use in other recipes, chop or shred the chicken as needed. Soups and cereals can be made using broth.
This recipe can be adopted for plain chicken breast, which may be used as meal prep for salads and grain bowls, as well as in recipes that call for cooked chicken. If you'd like more recipe ideas, then check out this video recipe.