Many vegetarians prepare meals with veggies to make their daily meals more convenient. Collard Greens are a popular vegetable that may be used in a variety of cuisines. They are large green leaves with tough stems that are plucked before eating and used in a variety of meals all over the world. They're similar to cabbage, kale, and mustard greens and are prepared likewise.
It's no surprise that vegetarians and non-vegetarians alike are drawn to it because it provides a diverse menu and maybe served without meat. So, how do you make a collard greens recipe that doesn't include meat? As you continue reading, that will become plain and simple.
Collard Greens Nutrition Facts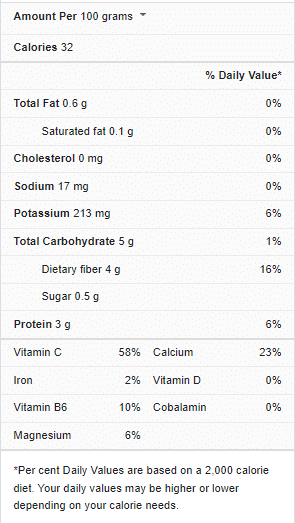 Why Collard Greens?
Let's take a look at some of the other advantages that collard greens provide, particularly for vegans when eaten without meat. The following are some of the outstanding advantages:
It can help you sleep better and feel better- Choline, a key neurotransmitter, is found in collard greens. Choline aids in the processes of mood, sleep, muscle movement, learning, and memory. Choline also aids in the maintenance of cellular membrane structure, nerve impulse transmission, fat absorption, and the prevention of chronic inflammation.
Supports the digestive system- Increasing your fiber intake by eating more collard greens is a good idea. Fiber can help you have a healthier digestive system by increasing regularity and nourishing your good bacteria.
In addition, collard greens and other cruciferous vegetables contain dietary sulforaphane, a plant chemical. Sulforaphane is thought to prevent Helicobacter pylori overgrowth, a bacterium that attacks the lining of your stomach and causes symptoms including bloating, nausea, and stomach discomfort.
It can aid in the improvement of bone health- Collard greens are high in vitamin K, which is essential for strong bones. Vitamin K helps your body absorb calcium and builds the essential structure of your bones if you get enough of it every day. As a result, collard greens may assist in the prevention of osteoporosis.
Tips for Cooking Collard Greens Without Meat
Cleaning Collard Greens- Begin by plucking and removing the stems from your greens. Rip the stem from the leaf by folding it in half. Fill a big mixing bowl or a sink halfway with water.
Vinegar can also be used. You can also just use water if you choose. After that, dump them into a dish or a sink. Swish your hands about in the air. Scrub any dirt from the actual leaves with your hands.
Drain and re-fill the container. Rep this process until the water is clean and there is no dirt in it.
The vegetable broth should be used- For taste, add 1/2 teaspoon smoked paprika and 1/2 teaspoon red pepper flakes. This will help you flavor your collard greens while also allowing you to prepare them without the use of meat. This is a great method to get a pleasant taste out of collard greens if you don't want to eat them with meat.
Cooking Collard Greens Without Meat
Let's take a look at some of the ways you may prepare collard greens without adding meat. That should be a lot easier now that you know it's something you can do yourself without having to be a professional chef.
Collards Braised
Start with a large bunch or two of collards to braise. Remember that when greens simmer down, what once seemed like a mountain becomes a molehill. Collards should be stemmed and chopped. I like to cut them into thick ribbons by stacking the collard halves in a single pile and cutting crosswise.
In a deep saute pan, heat some oil over medium heat. Add a pinch of red pepper flakes, three chopped garlic cloves, and a lemon's zest. Cook until the aromatics can be detected. 1 chopped onion, sautéed till tender and transparent Cook the collards until they begin to wilt, about 5 minutes. Cover the pan with up to one cup of vegetable broth.
Reduce the heat to low and simmer the greens for 45 minutes, or until they are soft. Younger leaves will cook more quickly. Remove the lid from the pan, increase the heat to medium-high, and let the broth decrease1 somewhat. Season to taste with salt and pepper, as well as a squeeze of lemon juice for added brightness.
Saute Red Cabbage and Collards
Over medium-high heat, heat a deep skillet with olive oil. Cook for five minutes with diced onion, minced garlic, and a pinch of red pepper flakes. Toss in 12 heads of shredded red cabbage with the oil and seasonings. Stem and chop a large bunch of collard greens, then add them to the pan in small batches.
As they wilt, more space will open up for you to keep adding them. Cook the greens for 7-10 minutes, or until they are soft, adding extra liquid to the pan if it becomes dry. Season the greens with a pinch of ground nutmeg, salt, and pepper. This meal is not only excellent, but it also has lovely green and purple colors.
View this post on Instagram

Collard Greens With Creamed Coconut
If you want to make the collard greens more tender and faster to cook, blanch them first. To stop the cooking process, transfer the greens to an ice bath. Drain the collards thoroughly before stemming and chopping them.
Coconut oil is used to sauté minced garlic and chopped onion or shallots. Add the collard greens to the pan, toss them in the oil to coat them, and cook for a few minutes. Pour one cup of coconut milk or non-dairy creamer into a pan and season with salt, pepper, and a pinch of grated nutmeg to make a cream sauce.
Cook, stirring frequently, for about 5-7 minutes, or until the greens are tender and the sauce has thickened. Taste to see if any seasoning adjustments are needed.
Print
Vegan Southern Collard Greens
---
---
Instructions
Vegetable oil should be used to coat a large deep skillet or pot.
Over medium heat, cook onions until almost soft, then add garlic. Cook for 2-3 minutes, or until the onion and garlic are aromatic. Add the veggie broth to the mix. Smoked salt and red pepper flakes are added to the broth.
Season to taste and, if necessary, adjust seasonings. This is how your greens will taste, so make sure it's to your preference. Reduce the heat to a low simmer. Greens should be added last. As they cook, the green will wilt. Cook for an hour to an hour and a half to one hour and a half. Boiling is prohibited. If necessary, top with additional vegetable broth.
Check them after 30-45 minutes, as they may require more or less time. Greens will be dark green, delicate, and devoid of a raw flavor when done. If desired, season with additional smoked salt, black pepper, red pepper flakes, or hot sauce.
Making great collard greens without meat is straightforward, as you can see from the article. Make sure you have the right vegetable and that you're following the recipe's instructions when it comes to cooking. You'll be able to make this dish in no time and eat it as a nutritious supper this way. If you want to learn more, check out this video.