Not everyone's an expert on handling full turkey recipes, especially when it comes to the giblets. And those who do believe there's only one function it performs- stuffing. But while you may be great at preparing the whole turkey, you may also wonder how best you can cook the giblets. And that's what we will explore here.
What Is Turkey Giblet?
When a whole turkey is sold, you'll find a bag in its emptied large cavity. And when opened, you'll find the heart, liver, and gizzards in said bag, followed by the neck stuffed separately into the same area. These are collectively called the giblets, and if you know how to use them right, can be a doorway to an explosion of flavor for your cooking.
What to Do with Turkey Giblet and Neck?
If you're not fond of turkey neck and giblets, you probably must've discarded them once the cavity is emptied. But you should know that it's just as essential for a delicious experience as the turkey. So, if you've ever wondered what you can do with turkey giblets, here are a few tips;
Stuffing
The classic method of roasting whole turkey involves filling the large cavity with stuffing. And among the many ingredients combined for this purpose include the giblets and neck. The idea is that the giblets will cook with the other vegetables inside the turkey, releasing flavor in the meat as it roasts in the oven. But today, newer methods suggest cooking the stuffing (And giblets) in a separate pan next to the turkey in the oven.
Soups, Gravy, and Broth
When boiled, the neck, gizzard, liver, and heart give a flavor-rich juice that can be added to recipes. And this rich liquid can be used to flavor soups, sauces, and other dishes. Turkey giblet and neck can also be cooked and processed to make giblet gravy, tasty addition to turkey menus and Thanksgiving and Friendsgiving dinners.
Snack
You can save the turkey giblets in the freezer for another time, and roast them in the oven as a snack when you're bored. The gizzard, for instance, is lean meat and a healthy choice of poultry that can be eaten alone or added to other dishes.
View this post on Instagram

Cooking Turkey Neck and Giblets
For Stuffing- Arrange the turkey giblets in a roasting pan with the stuffing ingredients. Then, place it next to the turkey in the oven and cook for the same duration as the turkey. Serve next to the bird when ready.
For Broth- Pour the giblets and neck in a saucepan and add seasoning, herbs, and aromatics. Then, fill with water and place on a stove at medium-high heat. Let the contents reach a boil, then reduce the heat to medium so it simmers for at least one hour (1½ for more flavor). Once done, strain the liquid and store it for your soups, gravy, sauces, and other recipes. If you have leftover broth in the fridge, use it in place of the water.
For Gravy- Boil the turkey giblets and neck with four cups of water in a pot, then reduce the heat so it simmers. You want the liquid to reduce by a quarter of its content, which may take about an hour. Afterward, strain the liquid into a saucepan on medium heat and add turkey drippings from the roasting pan, if any. Mash the cooked giblets and chop the neck into bits, then set aside. Mix some cornstarch with half a cup of cold water until it smoothens, and stir it into the broth. Allow it to reach a boil, then reduce the heat to a simmer. And add the mashed giblets and chopped neck. Stir, season with pepper and salt, and simmer till the gravy thickens. Note that adding the giblets and neck into the gravy is optional. Some don't like the direct taste of giblet in their gravy, and others may not appreciate the slightly bitter tone the liver adds to the mixture.
Storage Tips
Broth derived from turkey giblet and neck will last three days in the fridge, or months in the freezer. The raw giblets and neck can also be frozen and used at another time. And turkey giblet gravy should be eaten within three days after it's cooked.
Print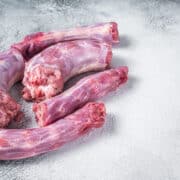 Turkey Giblet and Neck Broth (3½ cups)
---
Giblets and neck from one turkey

Two cups

of chicken broth

Two cups

water
Two celery sticks, chopped
Two sprigs, of fresh thyme
One sprig, of fresh sage
One sprig, of fresh rosemary
One medium onion, quartered

One teaspoon

of black peppercorns
---
Instructions
Pour all ingredients into a saucepan and boil, then reduce the heat and cover. Simmer for one hour on low heat, then pour through a mesh strainer to catch the solids. Use this broth to make stuffing, soups, sauces, or gravy.
Combine with pan drippings for extra flavor. Giblet broth will keep for three days in the fridge.
If you want a visual direction, watch this video.