Tilapia is a white fish with a moderate flavor. It is a common choice around the world because it is simple to prepare and reasonably economical. It is a popular fish in the United States and around the world. It is the most farmed fish in the world, with over 120 countries and territories participating.
Tilapia is a common pick for farming since they mature swiftly. They are adaptive and can thrive in a variety of environments, including low-quality water and overcrowding. The Nile River in North-East Africa is home to the most common farmed species.
You might be wondering if tilapia dish is one that you can readily cook, given its importance. That, in essence, is the purpose of this post, and if you follow through, you will find the preparation process to be simple and enjoyable.
Tilapia Nutrition Facts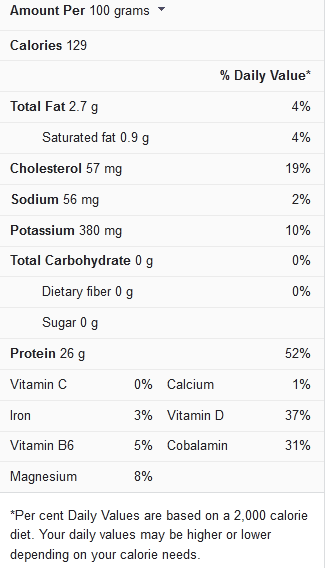 Why a Tilapia?
Tilapia is a fantastic dish, and now we can examine some of its many advantages. The following are some of these benefits.
It has a lot of protein- Fish, including tilapia, are one of the best sources of protein. It is indeed rich in omega-3 fats, which have been essential for the normal functioning of the body.
It may aid in cancer prevention- Selenium is a mineral that helps to prevent cancer, cardiovascular disease, cognitive decline, and thyroid illness. Although selenium is only required in modest amounts, it is necessary for a variety of body activities. A single tilapia fillet has 88 percent of your daily dose of selenium, making it an excellent source of this mineral.
It promotes heart health- The high omega-3 fatty acid content of fish accounts for many of the health benefits. Reducing blood clotting, lowering cholesterol, lowering blood pressure, lowering the risk of strokes and heart failure, and reducing irregular heartbeats are all benefits of these unsaturated fats (arrhythmia). More omega-3 fats are found in tilapia than in beef, pork, chicken, or turkey.
Tips for Cooking Tilapia
Allow the Tilapia to Finish Cooking- If you're pan-frying or sautéing tilapia fillets, don't stir them around too much. Fish is extremely sensitive, and tilapia is no exception. The more you move the tilapia around in the pan, the more juice you lose, which might cause the sensitive fillet to split. To put it another way, the less you push, touch, flip, or jiggle the fillet, the better it will look and taste.
Cooking Tilapia should not be overcrowded- Don't overload your pan or the tilapia with too many things at once. It's not so much a matter of overseasoning your tilapia as it is of cramming it.
There's no way for the heat to escape when the pan's entire surface is covered with items like fresh-cut vegetables, herbs, or even too many fish fillets. Lots of steam results from the trapped heat. Steam prevents meat, particularly fish, from turning the desired golden brown color.
Cooking a Tilapia
With that out of the way, let's go right into the cooking process for this delectable dish. As you try to cook this recipe, some of the following instructions will come in handy.
By Baking your Tilapia
Baking tilapia is a hands-off cooking method that takes only a few minutes to complete. Preheat the oven to 400 degrees Fahrenheit. Rinse your Tilapia fillets and pat them dry with a paper towel before placing them on a baking pan greased with oil or cooking spray.
Lightly press the fillets into the pan with a spatula until they "stick." Bake for 5–6 minutes, or until the fish begins to lift from the pan. Bake for another 5–6 minutes after flipping the Tilapia fillets. Allow the Tilapia to rest at room temperature for a few minutes before serving for perfect flaky results.
By Broiling your Tilapia
Thinner slices, such as Tilapia fillets, can be prepared by broiling. It's especially useful if you want to glaze the fish because it aids in the creation of a delicious, caramelized flavor. Broiling can quickly escalate to burning, so keep an eye on it.
A few inches below the broiler, place your oven rack. Preheat the broiler for 10 minutes on high. Fill a glass dish or a baking sheet with your marinated Tilapia fillets. Broil the fish for 5 minutes, or until beautifully browned. If you're using a thicker cut of Tilapia, instead of broiling it, bake or roast it.
By Grilling your Tilapia
Many people prefer this technique of cooking, especially during the summer. If the weather isn't cooperating, you can use an indoor grill pan, which looks similar to a gas or charcoal barbecue.
To keep the Tilapia from sticking to the grill, clean and grease it. Preheat your grill to medium-high. Brush the fish with a little olive oil and seasonings of your choice (salt and pepper will do fine in a pinch). Tilapia should be grilled.
Cook for 7–9 minutes per half-inch of thickness, flipping once. Swordfish and tuna, for example, can be grilled fast at a higher temperature. For a fragile fish like Tilapia, though, it's advisable to go slower and slower.
By Roasting your Tilapia
Because everything can be tossed into one pan and cooked together, roasting is a great method to make a quick and healthy supper. The most difficult aspect of roasting, however, is ensuring that everything is done at the same time. Because Tilapia is such a lean fish, softer veggies such as zucchini and bell peppers are ideal.
Preheat oven to 375°F (190 degrees Celsius). Spray a glass baking dish with cooking spray. Brush your Tilapia fillets with butter and seasonings of your choice after rinsing and patting them dry. Roast for 17–20 minutes in the oven, checking frequently. When a fork readily flakes the Tilapia, it's ready. Depending on their size, tilapia fillets cook differently.
Print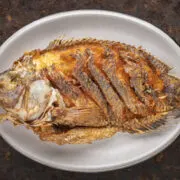 Garlic Butter Oven Baked Tilapia
---
4

tilapia fillets
Salt and ground black pepper

½ teaspoon

paprika

½ teaspoon

dried thyme

½ teaspoon

dried oregano

4 tablespoons

butter, melted

4

cloves garlic, minced

2 tablespoons

lemon juice

¼ teaspoon

lemon zest

1

lemon, sliced into rounds (for garnish)
Red pepper flakes (for garnish)
Chopped fresh parsley (for garnish)
Lemon slices (for garnish)
---
Instructions
Preheat the oven to 400 degrees Fahrenheit. Salt, pepper, paprika, thyme, and oregano tilapia; arrange in a 9×13 baking dish. Whisk together melted butter, garlic, lemon juice, and lemon zest in a mixing dish; pour over tilapia. Bake tilapia for 10 to 12 minutes, or until fork-tender and flakes easily. Serve with lemon slices and pepper flakes as garnish. Serve.
The amount of time it takes to cook this unique delicacy, tilapia, is determined by the way you use to prepare it. Some of these approaches have been explored, and you will find them beneficial if you plan to prepare this dinner yourself.