Apart from the healthy and delicious results you're sure to get, cooking meatballs in your air fryer provides a number of benefits that you may not get with cooking them in the oven or on the stovetop. For starters, the meatballs won't break apart because you'll be handling them less, they'll stay precisely round, and they'll color evenly. The cooking process is also way less messy since there'll be no oil splatters from the pan.
In this article, we'll show you the ideal way to cook meatballs in an air fryer, as well as helpful tips that will guide you to desirable results. Also, pay attention to our timing guidelines to get the best possible results with your recipe.
Meatballs Nutrition Facts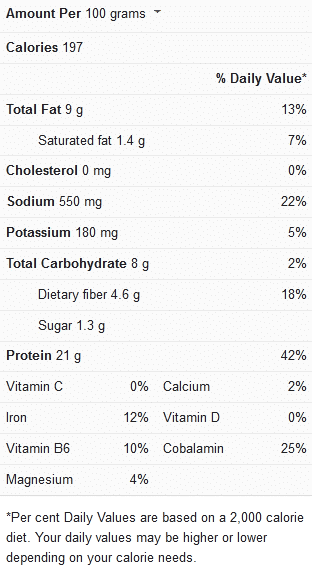 Tips for Cooking Meatballs in Air Fryer
Pay attention to the tips, guidelines and recipe suggestions we have compiled below to guide you through the process of cooking delicious air fryer meatballs:
To prepare meatballs ahead – Follow these easy steps:
First you need to prepare the meatballs according to the recipe's instructions.
Afterwards, arrange the meatballs on a baking sheet, then leave them in the freezer till they get solid.
Move the meatballs to a freezer-safe storage vessel or an airtight zip-top bag before freezing. Freeze the meatballs for up to three months in advance.
When the time finally comes to use them, cook them straight from their frozen state in your air fryer, but make sure to add a few minutes to the cooking time.
Avoid overcooking – Your meatballs only need to be cooked for about 7 to 9 minutes in your air fryer if you're using a high temperature like 400 degrees Fahrenheit.
Because air fryers tend to vary in temperature, it's advisable to check the meatballs a few minutes before they're done to make sure they don't overcook. The meatballs should have a temperature of 165°F in their core.
Storage and reheating tips – Keep the following in mind when working with meatball leftovers:
Storing cooked meatballs: Meatballs can be kept refrigerated for up to 3 days as long as they're kept properly in an airtight container.
Reheating leftovers: To reheat, arrange the leftovers on a baking sheet in the oven or in the microwave and heat them up at 350 degrees F.
Freezing cooked meatballs: Ideally, meatballs should be arranged on a baking sheet in a single layer before freezing them until they become firm. Transfer the frozen meatballs to a freezer-safe storage container or zip-top bag that is airtight. Freeze the cooked meatballs for up to 3 months. Before reheating, leave them to thaw overnight in the fridge.
View this post on Instagram

Cooking Time for Meatballs in Air Fryer
The ideal timing guidelines to follow when cooking meatballs in an air fryer have been described in the table below:
| | |
| --- | --- |
| Cooking procedure | Cooking time |
| Cooking meatballs in the air fryer at 400 degrees Fahrenheit | 7 to 9 minutes |
Print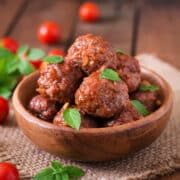 Air Fryer Meatballs (20 Meatball Servings)
---
Serving Ingredients
Grated Parmesan cheese
Chopped fresh parsley or basil
Cooked whole-wheat pasta or Zucchini Pasta
Prepared pasta sauce
Creamy Polenta
Prepared brown rice
Split and toasted hoagie buns
---
Instructions
Keep a baking sheet lined with parchment paper accessible. Heat up your oven to 300 degrees F and cover the second baking sheet using parchment paper, this will be needed to preserve the warmth of the meatballs in between batches.
Pour in the Parmesan cheese, breadcrumbs, salt, parsley, garlic powder, Italian seasoning, onion powder, red pepper flakes, and black pepper to a large mixing bowl. To blend, stir everything together thoroughly.
Introduce the ground turkey into the mix. Beat the egg in a small bowl before adding it to the contents of the bowl (it's also okay if you crack it into any available space in the large mixing dish and whisk it lightly there). Mix lightly with a fork (you can also use your fingers) until all the ingredients are uniformly blended, but make sure not to compress the meat.
Divide the meat and roll it into 1½-inch meatballs (about 20 individual meatball pieces in total), then place them atop the first prepared baking sheet.
Heat up your air fryer to 400 degrees Fahrenheit. Coat the basket in nonstick spray generously. In the basket, arrange a single layer of meatballs, making sure they don't touch so that the hot air can flow freely (you may need to cook the meatballs in batches). Using a non-stick spray, mist the tops of the meatballs.
Cook the meatballs for 7 to 9 minutes in the air fryer at 400 degrees F, pulling out the basket halfway through and gently turning the meatballs over with tongs. When an instant-read thermometer reads 165 degrees F, the meatballs are done. When you cut a meatball in half, the meat needs to appear thoroughly cooked.
Transfer the first set of cooked meatballs to a separate, clean baking sheet and keep them warm in the oven. Continue your cooking with the remaining meatballs.
Heat up the sauce atop your stove, and also prepare any additional foods you'd like to serve with the meatballs while they're cooking in the air fryer.
This air fryer meatball recipe yields incredibly delicious results, and your family will definitely appreciate its inclusion in your dinner platter. The entire cooking duration for this recipe is 30 minutes, including a prep time of 20 minutes and a cook time of 10 minutes; this means that in addition to being delicious, it's also quick and easy to make. Just ensure to follow the right cooking instructions.
If you'd like more recipe ideas for cooking meatballs in an air fryer, we recommend that you check out this video recipe.