Baking Potatoes in an air fryer is by far the best method to prepare them, anyone who has tried this can testify and I bet it is why you've decided to give it a go. Using an air fryer would ensure that the potatoes are evenly cooked with a crispy outside and a sweet tender inside.
Using an air fryer to bake potatoes might seem difficult or unnecessary especially if you're using this method for the first time but once you try it I doubt you would want to go back, this method is quick, convenient, and produces delicious results.
Making a baked potato uses just three basic ingredients potatoes, oil, and salt but the recipe is flexible and could be tweaked to your liking, you could add some flavorful toppings and garnish to it. With that being said let's get right into this recipe but first let's look at some great tips to note when making a baked potato in an air fryer.
Potato Nutrition Facts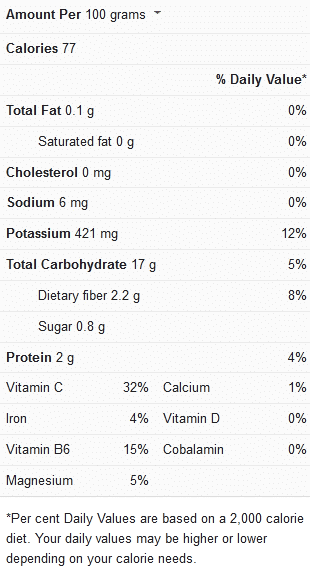 Tips to Note When Making a Baked Potato in an Air Fryer
Before you try that baked potato recipe let's look at some helpful tips that would make your cooking process easy.
Pick the right potatoes; this recipe could be done with any kind of potato and any size but for the best results use medium-sized Russet potatoes, they are good for air frying because they hold up well in high cooking temperatures used for baking crispy potatoes, they are starchy and can easily absorb other flavorful garnishing ingredients, they have thicker skin than the other kinds.
However, in cases where you can't find russet potatoes use anyone you have in your pantry.
Scrub and clean the potatoes; before you go ahead to air fry your potatoes make sure they have been scrubbed and cleaned under running water, most people enjoy the baked potato with the edible skin on so it's important to clean any dirt off and pat dry with paper towels before seasoning and baking.
Test for doneness – to check if the potatoes have been cooked well to the middle when it reaches the cooking time, use a knife to poke through the potatoes down to the middle, if it passes through without stress the potatoes have been cooked well but if it doesn't then leave it in for a few more minutes.
Use cooking spray or oil; to get that crisp texture on the outside of the potato and ensure that the season sticks on the potato, use a cooking spray on the air fryer or rub some high smoke point oil on the outer layer of the potatoes before baking.
Oils like avocado or canola oil are good options but avoid using low smoke point oils like using extra virgin olive oil because this would cause the air fryer to produce excess smoke that would pour out of your air fryer during the cooking process.
To poke or not to poke the potatoes; most people poke the potatoes with a fork before baking to avoid them from making a mess in the air fryer others don't and they still come out fine. So, you could choose to poke them or choose not to poke them with a fork.
Feel free to season with your favorite seasonings; the recipe originally calls for just salt and pepper for seasoning but you could spice things up with your favorite cooking seasoning and toppings like adding some garlic powder, Butter, or Cheddar cheese for some cheesy goodness, smoked gouda, spicy chilis, Cool sour cream, Avocado Salsa, Slow Cooker Mexican Shredded Beef, chives, etc.
Try not to overcrowd the air fryer; when making the Baked Potatoes, properly space them in the air fryer so the heat would evenly distribute around the potatoes.
Pick the same size of potatoes; if you'll be using medium-sized potatoes make sure all of them have the same size because this would guarantee that they would be ready at the same time.
The size of the potatoes would affect the cooking time so pay close attention to the air fryer when making them especially when you buy smaller ones, the smaller ones would cook under a few minutes more than the common cooking time while the larger ones would cook for a longer time.
View this post on Instagram

Cooking Time for Baked Potatoes in an Air Fryer
This table below describes the estimated cooking time for a baked potato using an air fryer
| | |
| --- | --- |
| Cooking method | Cooking time |
| Air frying 1 potato at 400°F | 30- 38 minutes |
| Air frying 2 potatoes at 400°F | 35- 38 minutes |
| Air frying 3 or more potatoes at 400°F | 45-48 minutes |
Print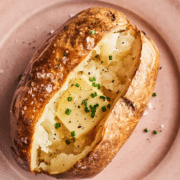 Air-fryer baked potatoes (4 servings)
---
---
Instructions
Start by cleaning the dirt off the potatoes, use a scrubber or your hands to wash the potatoes under running water, them properly pat them dry with a paper towel.
Poke some holes in the potatoes with a fork, this should take about 10 seconds.
Rub some oil and sprinkle some salt on all sides and place in the air fryer basket.
Bake them in the air fryer at 400°F (205°C) for about 45-48 minutes, you could choose to flip it midway or just let them sit in the basket until the time is up. (Remember that the size and number of the potatoes would affect the cooking time if you'll be using small ones the potatoes would cook faster around 30 minutes and if you'll be making larger ones it would take longer).
When the 45 minutes is up check for doneness using a fork, and pierce through the potatoes to check if they are soft enough. If they are, remove them but if they are not put them back into the air fryer for additional 3 -5 minutes.
Making a baked potato is easy and if you'd like to see more ideas on this recipe, check out this video recipe