When rump roast is cooked in the crockpot, it becomes a melt-in-your-mouth comfort food that is fork-tender and perfectly prepared. It's ideal for a weeknight meal or any other occasion on any given weekday. Crockpot rump roasts are so delicious that they'll become a family favorite in no time.
You've come to the right place if you've ever wondered how to prepare a soft and delicious rump roast. If you follow the recommendations in this article, you'll have the most delicious Sunday rump roast, one that you and your entire family can enjoy.
Tips for Cooking a Rump Roast
Rump roast recipes are ultimately delicious when cooked in the crockpot. If you decide to try out the recipe, you'll need to pay attention to the following tips:
The best cut of beef roast to use – You can use any type of beef roast for slow cooker rump roast recipes. Top round, bottom round, brisket, rump roast, sirloin tip, sirloin roast, chuck roast, top round, and bottom round all have their place in this rump roast recipe, and any of them will suffice.
Ideal timing and temperature – If you want your roast to come apart and shred easily, make sure the internal temperature is at 190-195 degrees Fahrenheit. All of the fat and connective tissue will be rendered, so if you want to know how to create a tender rump roast, keep an eye out for this.
The roast will overcook if the internal temperature reaches 300 degrees before the tissues have a chance to melt away. That's why for the perfect pot roast recipe, low and slow is the way to go.
Also, when preparing a roast in a crockpot with large cuts of meat, make sure you allow enough time for it to simmer.
A crockpot can be started early in the morning and left to cook all day. If the meal is finished early, the crockpot can be kept heated for an hour or so. Always arrange ahead of time for your roast to be ready. That way, even if it's a particularly tough cut of meat, your family won't notice, and you'll have all the time you need to obtain a shreddable tender beef.
Reheating ideas – there are different ways to warm up your rump roast; some of them have been described below:
In the microwave: Microwave the roast beef for about 2 minutes, then remove it, stir, and reheat until all of the meat is heated through.
In the oven: Place the beef roast in an oven-safe baking dish, such as a small casserole dish. Afterward, cover the roast beef with a few tablespoons of water or gravy, cover with aluminum foil, and bake for about 20 minutes at 350 degrees.
Add a little butter or a few teaspoons of water to a small pan on the stovetop. Heat over medium heat, tossing periodically until all homemade roast beef is warmed through. This is a terrific way to reheat shredded beef and serve it with BBQ sauce for a delicious shredded beef sandwich.
View this post on Instagram
To begin, heat a big pot over high heat with vegetable oil in the bottom. Season the beef with black pepper and kosher salt.
Place the rump roast in the pot and sear both sides of the meat. Each side should barely take 3-4 minutes. Turn off the heat and transfer the meat to the slow cooker after you're done searing.
Chop the carrots, potatoes, and onion for the slow cooker. In a crockpot, combine the carrots, potatoes, and minced garlic.
Combine the beef broth, red wine vinegar, Worcestershire sauce, and celery salt in a large mixing bowl. Over the meat and veggies, pour the broth mixture.
You may cook on low for 8-9 hours or on high for 4-5 hours in the slow cooker.
Afterward, you'll have a really delicious and fork-tender rump roast that is so satisfying to eat.
Cooking Time for a Rump Roast in a Crockpot
Follow these timing guidelines in the table below when cooking a rump roast in the crockpot:
| | |
| --- | --- |
| Cooking procedure | Cooking time |
| Cooking a rump roast on low heat | 8 to 9 hours |
| Cooking a rump roast on high heat | 4 to 5 hours |
Print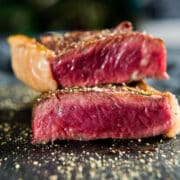 Crock Pot Rump Roast Recipe (6 Servings)
---
2

to

3

pounds of roast

5

lbs of choice potatoes, cut into chunks (if using small baby yellow potatoes, there's no need to cut)

4

carrots, peeled and cut into chunks

½

onion, cut into chunks

4 cups

of beef stock or beef broth broth

1 teaspoon

of minced Garlic

½ teaspoon

of Italian Seasoning

½ teaspoon

of salt

½ teaspoon

of pepper

¼ cup

of water for the gravy

2 tablespoons

of cornstarch
---
Instructions
To begin, cut all of your vegetables into large pieces. You want them to be larger so they don't become mush.
Place the meat in the crockpot first, then the vegetables around it.
Combine all of your seasonings in a bowl.
After that, pour in the beef stock.
Cook on low for 8 hours or on high for 5 hours, do this ensuring that the crockpot is covered.
Remove the meat from the bone and shred it.
It's time to start making the gravy. In a small basin, mix together the cornstarch and ¼ cup of water.
2 cups of the liquid from the crockpot should be transferred to a saucepan.
With the beef juice, whisk in the water and cornstarch mixture.
Bring the mixture to a boil, stirring often until it thickens, about 3-5 minutes. It will also continue the thickening process as it cools.
Pour the gravy over the meat, potatoes, and carrots, and serve.
This recipe can be made within a total of 8 hours and 10 minutes, including a prep time of 10 minutes and a cook time of 8 hours. It's a long process, but the resulting roast is so tender and delicious, and you'll absolutely love the results. Check out this video recipe if you need more ideas on how to cook a rump roast in a crockpot.