Cabbage is one of the most underappreciated vegetables, but this doesn't change that it's both healthy and delicious. When cooked right, the leaves become soft and buttery, with a moderate flavor that absorbs whatever liquid is used for cooking them.
It's quite simple to make cabbage-based recipes, especially when using a slow cooker. All that's needed is to throw the cabbage and other ingredients into the crockpot and leave it to do all the work.
If you'd like to learn to cook cabbage in a crockpot, make sure to pay attention to the cooking instructions in this article. Also, take note of our helpful tips to achieve the best results.
Cabbage Nutrition Facts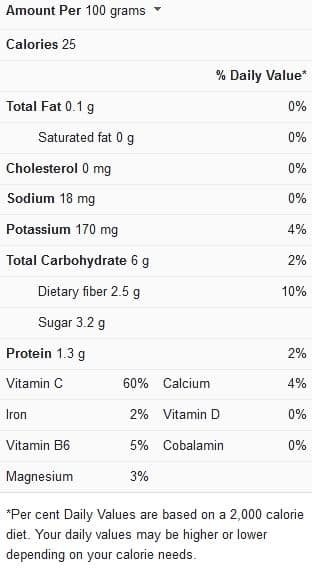 Tips for Cooking Cabbage in a Crockpot
Pay attention to the following tips when cooking cabbage in a crockpot:
Suggested ingredients for maximum flavor – there are some ingredients that you can introduce into your slow cooker cabbage recipe for the best tasting results. Some of them have been described below:
Cabbage: If your slow cooker can handle it, use an entire head of cabbage in your recipe. If you can't, use half a head of cabbage, then decrease the rest of the ingredients by half.
Bacon: Use as much bacon as you can, and you can also keep a portion to serve with your cooked cabbage. Thick-sliced bacon is a popular preference, and you'll find that the higher the quality of bacon you purchase, the better your cabbage will taste. It's recommended, but not necessary, to crisp the bacon before cooking with the cabbage in the slow cooker, and it serves to improve the flavor a great deal.
Garlic: You'll find that minced garlic tends to enhance the flavor of slow cooker cabbage recipes and should thus not be left out. If you don't have any fresh garlic (or onion), use garlic powder (or onion powder) instead. Begin with one teaspoon of each ingredient. Afterward, if you deem it necessary, add extra after cooking and having a taste of your meal.
Onion: A good option is to use dried chopped onion instead of sautéing your onion; this will help to save some time. Of course, after the bacon has crisped, you can use some of the leftover bacon greases to sauté your onions. Half of a large piece of yellow or white onion, or a full small-sized onion, can be used in your recipe. Baby pearl onions can also make for a really tasty addition that doesn't need to be sautéed first.
Broth: To cook and keep the cabbage from burning up in your crockpot, you'll need several cups of broth. Chicken stock or broth are great options, but vegetable broth should also suffice.
Butter: This is an optional ingredient, but the cabbage tends to cook up with a delicious buttery flavor when included. To achieve this, add a few tablespoon-sized dollops of butter. We recommend whisking the butter in to create buttered cabbage with bacon before adding the seasonings.
If you want to make this into a vegetarian-friendly recipe, leave the bacon and use veggie stock instead of chicken broth. Also, leave out the butter. Even after being cooked without these ingredients, the cabbage will still turn out delicious.
Storage and reheating tips – Cooked cabbage should be kept in an airtight container for proper storage. The cabbage can be stored in the refrigerator this way for between 3 to 5 days.
When you're ready to reheat your cabbage, put it in the microwave and leave it until warm, or pan-fry the cooked cabbage over medium-high heat in a nonstick skillet or frying pan. Cook this way for 3 to 5 minutes, or until the cabbage gets completely heated through.
View this post on Instagram

Cooking Time for Cabbage in a Crockpot
The following timing guidelines are ideal when cooking cabbage in a crockpot
Cooking Procedure
Cooking Time
Cooking a small cabbage in a crockpot
4 hours on high; 6 to 8 hours on low
Cooking half a head of cabbage in a crockpot
2 hours on high heat; 4 to 6 hours on medium heat
Print
Crockpot Cabbage (8 Servings)
---
Six slices of bacon (browned and chopped – or ½ cup of real bacon crumbles)
One small cabbage (cored and chopped)

One tablespoon

of garlic (minced)

Two tablespoons

of dried minced onion (or

½

large white or yellow onion, saute the onions in bacon grease)

4 cups

of chicken broth (or vegetable broth –

1

32-oz carton)
salt & pepper (to taste)
---
Instructions
Place the bacon strips into a nonstick skillet or frying pan and brown them over medium-high heat while they are still cold. Bring the heat to a medium level and cook the bacon until it naturally releases from the pan. Afterward, cook the bacon on the opposite side until it releases more from the pan. Transfer the cooked bacon to a dish lined with paper towels, then slice it into pieces or strips.
In a 6 quart crockpot or slow cooker, place the chopped cabbage (if you're using a smaller-sized crockpot, you may need to reduce the ingredients in the recipe by half).
Combine the garlic, onion, bacon, and broth with the cabbage pieces.
Cook the cabbage on high in the crockpot for 4 hours or low for 6 to 8 hours; ensure to cook the cabbage until it develops a soft quality. If you're cooking half a head of cabbage, it should take approximately 2 hours on high heat and 4 to 6 hours on medium heat to cook.
Taste the cabbage and season it to taste with salt and pepper, use a slotted spoon to serve, then enjoy your meal.
This recipe for cabbage in a crockpot yields such delicious results, especially when the right cooking instructions are followed. The entire cooking duration for this recipe is 4 hours and 10 minutes, including a prep time of 10 minutes and a cook time of 4 hours.
If you'd like more interesting ideas for cooking cabbage in a crockpot, then we suggest that you check out this video recipe.