Whenever you choose to eat black-eyed peas, whether once in a year (on New Year's Day) or frequently, figuring out how to cook them to excellent standards every time is invaluable. Regardless of how often you prefer to make them, you'll find that frozen black-eyed pea recipes are impossible to mess up if you follow the appropriate cooking directions.
This article should help you understand how to get black-eyed peas from frozen to delicious if you pay close attention. You'll also get familiar with helpful tips that can ensure tasty results with your recipe.
Black Eyed Peas Nutrition Facts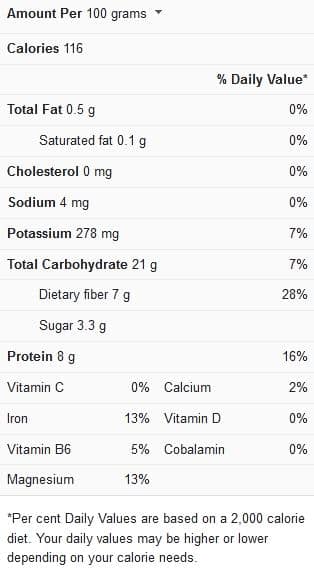 Tips for Cooking Frozen Black Eyed Peas
The tips and suggestions below will prove helpful with frozen black-eyed pea recipes, so we advise that you take note of them:
Seasoning ideas – To make a flavorful spice mix for frozen black-eyed peas, combine bacon, chopped onion, bacon grease, beef stock, and seasonings. The first cooking step should be to make the seasoning, usually done in the same pot or saucepan you'll use to cook the peas.
Introduce broth, stock, or bouillon for depth of flavor – Adding a range of broth or stock options to frozen black-eyed pea recipes is a terrific idea to give them loads of flavor. Vegetable or chicken broth are great choices if you want a milder flavor, and you can use beef for a deeper flavor. Below are some ideas to spice up your cooking using broth or stock:
Better than Bouillon Base: This paste is thick and dense, with a deep, rich flavor. If there's sufficient liquid to get it dissolved, you can add a teaspoonful of the resulting mixture to the contents of your saucepan. Boil some water for a handmade broth flavor, pour in the bouillon, and then mix.
Bouillon cubes: Chicken and beef bouillon cubes are great to have on hand to crush into your frozen black-eyed peas when they need a little extra flavor. Knorr is a popular brand to try, although there are many others to choose from.
Bone broth: This is a more flavorful and nutrient-dense option than normal broth or stock. It is the ideal option for a healthy broth because it is high in protein and calcium. It's good to keep little cartons handy to put in your frozen black-eyed peas when necessary.
Stock and broth: Swanson broth and stock should typically suffice; nonetheless, it becomes considerably richer when combined with any of the other alternatives indicated above.
Ensure to cook peas to a tender state. Regardless of your preferred cooking method, whether you use a conventional saucepan or perhaps an Instant Pot to cook the frozen peas, the trick is to maintain cooking until they reach the proper tenderness.
It's also necessary to continue adding liquid to the peas (broth or water) as they simmer. Otherwise, they will lose all the moisture. The broth or cooking liquid is necessary to tenderize and flavor the peas by breaking them into smaller bits.
Instant Pot variation – You can use an Instant Pot rather than a saucepan to cook frozen black-eyed peas, as long as you use the same ingredients. The liquid content
(either broth or water) as well as time are the two most important variables to alter.
To cook frozen black-eyed peas in an Instant Pot, follow these easy steps:
Set the Instant Pot to sauté mode.
In a large pot, heat the EVOO and bacon slices together.
Add the onion when the bacon starts to brown.
Cook, occasionally stirring, until the onion starts to caramelize.
Pour in the chicken broth and the bouillon cube.
Fill water slightly above the level of the frozen peas.
Cook the peas for 30 minutes under high pressure.
Allow for a gentle release after the pressure cooking has finished.
Keep the peas in the instant pot until ready to serve.
The results obtained using this cooking method will still taste delicious; it's just a matter of your personal preference.
View this post on Instagram

Cooking Time for Frozen Black Eyed Peas
The following timing guidelines are ideal for cooking frozen black-eyed peas:
Cooking Procedure
Cooking Time
Cooking frozen black-eyed peas on the stovetop
2 hours
Cooking frozen black-eyed peas in an Instant Pot
30 minutes on high pressure
Print
Perfect Stovetop Black-eyed Peas (10 Servings)
---
1

to

½

lbs of fresh or frozen black-eyed peas

½ cup

of chopped onion
Two garlic cloves, minced

One teaspoon

of garlic powder
salt and pepper to taste

3

to

4

strips of bacon, diced into pieces

One tablespoon

of EVOO or canola oil

Two tablespoons

of sugar

One teaspoon

of beef-flavored Better Than Bouillon (or

one

beef bouillon cube)

1

to

2

cans of chicken broth or bone broth (reduced sodium is preferable)
---
Instructions
Cook the chopped bacon in heated oil over medium heat.
When the bacon is almost done, add the chopped onion. Cook the onion till it gets tender, then add in the garlic during the last minute of cooking.
Stir in the garlic powder, sugar, salt, and pepper.
Afterward, pour in the beef stock and the crushed bouillon cube, then allow the resulting mixture to reach a rolling boil.
Pour the frozen black-eyed peas into the pot and pour in enough broth to cover them by 1 inch; add some water if additional liquid is still needed.
Let the cooking mixture come to a boil, then reduce to low heat and cook for 2 hours, or until the peas are sufficiently cooked; make sure to keep stirring occasionally and add extra water or broth if necessary.
Serve the cooked peas as soon as they're done, or let them cool for proper storage if using them later.
Frozen black-eyed peas are easy to cook with, as you can see in the recipe above. Also, with the right flavor and seasoning combinations, you can be sure you'll arrive at really delicious results.
If you'd like more recipe ideas on how to cook frozen black-eyed peas, we suggest that you check out this video recipe.