If you are from southern Asia (particularly India), you may already be familiar with Kashmiri chilies. This slender chili pepper is popularly used in curries and some lentil soups and sauces because of its ability to add some dark red hue to whatever it is incorporated into.
Apart from its aesthetic function, it also adds a very mild heat that is different from other chilies. But suppose you recently moved out of Southern Asia. In that case, you may find it difficult to get Kashmiri chilies. This may prove catastrophic if you are preparing a dish that specifically calls for Kashmiri chili, but can we replace it with any other chili?
Keep reading this article to find out what other chili can replace Kashmiri chili in your recipes. Before we get into the substitutes, let's take a closer look at what Kashmiri chili is all about.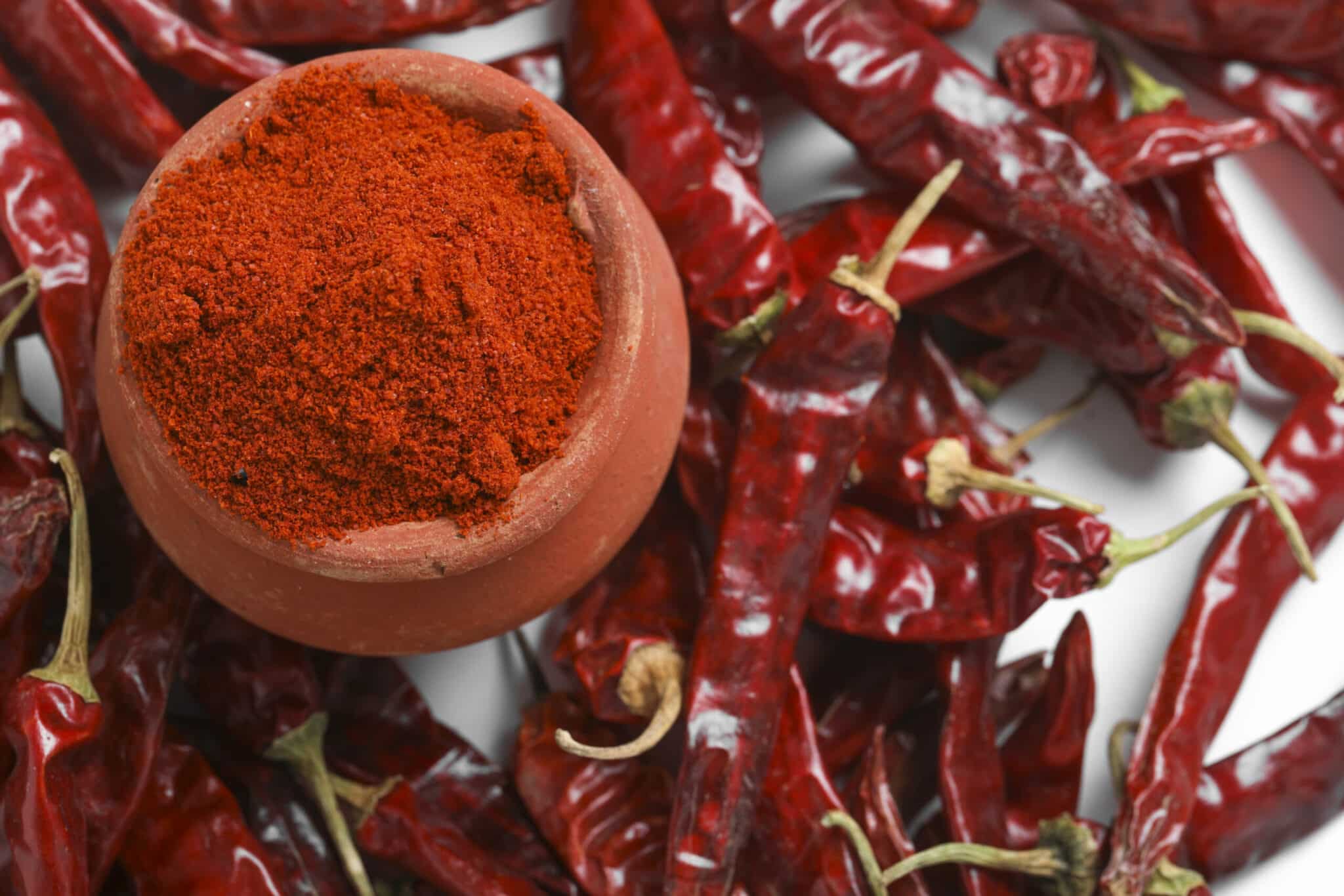 What is Kashmiri Chili?
Kashmiri chilis are popularly grown in Jammu, Kashmir, Himachal Pradesh, and Goa. The chilies are harvested sometime during winter when they are about 1m tall. It comes in a beautiful deep red appearance and carries a very mild heat, making it highly prized; they are dried to have a wrinkled appearance.
Kashmiri chilis can also be ground to form a powder or be grounded with other spices for an amazing curry paste. Sometimes I prefer to chop them in big portions for my soups and sauces.
The chilis are known as 'Kashmiri chilis' today; we're initially foreign chilies which were only introduced to Goa when the Portuguese explorer Vasco de Gama led the first European expedition to reach India by sea route in 1497, after these chilis arrived in Goa, they spread throughout southern India.
Uses of Kashmiri Chili in Recipes
With its vibrant red hue and heat of about 1,000 to 2,000 SHU on the Scoville scale, the Kashmiri chili is a very edible chili pepper, and no wonder it is called for in many Southern Indian dishes.
Kashmiri chilis are used as a coloring agent in recipes, but they also contribute to the dish's flavor while not allowing the food to be too spicy or aromatic because of the low heat of the chili.
The majority of the restaurants in India use Kashmiri chili in its powder form, and some examples of companies that produce powdered Kashmiri chilis include MDH, Everest spices, Sakthi Masala, and Badshah masala.
Below are some examples of dishes that benefit from the goodness of Kashmiri chilis.
Country-style chicken with chili (murghir laal jhol)
Chili parotta
Desi vegetarian chili
Dry chili garlic sauce vada pav chutney
Chili Gobhi
Crispy chili chana
Chili paneer gravy
Chili chicken wings
Chili fry
Kashmiri red chili chicken curry recipe
Paneer baby corn potato chili (mixed veg chili starter)
Chili garlic noodles
Green chili chicken mince curry
Red chili sabudana khichadi / tikhatacha sabudana
Poached egg with garlic yogurt and butter chili sauce
Substitutes for Kashmiri chili
Like many foreign spices, getting Kashmiri chili outside India may prove difficult. Now just imagine you're making a delicious native curry dish, but you discover you've used up the last Kashmiri chili powder you had in your pantry; at this point, you would not even consider going to the grocery store because you don't have time on your side.
A good solution would be to replace Kashmiri chili with another chili available at the moment. The key to substituting Kashmiri chili with another chili is knowing how much you need to replace it.
I will be listing the best chili peppers that can substitute Kashmiri chili in your recipes and how you can make the swap.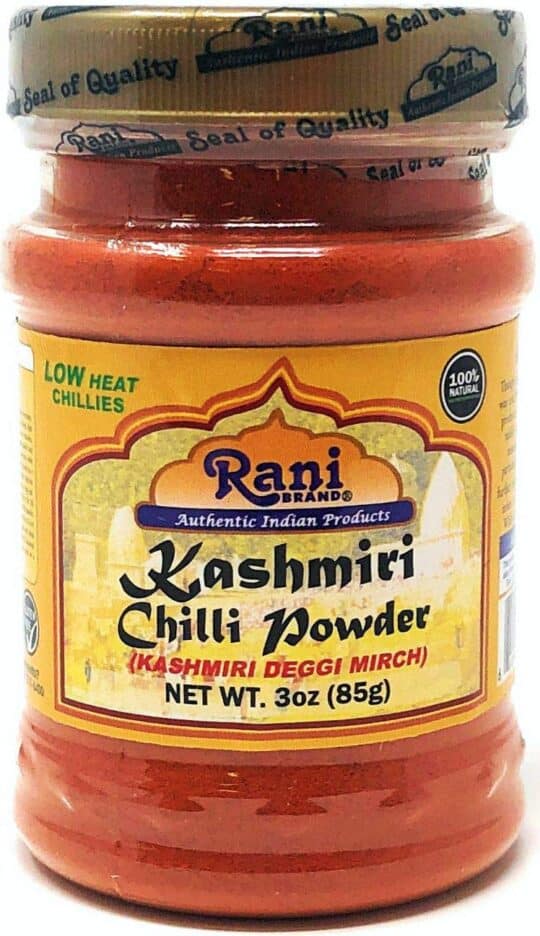 Getting Kashmiri chili in powder form may be easier than getting them fresh. Kashmiri chili powder is the same as the fresh counterpart, but some recipes specifically call for fresh because fresh herbs are less intense than their dried counterparts. Notwithstanding, you will still get the same flavor with Kashmiri chili powder; it also does a beautiful job as a coloring agent as it delivers a bright red color to whatever you throw it into.
Use 1/3 part Kashmiri chili powder to replace 1 part fresh Kashmiri chili.

Paprika would be an amazing replacement for Kashmiri chili. It gives off a rich red color to whatever it is incorporated into, but that spicy kick may be gone because paprika has a very low heat.
To fix this problem, we would introduce some cayenne pepper. Cayenne pepper is a lot spicier, and it also gives off a beautiful red color. Use three parts of smoked paprika and one part of cayenne pepper for the best results.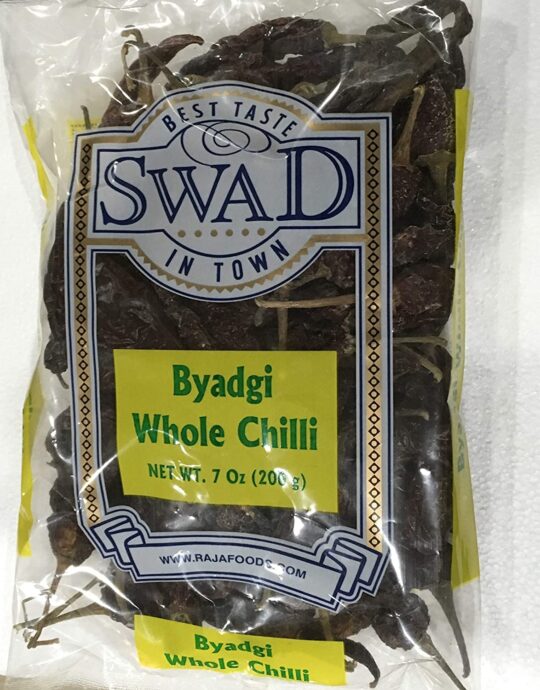 Byadi chili has a striking resemblance to Kashmiri chili, so there's no way I wouldn't include it in a list of Kashmiri chili substitutes. Byadi chili gives off a red color to meats and veggies thanks to Oleoresin (an oil present in byadi chilies).
Byadi chili is popular in many Indian homes, so it is easy to get your hands on them. However, the heat levels of these chilis reach a whopping 50,000 to 100,000 SHU, so it is advisable to use byadi chili in little quantities when substituting.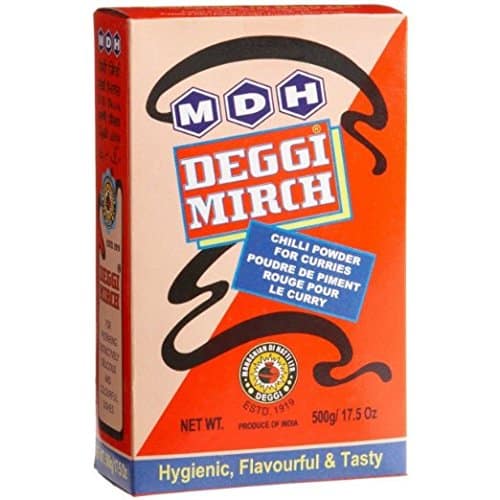 Deggi mirch is a popular spice used in India and other South Asian countries. It combines many spices; Kashmiri is also part of the spices used in making deggi mirch. This spice is a little spicier than your regular Kashmiri chili, so you should use it in moderation when substituting.
Since deggi mirch is a popular spice in Southern Asia, getting it in international stores would not be so difficult.
Frequently Asked Questions FAQ
How can I store Kashmiri chilis?
You can store these Indian chilis in whole or powder form; just make sure you put them in an airtight container. But it is best to use whole Kashmiri chilis as quickly as possible.
Is Kashmiri chili healthy?
Yes, they are. This chili is rich in vitamin B and C, which have tremendous health benefits like a stronger immune system, good skin health, and it is also beneficial to the nervous system.
What brand of Kashmiri chili should I get?
Everest red chili powder, Tata Sampann Red Chili Powder, MDH Red Chili Powder are all branded Kashmiri chili powders.
Conclusion
Many Indian dishes have gained popularity in western countries, so it may not be too long before you hop on something that calls for Kashmiri chilis; well, if you get stranded because you do not have this chili pepper, just relax and try out some of these alternatives.