This 30-day heart-healthy meal plan includes wholesome, nutritious foods known to boost your heart health. You know, the good stuff: Nutrient-packed veggies, fiber-rich whole grains, lean protein, healthy fats, and lots of plant-based protein options.
Your heart is a critically important body part, so taking care of it should be a top health priority. One thing anyone can do to care for their heart is make smart food choices. This meal plan is designed to help you do just that.
Heart-healthy meal plan features
The plan includes ideas for healthy breakfasts, snacks, lunches, and dinners. Overall, it's heavy on fruits and vegetables, whole grains, and lean proteins. Following the Mayo Clinic heart-healthy guidelines, this meal plan limits your red meat intake, as well as refined sugars, sodium, and fatty dairy products — namely, cheese.
Benefits of the 30-day heart-healthy meal plan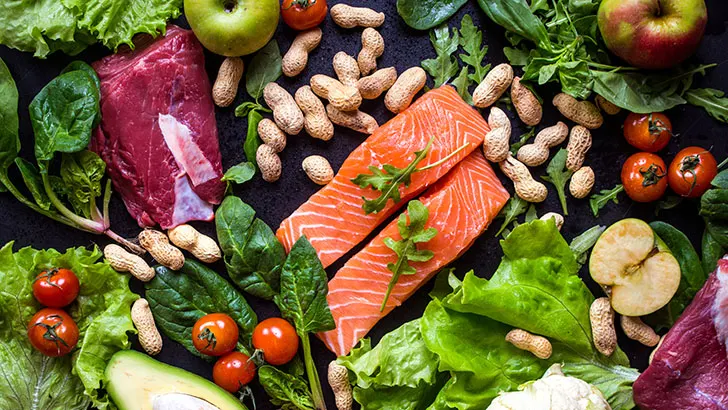 The Centers for Disease Control and Prevention (CDC) lists the benefits of healthy eating. They including living longer, stronger bones, reduced risk of heart disease, plus better digestion and healthier skin, eyes, and muscles.
Living longer
According to Harvard Medical School, not eating enough fruits, vegetables, and fiber raises your risk of potentially life-threatening conditions, including obesity, hypertension, diabetes, and cardiovascular disease.
A nutritious diet also generally strengthens your immune system, so you're better equipped to fight against potentially dangerous health problems — like flu and COVID. As an example, Vitamin B6 (found in eggs, milk, salmon, carrots, and spinach) helps your body fight infections. You can get it from a healthy diet or by taking a vitamin b6 supplement.
Stronger bones
A healthful diet that includes sources of calcium, Vitamin D, magnesium, Vitamin K, and trace minerals like silicon strengthens your bones and wards off osteoporosis.
Reduced risk of heart disease
High-fat, high-sugar, and high-sodium diets take a toll on your body overall, especially your heart. Eating a variety of nutritious foods reduces the strain on your heart and ultimately lowers your risk of heart disease.
Better digestion
Fruits and vegetables are rich in fiber, which benefits your digestion in several ways. Fiber gives you that satisfying "full" feeling, which can reduce cravings for sugary or salty foods. Fiber also supports nutrient absorption, keeps you regular, and lowers your risk of serious gut conditions.
Healthier skin, eyes, and muscles
Fruits, vegetables, whole grains, lean proteins, and unsalted nuts provide a variety of nutrients that support other systems in your body — including your skin, eyes, and muscles.
Your heart-healthy meal plan
This meal plan includes a variety of foods like fruits, vegetables, whole grains, beans, nuts, lean meats, fish, and low-fat dairy foods. Keep in mind that the best foods for heart health are usually colorful and high in fiber. Look for fresh foods that are dark red, blue, orange, or green, such as raspberries, blueberries, carrots, spinach, and peas.
Eating oily fish once a week can also help you lower the risk of heart disease.
15 heart-healthy breakfasts
Avocado egg toast (smash half an avocado on toast and place a poached egg on top)
Bran cereal with milk
Nonfat plain Greek yogurt mixed with a teaspoon of vanilla extract
Rolled oats cooked skim milk, topped with cinnamon
Bowl of Cheerios with fresh berries and almond milk
Whole wheat pancakes with strawberries (try Kodiak pancake mix)
Sweet potato hash (cube sweet potatoes and boil them until soft, then fry them up with onions, zucchini, and bell peppers with a tiny bit of oil)
Whole wheat breakfast burrito (scrambled egg whites with onions and peppers, wrapped in a whole wheat tortilla)
Fruit and granola bowl (mix sliced fruit, plain yogurt, and granola)
Bran cereal with bananas and blueberries
Microwaved sweet potato topped with diced apple and maple syrup
Scrambled tofu on toast (saute tofu and spinach and serve on toast — add a splash of salsa if you like things spicy)
Ricotta and berries on whole grain toast
Oatmeal, topped with bananas and berries
Peanut butter and banana smoothie made with almond milk
Sale
You can put your own spin on these healthy breakfast ideas to add more variety. For example, you can make a smoothie out of numerous combinations of fruit and yogurt or almond milk. Adding tofu or frozen banana also gives your smoothie a satisfying, creamy texture. You can also try different toppings on oatmeal, cereal, and yogurt.
15 heart-healthy snacks
Any fresh berry
Unsalted almonds or cashews
Airpopped popcorn
Carrot sticks
Apple with almond butter
Rice cakes topped with jam
Whole grain crackers with tuna
Zucchini sticks with hummus
Homemade coffee smoothie made with almond milk and almond butter
Fruit salad with a dollop of plain yogurt
Edamame
Red grapes, fresh or frozen
Lox and whole-grain crackers
Oven-roasted kale chips
Cubed watermelon, berries, and fresh mint
15 heart-healthy lunches
Black bean soup
Spinach and strawberry salad
Homemade wholegrain pasta salad with broccoli, sun-dried tomatoes, fresh herbs, and low-fat salad dressing
Blackened chicken, cherry tomato, and romaine salad
Chicken cauliflower fried rice
Tuna, white bean, and dill salad
Cucumber, carrot, and spring mix sandwich with hummus on whole wheat toast
Grilled shrimp and avocado tacos on corn tortillas
Homemade tomato soup (roast tomatoes, onions, garlic in oven, add to hot, low-sodium chicken broth, and blend)
Arugula salad with vinaigrette and rotisserie chicken
Miso soup
Mexican lettuce wraps (saute chicken, onion, bell pepper, top with salsa, and serve in lettuce cups)
Kale, apple, almond salad
15 heart-healthy dinners
Seared salmon with garlic green beans
Grilled shrimp with pesto, served on whole grain pasta
Curried sweet potato soup
Pork tenderloin with roasted vegetables
Baked butternut squash stuffed with turkey sausage
Asian meatballs with cauliflower rice
Skillet lemon chicken with potatoes and kale
Toaster oven tostada
Cauliflower leek soup with whole-grain crackers
Stuffed zucchini with tofu cheese
Roasted chicken breast with Greek salad
Seared steak salad
Chinese chicken skewers with whole grain rice and roasted zucchini
If you need more variety in your 30-day heart-healthy meal plan, here's a simple solution. You can subscribe to a service or app that provides healthy meal plans. Ultimate Meal Plans is one affordable option that specializes in healthy, easy recipes.
What not to eat on a heart-healthy diet
Limit the number of white foods you eat, such as white rice, bread, and potatoes. Generally, it's smart to avoid packaged snacks, from pretzels to candy bars. Always check the labels of foods you buy and stay away from foods with trans-fat. Trans-fat is a common ingredient in heavily processed foods.
Extra tips
Make sure your pantry is filled with whole grains and ingredients. See the shopping list below for ideas.
Please take note of your calorie intake when on this plan, and try not to overshoot it.
Limit high-fat foods like red meat, cheese, and processed/packaged foods as much as possible
Be free to include exercises in your routine.
Consult your health care professional before commencing on this meal plan to rule out any medical conditions.
Shopping list to stock your pantry
Whole grains/high fiber starches
Whole wheat bread or bagels
Couscous
Quinoa
Whole-grain pasta and rice
Yam
Winter squashes
Green peas
Corn
Proteins
White meat- chicken and turkey
Skinless ground turkey and chicken
Precooked grilled chicken strips
Low-sodium, low-fat deli turkey/chicken/ham
Salmon
Mackerel
Sardine
Pork tenderloin
Low-fat cheese
Skim milk, almond milk, or soy milk
Canned beans
Natural unsalted peanut butter
Almond butter
Vegetables
Spinach
Kale
Cauliflower
Lettuce
Broccoli
Zucchini
Red bell pepper
Onion
Fresh fruits
Raspberries
Blueberries
Apples
Bananas
Orange
Avocado
Tomato
Fats and cooking oil
Olive oil
Soybean
Sunflower
Avocado oil
Snacks, cooking ingredients, and dressings
Unsalted nuts
Unsweetened dried fruits (like mango)
Low-fat or light mayonnaise
Oil-based salad dressings like balsamic vinaigrette
Your 30-day heart-healthy meal plan
You know what they say: You are what you eat. Your diet plays a huge part in keeping your heart healthy.
To give yourself a good shot at sticking to your 30-day heart-healthy meal plan, stock your pantry and refrigerator with nutritious foods you love. Once you identify healthful foods you love, it'll be easy to stick with your plan. After an adjustment period, you're guaranteed to feel more energetic, too.
Last update on 2023-06-19 / Affiliate links / Images from Amazon Product Advertising API