Though almost everyone loves pizza, not many know how this delicious recipe is cooked. And for those that do, they may not have the proper equipment to cook this snack, which leaves you with the conventional kitchen appliances. And even then, you're not certain what temperature the pizza should cook. But all these can be solved if you own an oven, as you can cook pizza at 450F. All you need is the right steps, and mapping out the proper duration, and you're good to go.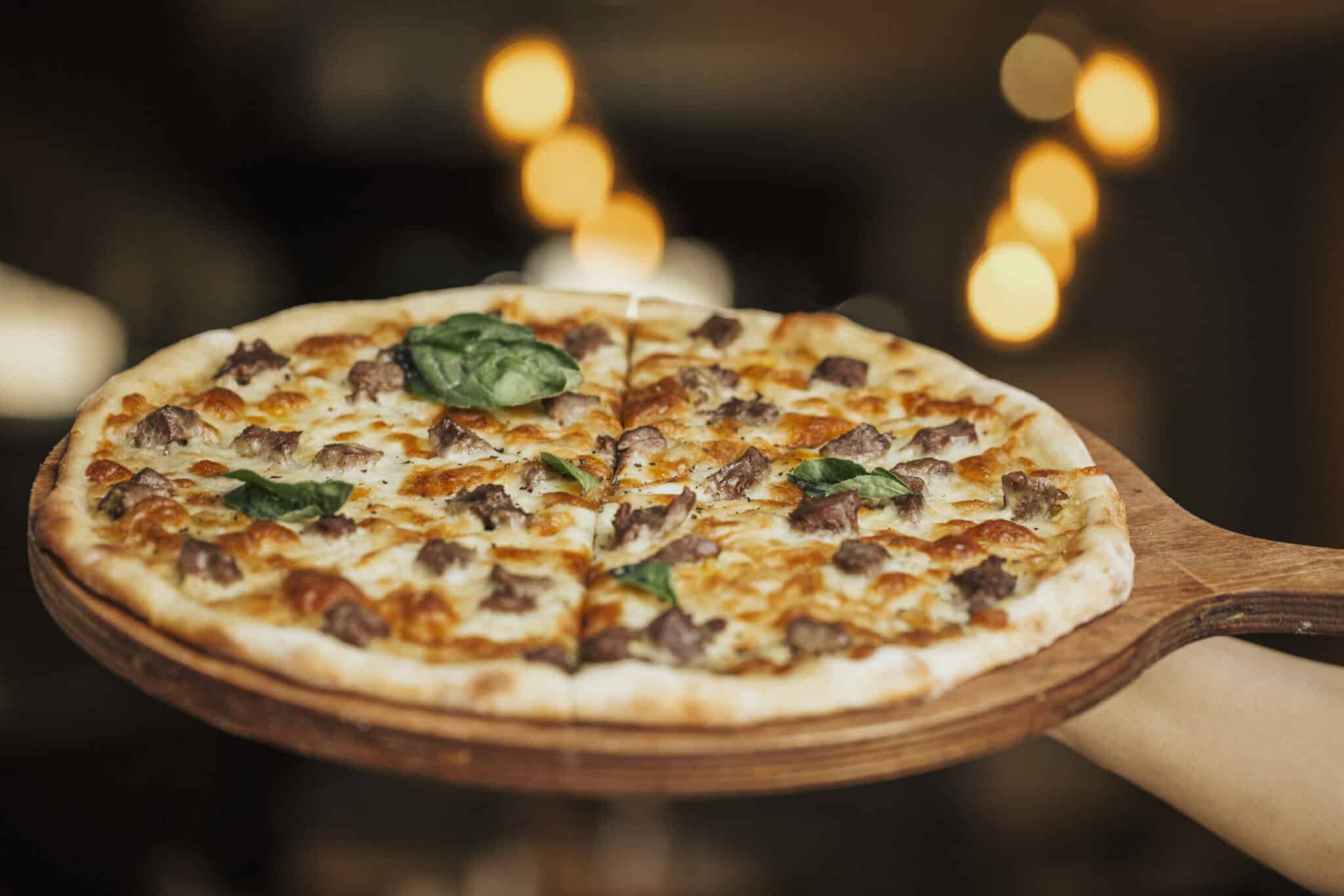 Pizza Nutrition Facts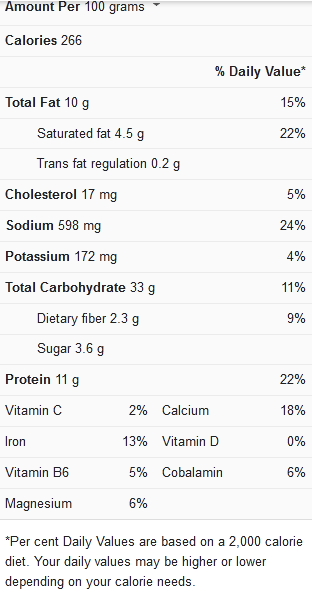 What Pizza Cooks Best at 450F?
While it's adventurous to consider cooking any pizza at 450F, you should know that certain types excel at this temperature. Such examples include Margherita, Sicilian, Digiorno, boneless, Costco, Hawaiian, Chicago, and Mini pizzas. Still, it doesn't hurt to give any other variety a shot as the fun lies in the adventure.
Factors for Timing Pizza at 450F
To be certain you're timing the pizza right, it helps to first understand what entails when cooking pizza at 450F. And you'll have to keep certain factors in mind for this purpose namely the crust, toppings, pizza stone, and finally, your oven.
The Crust
The crust size determines how quickly your pizza would cook and your choice depends on whether you're using pre-made, pre-packaged dough, or homemade. The pre-made dough cooks faster as the crust is already baked and only needs to be added toppings. But homemade pizza crust needs a long time to cook.
The Toppings
Juices from meat and vegetables can delay cooking time, as they keep the pizza wet, so pre-cook and drain all meat before being added to pizzas. Thinly slice veggies for faster cooking, or sauté them so the liquid content is reduced, and spread the toppings evenly so they'll cook uniformly.
The Pizza Stone
A pizza pan or stone helps you finish quicker, and should be first heated for about 30 minutes in the oven before the crust is placed on top. The stone begins to cook the crust immediately, speeding up the baking process. If you don't have a pizza stone, use a baking pan or sheet. But note that the baking pan would cook the pizza for longer as it can't retain heat as efficiently as the pizza stone.
View this post on Instagram

Cooking Time for Pizza at 450F
The doneness time for pizza in a 450F oven depends on numerous factors. For one, thicker pizza crusts will cook longer than thinner ones and heavier toppings will take longer to brown than lighter varieties. Also, the pizza's size contributes to its cooking time, and fresh pizzas cook faster than frozen ones. So, the best way to time your pizza is to watch it.
The general doneness time for pizzas is eight to 15 minutes, by which you'd notice a crisp crust with properly cooked toppings. If you're cooking thick dough, then add a few extra minutes and watch for the doneness. You want the pizza nicely crisp, with the toppings cooked to appeal and the cheese melted, but a scorched result means the recipe is ruined.
A good direction is to;
Prepare the dough for your favorite pizza or remove the dough from a pre-cooked package.
Heat the oven for 30 minutes with the pizza stone in it.
Place the pizza on the stone with a pizza peel and cook for eight to 10 minutes, to achieve a firm but not browned crust.
Add the toppings and cook for another 10 to 12 minutes, or until the cheese has melted and the crust is golden brown.
Print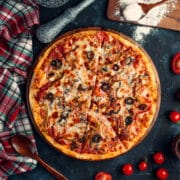 Homemade Pizza (4 to 6 Servings)
---
Pizza Dough
3¾ cups

of bread flour

1½ cups

of warm water
One package of instant yeast

Two tablespoons

of olive oil, extra-virgin

Two tablespoons

of kosher salt

One teaspoon

of sugar
Ingredients and Toppings
Olive oil, extra-virgin
Fresh soft mozzarella, in small clumps
Firm mozzarella, grated
Parmesan cheese, grated
Fontina cheese, grated
Feta cheese, grated
Bell peppers, stemmed and seeded, very thinly sliced
Mushrooms, very thinly sliced and sautéed
Onions, thinly sliced and sautéed
Italian pepperoncini, thinly sliced
Sliced black olives
Italian sausages cooked and crumbled.
Ham, thinly sliced
Pepperoni, thinly sliced
Fresh basil, chopped
Baby arugula tossed in olive oil
---
Instructions
Sprinkle yeast in a mixer bowl of warm water and leave it to dissolve for five minutes. Then, add the flour, sugar, salt, and olive oil. Mix on low speed for one minute with the mixing pad, then fix the dough hook attachment and knead the dough for seven to 10 minutes on low speed. You should have a tacky dough, and if not, add a bit more flour.
Coat a bowl with a thin layer of olive oil and place the dough inside. Then, turn it so it gets evenly coated with the oil, cover it with plastic film, and leave it to rise for two hours to eight hours (at room temperature) or 24 hours (in the fridge).
Put the pizza stone on the lower third rack of the oven, set the oven to 450, and leave it for 30 minutes so the stone heats.
Dust flour on your hands and split the pizza dough into two balls, then put them in separate bowls, cover with film, and leave for 15 minutes to two hours.
Flatten the dough ball on a lightly floured surface and work it out with your fingertips into half-inch thick flats. Gently stretch and turn the dough until it stretches no more, then let it relax for five minutes and repeat the process. Stop when the dough is about 10 to 12 inches in diameter.
Make dents on the flat dough surface by gently pressing down with your fingertips. Then, lightly brush the top with olive oil and let it rest for another 10 to 15 minutes.
Sprinkle the peel with cornmeal and place the flattened dough on top. Then, spread the tomato sauce on it, sprinkle with the cheese, and add the other toppings. Ensure to not overload the pizza so the toppings and crust can cook properly.
Dust the pizza stone with cornmeal, and gently transfer the dough onto it, then bake for 10 to 15 minutes. The pizza is ready when the crust is golden brown, the cheese has melted, and the toppings are thoroughly cooked.
More can be watched here.