Healthy and super delicious, sweet potatoes can be prepared in various methods, from oven roasting to cooking in a crock-pot and even air-frying. Sweet potatoes can be eaten alone or also served as an excellent side dish to go with some yummy breakfast. A healthy and simple way of cooking sweet potatoes is by boiling them before adding them to your preferred food recipe.
This whole staple food is rich in vitamins and antioxidants and pretty much low in calories, so you basically don't have to worry about cholesterol levels. With just a few accessible ingredients, this article provides the basic steps and procedures on how to cook your sweet potatoes using any method that suits your convenience.
Sweet Potatoes Nutrition Facts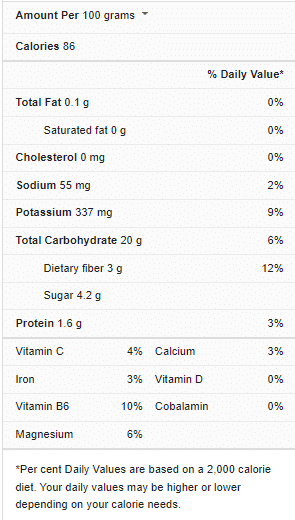 Cooking Tips for Cubed Sweet Potatoes
A compilation of the notable tips and cooking methods to take note of when preparing sweet potatoes has been provided below:
Cooking methods – Sweet potatoes are quite easy to cook once you understand the method you're imploring. While potatoes can be roasted in the oven, they're also prepared in an instant pot or in an air fryer. The following are some of the preparatory methods you can use to cook your sweet potatoes:
Oven-roasted – Here, you're required to cook your sweet potatoes by roasting them in the oven at a high temperature and at a set cook time. All you need to do is to carefully peel and cut your potatoes into 1-inch cubes. Thoroughly season them and place them in a baking or casserole dish, then place in the oven and afterward serve as desired.
Boiling – Cooking sweet potatoes in a pot of boiling water on the stovetop is another easy way to get tender potatoes. Boiling sweet potatoes either whole, diced, peeled, or however, largely depends on your choice of preference. All you need is some sweet potatoes, water for boiling, some salt, and coriander for draining.
Air-frying – This method is actually the most convenient and fastest as your sweet potatoes cook in under a few minutes. Just like roasting in an oven, all you're expected to do is to peel and dice your potatoes, season them up and place them into the air fryer to cook. The idea behind the air fryer is to allow the hot air automatically get the job done as it rapidly cooks up your sweet potatoes. Remove and serve with any dish you prefer.
Seasoning ideas – Now, everyone has their own different methods of spicing delicacies up that'll enhance the taste and outcome of the food, and sweet potatoes aren't exceptional. If you're a fan of hot, smoky, and spicy, you can add a tablespoon of smoked paprika, cayenne powder, some black or chili peppers, and any other spicy seasonings. Another way of adding a touch of sweet, smoky, and spicy taste to your dish is by making use of dried herbs and some drizzles of cooking oil (either olive or coconut oil). Before adding the olive oil, ensure you pat dry your sweet potatoes to avoid sogginess as wet potatoes steam in an oven.
Avoid overcrowding – After spicing up your sweet potatoes, please ensure you don't overcrowd the casserole dish by putting all your potatoes in at a time, or even worse, don't overcrowd the sweet potatoes by using a small-sized pan. An important part of cooking sweet potatoes, especially in an oven, is to allow enough air to ensure it gets really crispy.
Pre-heat your oven – A lot of food recipes that's been prepared in the oven require that you pre-heat the oven before the time at a particular temperature and cooking time. For cooking sweet potatoes, the recommended cooking temperature should be between 400°F to 425°F, and ensure your oven is in good condition too.
Preservation and Reheating – Once cooked, your sweet potatoes will still be consumable and tasty in the refrigerator for a period of 5 days to a month. Just be sure to use a resealable plastic bag, a foil for wrapping, or a covered container to store them in. If you also wish to reheat the sweet potatoes, you can always use a toaster oven, an air fryer, or a microwave set for a period of 5 minutes or more to do this since they might thaw easily from over freezing. Trust me, the results will leave you dazzled as they'll still come out fresh, crispy, and tasteful as before.
View this post on Instagram

Cooking Time for Cubed Sweet Potatoes
Below is the basic cooking time to take note of when making your cubed sweet potatoes using various ways:
| | |
| --- | --- |
| Cooking procedure | Cooking time |
| Boiling whole sweet potatoes on the stovetop over high temperature | 30 to 50 minutes |
| Boiling 1-inch cubed sweet potatoes at medium-high heat | 12 to 15 minutes |
| Boiling 2-inch cubed sweet potatoes at medium-high heat | 20 to 25 minutes |
| Cooking cubed sweet potatoes in the oven at 400°F – 425°F | 25 to 40 minutes |
| Cooking sweet potatoes in an air fryer at medium-high pressure | 15 to 20 minutes |
Print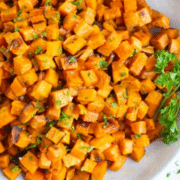 Oven-roasted sweet potatoes (4 to 6 servings)
---
---
Instructions
Preheat your oven to 400°F or 425°F
Carefully slice off the ends of your sweet potatoes and peel off the skin. If you still want to leave the skin on, try giving the potatoes a scrub before cooking and ensure you go for some organic sweet potatoes. Then cut potatoes into half planks and further dice them into 1-inch cubes or chunks.
Once done, place your cubed sweet potatoes on a foil-lined baking dish or in a large bowl and drizzle some tablespoons of olive oil on it. Also, add your preferred spice combination and toss well, ensuring that each cube of potato is fully coated in spice.
Evenly spread out the sweet potatoes on your baking dish and in a single layer to avoid overcrowding the pan. That's why we recommend you use a baking dish that would be able to accommodate all the sweet potatoes.
Place the pan in the oven and roast sweet potatoes for about 40 minutes, turning them halfway through to bake evenly. Once you're done cooking, your potatoes should have a crispy caramelization on the outside and a fork-tender on the inside.
Oven-roasted sweet potatoes are gluten, nut, and dairy-free and make for an excellent side dish. It can be served with some vegetable salad at lunchtime. For more information on how you can get this recipe done, we recommend you check more video recipes.