A pinwheel steak is basically a piece of tender beef that is mostly stuffed with edible fillings or toppings in the center, rolled up, and cooked. This food recipe in particular is one that always tends to leave a refreshing, savory, and palatable end point. Asides from cooking, there are several other ways to prepare your pinwheel steak. It can as well be grilled, cheesy, flanked, pan-grilled, air-fried, baked, or even roasted. The best of it is how it can be stored in a refrigerator for up to 4-5 days at most.
In this article, we would be taking you through the basic cooking ideas and instructions on how to prepare this less expensive but flavorful cut of beef. The results however promise to be great. Be sure to go through the essential directions.
Steaks Nutrition Facts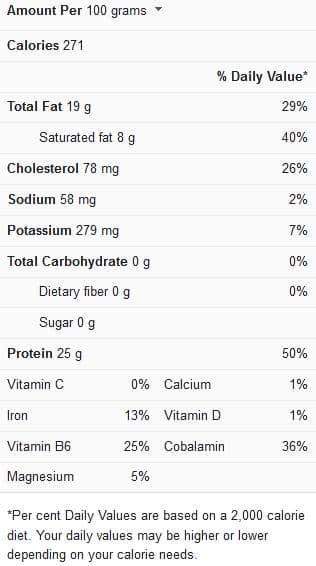 Tips for Cooking Pinwheel Steaks 
Every food recipe is packaged with suitable cooking step by step guidelines and this one isn't exceptional. Ensure to carefully follow the instructions below to achieve wonderful results:
 

View this post on Instagram

 

Cooking Time for Pinwheel Steaks 
These timing guidelines in the table below are necessary to keep in mind for cooking different varieties of pinwheel steak recipes:
| | |
| --- | --- |
| Cooking Procedure | Cooking Time  |
| Cooking flank pinwheel steak in a roasting pan at 400°F | 35-40 minutes |
| Cooking pinwheel steak in an oven at 350°F | 25 minutes |
| Cooking pinwheel steak on a grill at 500-600°F | 6-8 minutes on each side |
| Cooking pinwheel steak in an air-fryer at 400°F | 15 minutes |
| Cooking pinwheel skirt steak at 500°F | 8-10 minutes |
Print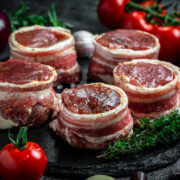 Grilled roasted pinwheel steak (2 – 3 servings) 
---
---
Instructions
Trim off some extra fat from your cut of steak and pound out the beef to get a long, flat and even layout. In some cases, you can smear inside the steak with some garlic paste if you want to or just move on with your seasonings. Thoroughly season the beef with a little bit of salt, some peppers, rubbing in some lemon zest, some shaved garlic sprinkled on the top and a little bit of grated parmesan cheese (note: a vegetable peeler can be used for this). Other ingredients should follow closely too to add more flavors.
Rub in some olive oil and gently roll the stuffed steak tightly. Get some long pieces of kitchen or butcher's twine(12 inches long)  that can go around the rolled-up beef and wet it before gently tying. Carefully trim off the extra tiny ends that are left, cut the tied-up pinwheel steak into medium size bits, and head over to the oven. If you also wish to cook at a later time, refrigerating your steak using a plastic wrap or aluminum foil for 2 to 3 hours or more isn't a bad option either.
Before you roast in the oven for some minutes, it's advisable to pre-heat it to a temperature of about 350°F. As the steak is cooking in the oven, cut open the zested lemons so that you can douse it over the top of the steak when done.
Moving on, place your pinwheel steak on the prepared grill of 500-600° F or over medium heat and grill 3 minutes per side then flip over and continue grilling for 5 minutes more. Add the reserved lemon cuts to the grill with the cut-side downwards to caramelize. Ensure you cook until an internal temperature of about 130°F is attained on an instant thermometer. By then, you would notice a fine brownish outer crust on the beef.
Take out the pinwheel steak from grill and transfer to a serving plate. Set aside and remove the kitchen twine from the steak, letting it to rest for 5 minutes and serve with the grilled lemon slices.
Pinwheel steaks, when prepared appropriately are certain to leave you with an unresistable delicious taste. To best enjoy your skirt steak, it's advisable not to overcook as it's more flavorful and tender when it's half grilled. For more  creative options on how to prepare the pinwheel steaks, please check out