One of the most popular (and much beloved) summertime favorites has to be grilled pork steaks. They're an essentially simple recipe to create, they're perfect for hosting hungry guests, and they turn out so tasty when cooked right. Don't take our word for it, try a grilled pork steak recipe and we're sure you'll love the results.
Before you go any further, however, ensure that you're equipped with the right information on how to handle pork steaks on the grill in order to get desirable results. This article has provided all that, so make sure to pay attention to our helpful cooking tips and guidelines.
Pork Steaks Nutrition Facts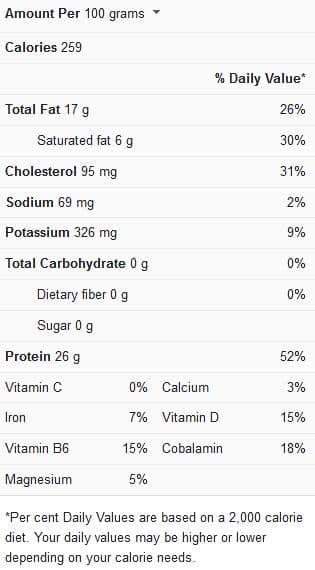 Tips for Cooking Pork Steaks on the Grill
We have outlined a number of helpful tips, guidelines, and instructions below to guide you to fantastic results with grilled pork steak recipes:
Buy the right kind of pork steak – Pork steaks come in a variety of shapes and sizes. Pork shoulder steaks that are gotten from the shoulder, pork steaks extracted from the loin, and pork escalope from the leg are all popular selections.
An excellent pork steak should ideally be lean, with a little bit of extra fat on the exterior aspect to provide taste. Pork loin medallions are a good cut to try if you're looking for a more lean steak. Medallions are also made from the loin, but the fat has been removed.
A thicker piece of pork steak will take a bit longer to cook than a steak that has a thinner quality, but it will keep its succulence better. If however you're going to do a stir-fry or toast your steak, thinner cuts of pork steaks are the best because they cook faster.
Use a marinade – If you have the time, marinate your pork steaks for at least 30 minutes, and if possible, extend the marinating process to a couple of hours. All this will do is increase the tenderness and juiciness of your steaks, if you're particular about your steaks having that sort of quality.
It's important to remember that soaking your pork steak in a beer-based marinade serves to greatly tenderize it. This process does not necessitate the use of a high-end craft beer. Any mild lager or pilsner should suffice to achieve this.
Seasoning suggestions – A mix of the following four spices is an ideal way to season pork shoulder steaks to a really delicious quality:
Recommended proportions in which these spices should be used have been highlighted in the recipe below, but if you're in a hurry, shaking each of these spices liberally over the top of the pork steaks will suffice.
Ideal internal temperature – To ensure safety, the pork steaks must achieve a minimum internal temperature of 145 degrees Fahrenheit. It's preferable if you cook them a little longer than this.
It's important to remember that at around 195 degrees Fahrenheit, pork shoulder begins to pull (like in pulled pork recipes) and becomes exceedingly delicate. For tender pork steaks that still keep their form, the ideal temperature should be between 145 and 195 degrees Fahrenheit.
Always use a meat thermometer – Keep in mind that fresh pork slices should be cooked to a safe minimum internal temperature of 145 degrees F. To correctly verify this, push a meat thermometer into the thickest section of the steaks. Once the desired temperature is achieved, leave the steaks to sit for at least three minutes before you serve them.
View this post on Instagram

Cooking Time for Pork Steaks on the Grill
Take note of the timing guidelines in the table below in order to get the best results when cooking pork on the grill:
| | |
| --- | --- |
| Cooking procedure | Cooking time |
| Cooking pork steaks on the grill | 17 minutes per side |
Print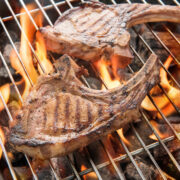 The Best Barbecued Pork Steaks (6 Servings)
---
3

pounds of pork shoulder steak (this should yield about

5

to

6

steaks)

24 ounces

of light beer

8 ounces

of sweet barbecue sauce
For the spice rub
3 tablespoons

of brown sugar

2 tablespoons

of smoked paprika

1 tablespoon

of onion powder

1 tablespoon

of garlic powder

½ teaspoon

of salt

⅛ teaspoon

of pepper
For optional basting liquid
8 ounces

of light beer

8 ounces

of apple juice
---
Instructions
Marinate the pork shoulder steaks in mild lager for at least one hour and as long as throughout the night, if you prefer.
Preheat the grill to a low heat setting.
Using a paper towel, blot the pork steaks until they're dry.
Combine the brown sugar, onion powder, smoked paprika, garlic powder, salt, and pepper in a small bowl.
Coat both sides of the pork shoulder steaks evenly using the spice rub.
In a small bowl, combine the beer and apple juice if you want to coat the pork steaks while they're cooking on the grill.
Grill each pork steak for 12 minutes per side on a covered grill (keep the vents open); during this process, coat the steaks occasionally with the optional basting liquid (if using).
Round up the cooking process by grilling the pork steaks for an additional 5 minutes on each side, coating each streak generously with some barbecue sauce on both sides.
If preferred, serve the grilled pork steaks with extra barbecue sauce on the side.
If you're interested in more recipe ideas for cooking pork steaks on the grill, then we recommend that you check out this video recipe.
Notes
Make use of your preferred barbecue sauce, but search for one that has a sweeter quality and more brown sugar or molasses composition (you can verify this by checking the ingredient list). This will help you achieve a lovely toasted crust on your pork steaks.
Don't forget to cover the pork steaks with some barbecue sauce within the last 5 minutes of grilling; it'll make all the difference in the results of your cooking.
Grilled pork steaks can hardly taste any better than the results you'll get from cooking your recipe following our cooking instructions. Make sure to take note of the timing guidelines; this recipe was done in an entire cooking duration of 1 hour and 34 minutes, including a prep time of 1 hour and a cook time of 34 minutes.