Raclette cheese is a cow's milk-based type of cheese that is famous in Mediterranean dishes. Originally from the Swiss Alps, this semi-hard nutty cheese is wrought with holes and boasts a creamy texture. It is ideal for melting because of its fat content and moisture ratio. Used in traditional dishes like fondue, it has its own specialized grill. Today, raclette is made in Germany, France, Austria, and Finland.
Melted cheese dishes were the staple food of mountain herdsmen while they lived on the alp and took care of the cows, milking, and cheese-making operations. The first raclette probably happened when someone left a wheel of cheese too close to the fire and the surface of the cheese started to melt. From that point, all you have to do is scrape it onto a plate and you've got raclette.
It is easy to spot Raclette cheese because of its strong aroma; unlike brie cheese, some people might find this fondue cheese is quite stinky because of its rind-washed technique. The Raclette cheese flavor is sweet, salty, and nutty with a creamy texture instead of pungent like blue cheese when it is melted. That's why Raclette tends to be used as melted cheese with white wine on vegetables and meat dishes. You can also put it on pasta, pizza, and sandwiches. Raclette is particularly delicious over roasted potatoes and root vegetables, pickles, and cured meats, such as prosciutto.
Raclette Cheese Substitute
Raclette can be described as a creamy texture and a salty, slightly sweet, slightly nutty flavor. Raclette is also known to be a relatively aromatic type of cheese, with the scent getting stronger the more it is aged. Raclette doesn't have a super intense flavor despite it being pretty aromatic, and it seems to fall somewhere in the middle of mild and strong. And while traditional, pure raclette is arguably the most popular type to enjoy, there are flavored versions of raclette that incorporate herbs and seasonings like peppercorns, garlic, and truffles. If you run out of this cheese and need a substitute, here are worthy substitutes for raclette cheese.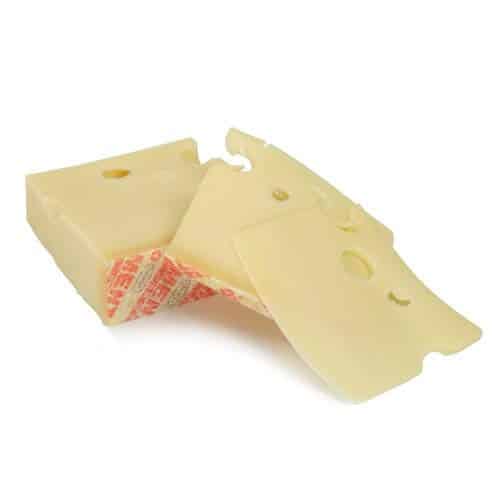 Emmentaler cheese originated in Switzerland, which is why it is sometimes referred to as Swiss cheese. It is a yellow medium-hard cheese that is characterized by its prominent holes. Three bacteria are used in the production of the cheese, which creates carbon dioxide, thus forming the bubbles that are the holes. It is made from cow's milk and ages from 4 to 14 months before making it to grocery store shelves. Used in gratins and fondues, it is commonly used as a substitute for raclette cheese because of its taste and melting capacity. Unlike raclette, it is harder and must be melted to reach that comparable texture.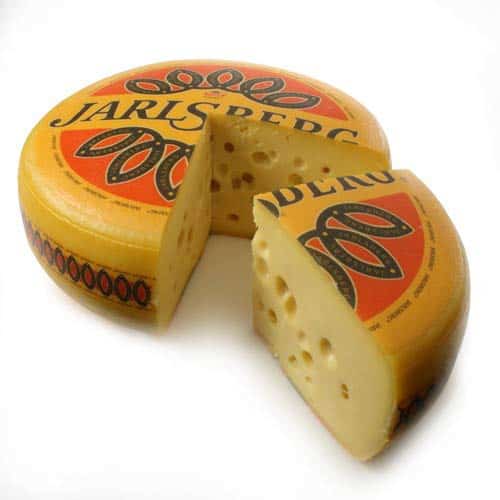 Jarlsberg cheese is a Norwegian cheese that is similar to raclette because it shares the same nutty flavor and texture. Like raclette, it has holes, which are a sign of bacteria being put in the cheese at the time of production. It is made in the same style as many Swiss kinds of cheese, yet is slightly sweeter than cheeses like Emmentaler. Jarlsberg is oftentimes melted on sandwiches and used as a fondue, which makes it an appropriate alternative to raclette. You can find this cheese at most grocery stores and specialty food shops. The cheese is generally cured for 1 to 15 months. The older the cheese the stronger the flavor will be. If you use a more aged cheese for serving fondue, use dipping components that won't compete with the flavor.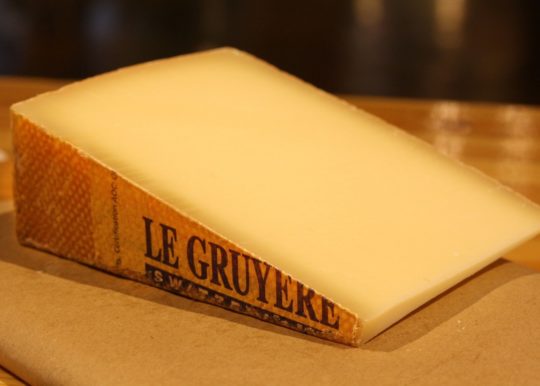 Gruyere cheese is a hard, light yellow cheese once only made in Switzerland. It is sweet and slightly salty much like raclette, yet does not have any holes. When substituting for raclette, look at the age. The more aged this cheese is the less like raclette it tastes. It begins to take on an earthy taste and grainy texture. Gruyere is one of the most popular cheeses for fondues and baking. The younger cheeses have no overpowering taste, which does not compete with other ingredients. Wisconsin is a large producer of this cheese, thus making it easy to get at most grocery stores.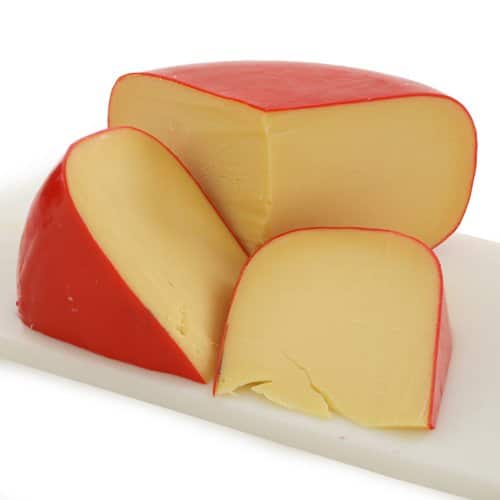 Gouda is one of the most popular cheeses globally with a distinguished yellow-orange color and remarkable taste. You can find Gouda in many stores, which is a great advantage to substitute Raclette cheese. Gouda's taste and texture, when it is young, is light, sweet, and soft. At this time, this soft cheese can be used as a Raclette alternative in your classic fondue. However, over time, it will be stronger with a buttery note used mostly on crusty bread and wine.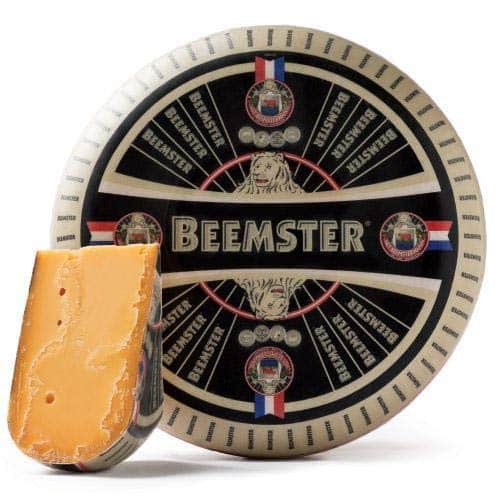 Traveling to Northwestern Europe, we have a great cheese substitute for Raclette that lies in the Netherlands. Beemster Polder is a popular cheese in many Dutch recipes because of its nutrient and tasty quality. Beemster coats itself with a pale yellow color with a buttery aroma. When you use it, the flavor can be sweet and rich with a creamy and smooth consistency similar to Raclette. Nowadays, you can find Beemster mixed in different flavors like mustard and garlic to spice up your dishes.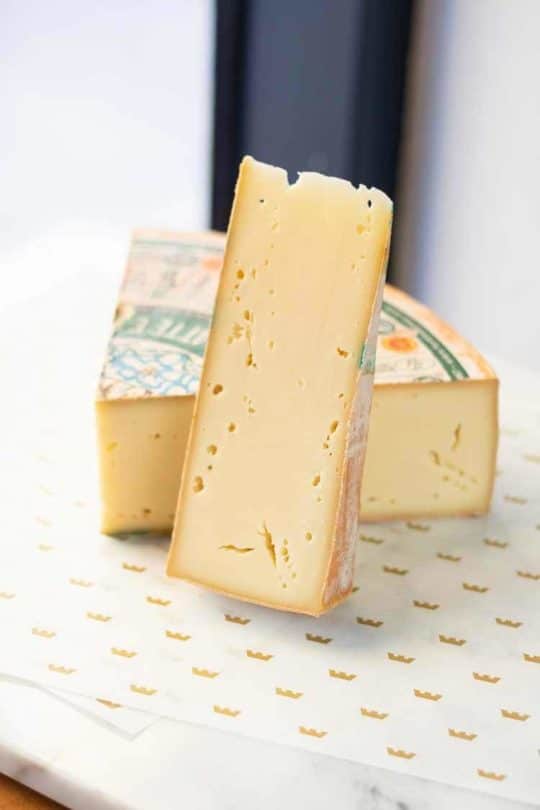 Fontina originated in the Aosta valley, where Valdostana cow milk is used to produce this rich cheese. The unpasteurized milk-based cheese can be the best cheese for Raclette with only its flavor. Fontina has a semi-hard texture with a smooth outlook, unlike Raclette. However, the Fontina flavor profile is creamy, pungent, and sweet, full of nutty and buttery notes. Fontina can be used as a table cheese or sliced and melted in meat and pizza dishes.

Cheddar cheese is your last option when you're out of raclette cheese. You can find plenty of white and yellow cheddar in any American store because we love their amazing taste so much. Coming from England, cheddars have a mellow and bright flavor with a hazelnut note which is a good cheese for Raclette cheese grill recipes.
Frequently Asked Questions (FAQs)
What is raclette cheese made from?
Raclette is a semi-hard cheese made on both sides of the French and Swiss Alps. Valais Raclette or Fromage a Raclette, as they are traditionally called, are made using ancestral methods with unpasteurized milk of cows grazing on the alpine meadows.
Why does raclette smell so bad?
Raclette cheese is semi-soft and is made from cow's milk. This technique allows a hospitable environment for certain bacteria, giving washed-rind cheeses their distinct "stinky" smell and taste. Its name comes from the French word "race," which means to scrape.
What does raclette taste like?
This fantastic cow's milk cheese has a wonderful creamy texture and a salty, slightly sweet, slightly nutty flavor, not unlike Gruyere. It's fairly aromatic and becomes more pungent the longer the cheese wheel is aged.
Conclusion
Raclette comes from the French word that means "to scrape" and refers to both the type of cheese and the traditional Swiss dish it is served with. Cheese raclette is amazing melting cheese that brings warmth to your stomach. If you run out of this cheese and need a substitute, the list above contains worthy substitutes for raclette cheese.