Whether making a creamy dessert or whipping up a smoothie, evaporated milk is one handy item to have in the kitchen. Its intense flavor is one that's sought in numerous recipes around. But those on a vegan diet can't add this ingredient to their foods and must find alternatives that suit their lifestyle. And to some, it almost seems like a daunting task.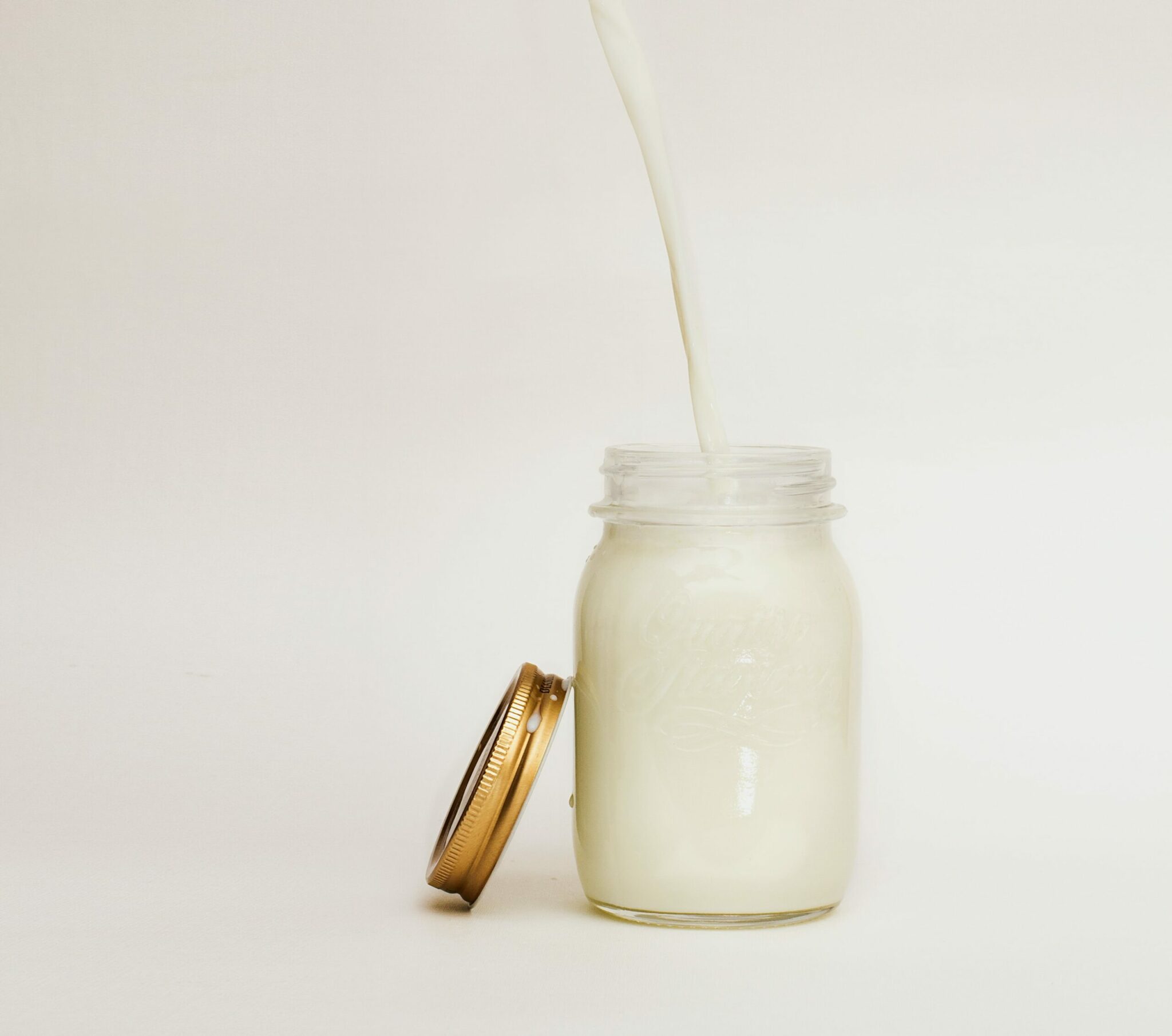 But in truth, it isn't, and today, tons of vegan options can be used in place of evaporated milk. However, what's required is knowing their differences and how these substitutes compare to evaporated milk. And the first step is to understand what evaporated milk is and how it works in various recipes.
What is Evaporated Milk?
When regular milk is extracted from cows, not all of it is sold as-is. Some of them are passed through another process that eliminates their water content as minimal as possible. The result is highly concentrated milk with intense sweetness and a caramelized color. This result is what is called evaporated milk.
The difference in sweetness and creaminess is primarily owed to the water content comparison of both kinds of milk. As regular cow's milk contains around 60% water, its sweetness, and creaminess though present, is somewhat diluted. But evaporated milk is almost void of it, making it thicker and more packed with flavor. And unlike regular milk that can be sold in cartons, evaporated milk is mainly presented in sealed cans. This storage method and the little water content allow it to keep for months to years.
Evaporated Milk in Recipes
Evaporated milk supplies a lot of advantages to dishes. It's rich in creaminess and flavor due to its high concentration, making it great in raw recipes. You'll also find that it's also put in cooked recipes and baked dishes for this effect. And it's also higher in protein as it offers more of the milk nutrients with less water.
You'll also find evaporated milk in tons of vegetable dishes as well. If it's not added as a topping, it's primarily used to give a creamy base to the food. It works with fruits, tubers, legumes, and tons of other plant-based dishes and desserts. It's why you'll find the milk in numerous vegetable recipes, some of which include;
Dips
Smoothies, shakes, and lattes
Parfaits
Creamy rice
Quiche
Mousse
Tarts
Pudding
Fondue
Creamy pasta
Crepes
Ice cream
Jelly desserts
Noodle bakes
Curries
Evaporated Milk Substitutes for Vegans
Having evaporated milk on your ingredient list is the next step to an exciting food experience. But when you're vegan, such a recipe is virtually taboo. And the reason is simple; evaporated milk is derived from regular milk, which is gotten from cows. As such, it's animal-based food and disallowed in such a diet.
But don't worry. You can still make a fitting evaporated milk substitute from plant-based milk. And here, you'll find a collection of options that are close in flavor to this tasty ingredient.
Soy Milk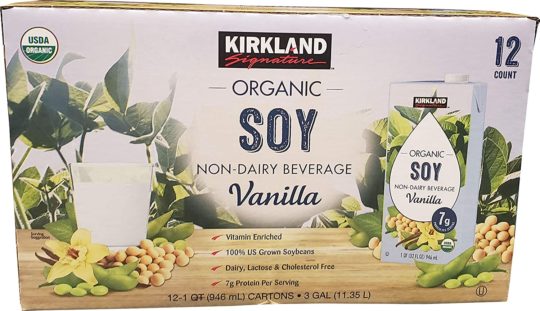 This substitute is probably the most popular plant-based milk you'll ever come across. Soy milk is derived from dried and ground soybeans and is the closest thing to nutritional composition. Its legume-based source makes it rich in calories and proteins. And it's also a fantastic source of calcium and vitamins. of course, it doesn't wholly match evaporated milk in these numbers, but it's still an excellent option. You can use three cups of soy milk as a substitute in both sweet and savory recipes. And to get it to the consistency of evaporated milk, heat it, so most of its water is reduced.
Oat Milk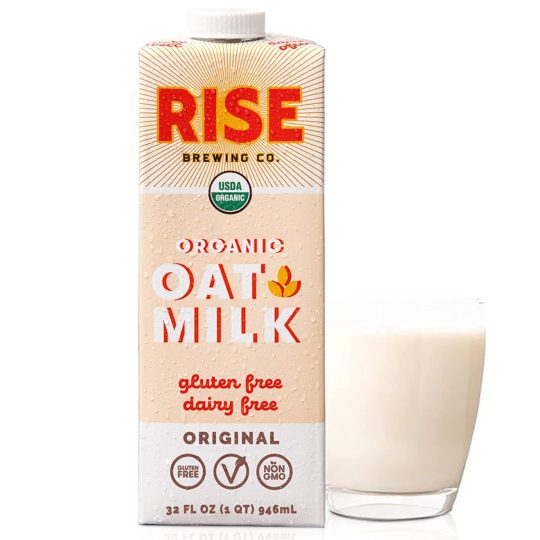 Made by combining oats with water in a processor, oat milk can work as an excellent evaporated milk substitute. It's rich in dietary fiber, and the sort-bought versions are fortified with iron, vitamin D, and calcium. It's also a great source of beta-glucans, though it's low in protein due to its cereal base. But it's still an ideal replacement for evaporated milk in most recipes, provided you can thicken and sweeten it. And three cups of it works in most recipes.
Full Fat Coconut Milk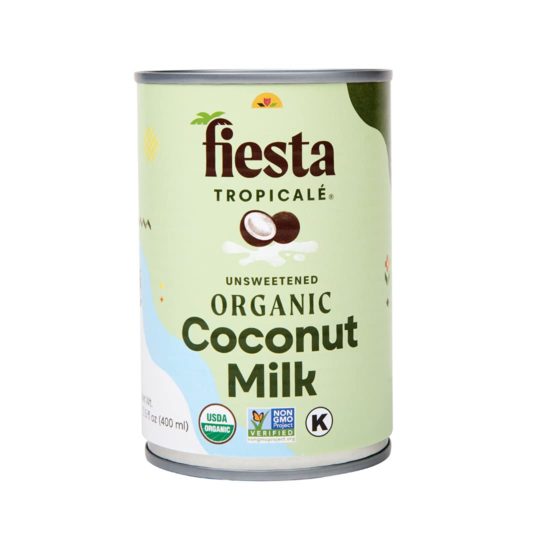 It's not every time you'd have the patience to heat an evaporated milk alternative before using. And in such situations, coconut milk can come to your rescue. This substitute is not only tasty but bears a thickness similar to that of evaporated milk. And though you may notice a hint of coconut flavor in your cooking, most times, it's not so bad. You can use equal parts of full-fat coconut milk for both sweet and savory recipes. However, for the latter, increase the number of aromatics and spices to tone down the coconut taste.
Quinoa Milk
Though not a popular plant-based ingredient, quinoa milk has gained significant recognition among vegans and pro-healthy diet enthusiasts. It's a low-calorie plant milk made from soaking quinoa and then blending it with water. Quinoa milk shares a similar sweetness to rice milk and is perfect as an evaporated milk substitute in sweet dishes. But compared to the other options, it's mostly thicker and can be used as-is without reducing the water. As such, you can use equal parts of quinoa milk to replace evaporated milk in your cooking.
Almond Milk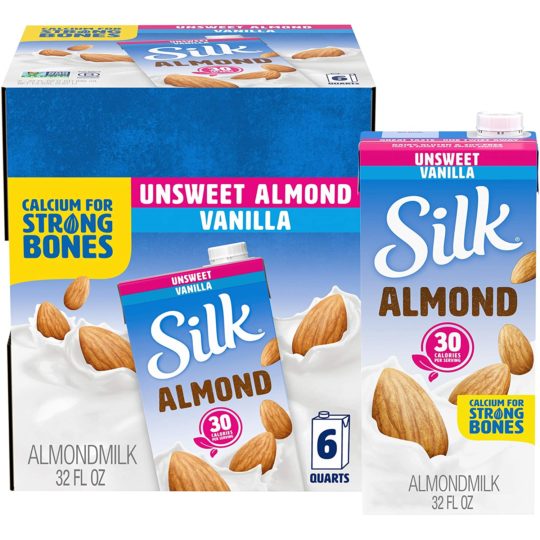 If you're not allergic to nuts, then almond milk is a good evaporated milk substitute to try. As you guessed, it's derived by grinding almonds, mixing them with water, and filtering the milk. Almond milk is another healthy alternative, as it's also low in calories and proteins. Plus, it also supplies vitamins D and E, as well as calcium. But almond milk is thinner, so it needs to be heated to reduce the water content. And its flavor makes it perfect for sweet recipes like desserts and baked goods. So, heat three cups of almond milk to reduce to get a cup of evaporated milk substitute.
Frequently Asked Questions (FAQs)
What can I use instead of evaporated milk in pumpkin pie?
You can use any of the plant-based milk listed above. But thicken the chosen option by adding a tablespoon of cornstarch to the spices and sugar. This additional ingredient is needed, so the pie's structure sets.
How do I make my own evaporated milk?
Take about three cups of any vegan-friendly, non-dairy milk and heat it in a saucepan. Leave it to boil until the quantity is reduced to one cup. You may also need to sweeten the milk with sugar, so the taste is similar.
Is there a vegan substitute for evaporated milk?
Any of these options listed above will easily replace evaporated milk in your vegan dishes. Other options to consider include rice, hemp, cashew, hazelnut, and macadamia nut milk.
Conclusion
Making vegan dishes from recipes that use animal-based products can be tasking. And in the case of evaporated milk, it's normal to assume nothing can replicate its delicious creamy taste. But lots of vegan-friendly milk alternatives are available here. And they can be tweaked to meet the flavor and consistency standards expected from evaporated milk.