You and your friends are meeting up to watch your favorite teams play in a football match; the host of this small gathering is none other than you. You're wondering what to make for them at your place, and the first thing that pops into your head is grilled Boston butts, but you have no idea how to go about this recipe, hence your purpose for being here.
Or you might also not want to impress an audience with your cooking but merely seek to harness your grilling skills. Whatever your reason for wanting to know how to cook a Boston butt on a grill, you don't have to worry!
Sit back, relax, and learn from scratch how to prepare your grilled Boston butt, whether you're a professional chef or just learning how to cook for the first time.
Be sure to pay enough attention to the cooking instructions, tips, and guidelines we've compiled for you to get excellent results when preparing this recipe.
Boston Butt Nutrition Facts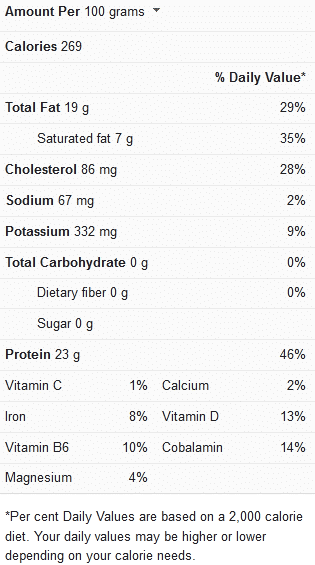 Tips for Cooking Boston Butt on the Grill
To get a satisfactory result when making your grilled pork butt or Boston butt, you must ensure that the following tips and instructions are duly noted.
Other kinds of grills to use – note that if you want to cook a Boston butt and your grill is in bad shape or uncooperative, there are other alternative grills to utilize like the gateway drum smokers and Weber kettles.
Coating your Boston butt before cooking – to give an edge and extra flavoring to your meat, we recommend applying a light coating of plain yellow mustard and spice rub on all areas of your Boston butt.
This adds a little spiciness, which balances out the sweet and savory taste of the butt. You can also use Carolina seasoning together with the spice.
Use some wine, vinegar, and water – when you're an hour into cooking, it is advisable to baste your Boston butt using equal amounts of red wine, vinegar, and water in a squirt bottle. This adds more moisture to your Boston butt, especially when evenly squirted.
Ensure that this is done quickly, so you don't lose heat from the grill.
Leave your Boston butt to rest – after seasoning and coating your Boston butt; it's best to leave them to rest for about 30 minutes. This lets the seasoning seep into the Boston butt, giving it an exceptionally savory taste and juiciness.
Use a thermometer – before you start the heat on your Boston butt, we advise that you stick a digital thermometer into a corner of the butt to monitor its temperature, so you don't overcook or under-cook it.
Preheat your grill – as we all know, it's best to preheat whatever cooker you use before cooking anything, and the grill is no exception. For a slice of more suitable and thoroughly cooked meat, preheat your grill before you start cooking.
If you do not have an electronic grill, place some charcoal and wax in your grill, then light the wax for easier burning of the charcoal.
How to place the meat on the grill – so now you want to add the Boston butt to the grill, but you're confused on how to place it. Does the side with the fat go up or down? It's easy; always place the side with the fat upwards.
View this post on Instagram

Cooking Time for Boston Butt on a Grill
The following timing guidelines in the table below are ideal for cooking Boston butt on a grill, so ensure you pay close attention.
Cooking procedure
Cooking Time
Cooking a Boston butt on the grill at 200° to 225° F
8 to 9 hours (90 mins per pound)
Print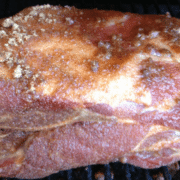 Grilled Boston Butt (6 to 8 servings)
---
1

Boston butt roast (

4

pounds), boneless or bone-in
One bottle of yellow mustard
If you can't buy a Rub for your meat, below is the recipe for making your spice rub at home:
Homemade Rub For Barbecue
Santa Maria Rub for 4-pound Boston butt
---
Instructions
Place your Boston butt on a flat plate or chopping block and spread the yellow mustard over its surface. Be sure it gets to all areas of the meat, and then pour a generous amount of your rub— homemade or store-bought— on all corners of the meat.
As we previously stated, it is more advisable to let your seasoned Boston butt rest on the counter for about 30 minutes, and you can use this time to set up your grill if it hasn't already been set up.
Place your pork butt on the grill rack after your grill has been lit and close the lid.
Spray your meat with red wine, vinegar, and water every hour to add some moisture to it. Add some extra charcoal if necessary cause you're going to be cooking that meat for a couple of hours.
When your pork butt is getting tender, take it out and spray it some more with your mixture to prevent the moisture from drying out. Add more rub to your pork butt and wrap it up tightly with a foil.
Place the wrapped-up pork butt back on the grill. After about an hour and a half, stick a thermometer into your pork butt to see if the internal heat's up to 200 degrees and if the meat's tender enough. If some parts are still tough, cook in the foil for another 30 minutes and check again. The heat should be above 200° but shouldn't exceed 220°.
Leave the pork butt to rest for about 45 minutes before taking it in because it could be really hot.
Shred your pork butt with the juices to add more flavor. Ensure you wear a thick glove for this part, as the pork butt will still be hot. After shredding, add your sauce to the pork, and your delicious Boston butt or pork butt is ready to be served.
You can eat this as a good old traditional pulled pork sandwich or salad and rice. It is an inexpensive and relatively easy meal to make if you follow our step-by-step guidelines and tips. It tastes exceptionally delicious with the added sauce, and everyone who eats this grilled Boston butt will agree that it's amazing cuisine.
If you want to have more insights into cooking Boston butt on a grill, we recommend you check out this video recipe.