Some people experience heavy bouts of stomach upset or pain after eating. And others may face constant attacks of indigestion or bloating. If you're one of these people, you may be suffering from gastritis. And if you've been diagnosed with the illness, then you know how difficult it is to decide on what to eat.
But with a convenient diet program like this gastritis meal plan, you can manage and even reduce the problem of stomach lining inflammation. But what is gastritis, and why does this meal plan work well in keeping it in check?
Features
Gastritis is a digestive condition that results from stomach lining inflammation. It's mainly caused by a microbial infection but can also be initiated by excessive consumption of non-steroidal anti-inflammatory medicine. Gastritis mainly develops over time, but it can also be acute. And in some situations, it can indicate stomach ulcers or, in extreme cases, gastric cancers.
Some foods are known to encourage gastritis, so a handy diet plan like this one is highly recommended. And the diet comprises foods that work for persons with gastritis without triggering any disturbing symptoms. The combinations include fiber foods, healthy fats, probiotics, and lean protein. You'll also find that this meal plan also comprises tons of spices, herbs, and condiments rich in flavonoids. And it insists on the reduction or complete elimination of highly acidic foods and dairy, which trigger acid secretion in the stomach, causing the unpleasant symptoms of gastritis.
This gastritis meal plan features three meals for seven days, with intermittent snacks comprised of foods that can easily digest under such conditions. Fruits are also included in this meal plan, though it's focused more on those with low GMI and low acids. The meal plan is also best practiced under the supervision of a dietician, so you can be advised on the best ways to combine foods, what items to avoid, and the proper times to set your eating schedule.
Benefits of this Diet
The gastritis diet plan is designed to relieve the symptoms of the disease and aid recovery. It's packed with nutrients, making it a healthy dietary option for many. Its high amounts of omega-3 fatty acids help minimize stomach inflammation, and the high-fiber content aids gut bacteria in breaking down food. The diet also contains large amounts of lean proteins, which help repair the stomach linings, encouraging recovery from gastritis. And they also add to the body's muscular development, encouraging stamina and strength.
The meal plan also features probiotic foods, which contain live organisms that attack and eliminate the pathogens responsible for gastritis. The flavonoids in the spices and herbs also aid this purpose with their antibacterial properties and further reduce stomach inflammation.
Meal Plan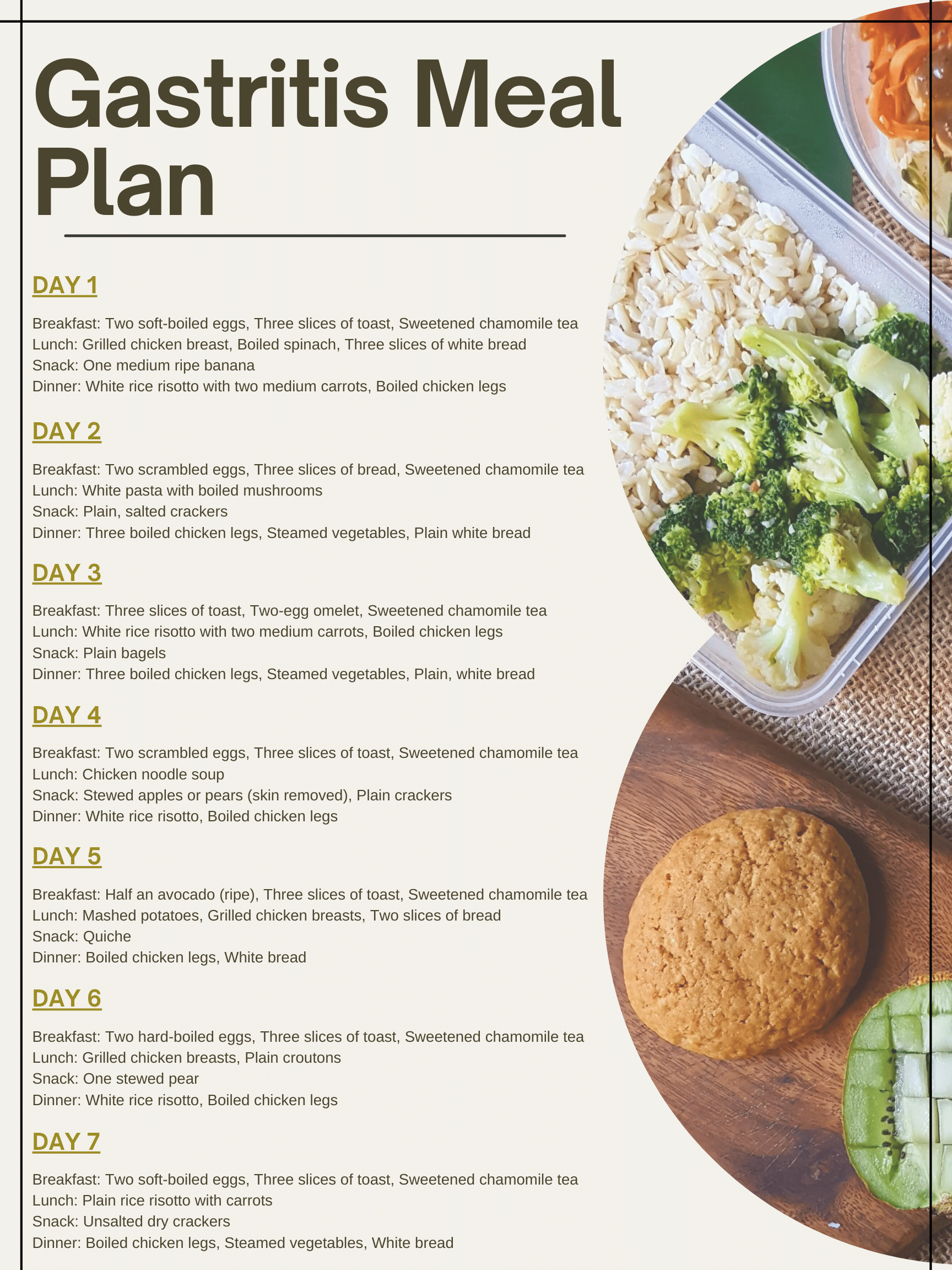 Download Here: Gastritis Meal Plan
Day 1
Breakfast
Lunch
Boiled spinach
Three slices of white bread
Snack
Dinner
Day 2
Breakfast
Two scrambled eggs (no grease)
Three slices of bread
Sweetened chamomile tea
Lunch
Snack
Dinner
Three boiled chicken legs
Steamed vegetables
Plain white bread
Day 3
Breakfast
Three slices of toast
Two-egg omelet (no grease)
Sweetened chamomile tea
Lunch
White rice risotto with two medium carrots
Boiled chicken legs
Snack
Dinner
Three boiled chicken legs
Steamed vegetables
Plain, white bread
Day 4
Breakfast
Two scrambled eggs (no grease)
Three slices of toast
Sweetened chamomile tea
Lunch
Snack
Stewed apples or pears (skin removed)
Dinner
Day 5
Breakfast
Half an avocado (ripe)
Three slices of toast
Sweetened chamomile tea
Lunch
Grilled chicken breasts
Two slices of bread
Snack
Dinner
Boiled chicken legs
White bread
Day 6
Breakfast
Two hard-boiled eggs
Three slices of toast
Sweetened chamomile tea
Lunch
Grilled chicken breasts
Plain croutons
Snack
Dinner
Day 7
Breakfast
Two soft-boiled eggs
Three slices of toast
Sweetened chamomile tea
Lunch
Plain rice risotto with carrots
Snack
Dinner
Boiled chicken legs
Steamed vegetables
White bread
Extra Tips
Consider taking a tablespoon of aloe vera at least one hour before breakfast. It helps balance the stomach before the food arrives.
Ensure you're not allergic to any of the foods found here.
Fiber helps with bowel movement, but you need a little of it to bloat.
You can choose sugar or honey to sweeten your tea.
Fry the eggs with as little to no grease as possible. Excess oil encourages stomach upset during gastritis.
You can alternate between whole eggs and egg whites for the meal plan.
If soups affect your gastritis, consider eating the noodles solid instead.
Make your servings small, but save some for later so you can eat multiple times.
If some foods don't work for you, swap them with a portion of similar food.
Not everyone with gastritis can tolerate fruits, so try swapping with no-fat bagels or crackers instead.
DO NOT lie down after eating. Instead, let your food digest beforehand, including after dinner.
Stay off caffeinated foods, sodas, deep-fried foods, and any other that's been flagged against gastritis.
Stick to your medication as prescribed by the doctor.
Most vegetables are great for gastritis so, try slowly including them into the diet so your bowels can adjust during constipation.
Eat your chicken skinless to reduce fat in your diet.
You can have nuts, but only in limited amounts.
You can also cook your food with olive oil, but use a small amount.
You can eat zucchinis, so long as they're younger and peeled.
Foods to Avoid
Greasy or deep-fried foods
Buttery foods
Fatty foods
Hard candy and chocolates
Fast food
Red meat and venison
Caffeine
Strawberries
Oats
Carbonated drinks
Green, oolong, white and black teas
Cold meats
Anything from the cabbage family
Anything from the onion family
Oily fish
Canned fish
Aged cheeses and hard cheeses
Spices
Acidic foods
Alcohol
Fermented foods and drinks
Excess refined or processed foods
Corn
Cucumbers and eggplants
Shopping List
Carrots
Parsnips
Celeriac
Spinach
Turnips
Parsley
White bread, plain
Wholegrain bread
White, parboiled rice
Quiches
Bananas, ripe
Pears
Chicken, skinless
Sweet cottage cheese
Chamomile tea
Olive oil
Plain white pasta
Almonds
Croutons
Plain applesauce
Cashews
Walnuts
Sunflower seeds
Figs
Conclusion
Living with gastritis doesn't have to be a nightmare, and it can be managed provided you know what to eat and avoid. It's why this gastritis meal plan comes in handy, as it advises you on the best ways to diet during such a condition. It also features the best foods to live by, and you can modify it to suit whatever calorific needs you have.