As we advance in our world, we come across newer ways to improve our health through food. And the blood-type meal plan has garnered huge recognition over the decades. The blood type diet plan aims at using the biochemical distinctions in each person to design their feeding needs accordingly. And it caters to the three main blood types; A, B, and O.
Here, we'll focus on blood type A and how you can influence your health by eating in its favor. But note that when done right, the blood type A food plan works wonders in numerous aspects.
Features
The blood type A meal plan works on the postulation that the food you eat must tally with the chemical requirements of your blood type. It is said that what you eat and your blood type must sync to accomplish the best health for the longest time. And each blood type comes with its specific rules, with the blood type A option focusing more on a vegetarian diet.
It's why this meal plan mainly comprises fruits, berries, leafy greens, lentils, and many other vegetarian foods while cutting off proteins and fats from all animal sources. And these foods are split into three main courses a day, with no snack periods in between. Also, the amount of calories consumed isn't restricted, so you can plan as many portions as you wish to consume.
Though the blood type A meal plan is a purely healthy one, you'll still need to speak to a dietician before you swap. Note that this diet plan is easier to adopt if you're already a vegan or vegetarian. As such, those new to such eating habits will need the proper time and guidance to adjust, so having a professional nutritionist at your side can be of immense help.
Benefits of this Diet
The bloody type diet theory postulates that you can consume lectins enough such that it'll affect your blood if your cells don't find them compatible. And for those with blood type A, such lectins are heavily found in meat and dairy. So, it's why living on a blood type A diet plan is paramount to optimal health, as it focuses you on foods that are compatible with your blood; fruits, nuts, vegetables, and all plant-based foods. And this way, you eliminate the problem of indigestion of some foods and reduce the risk of heart problems, kidney diseases, and cancers.
Because the blood type A plan is made up purely of plant-based foods, it's a sure way to promote weight loss. This is because the meal plan is void of processed foods of any kind, ensuring your diet stays clean and healthy while the carb content is significantly minimized. Plus, the high-vegetable diet helps unclog body systems, keeping the internal environment toxin-free.
This meal plan was initially designed for blood type A and suits vegetarian diets. And because it uses purely whole foods, it can also be adopted to paleo diets for people with blood type A. You can also create a Mediterranean version of the meal plan to suit such needs. And if you're worried about gluten, you can check some of the suggested foods and make the necessary substitutions.
Meal Plan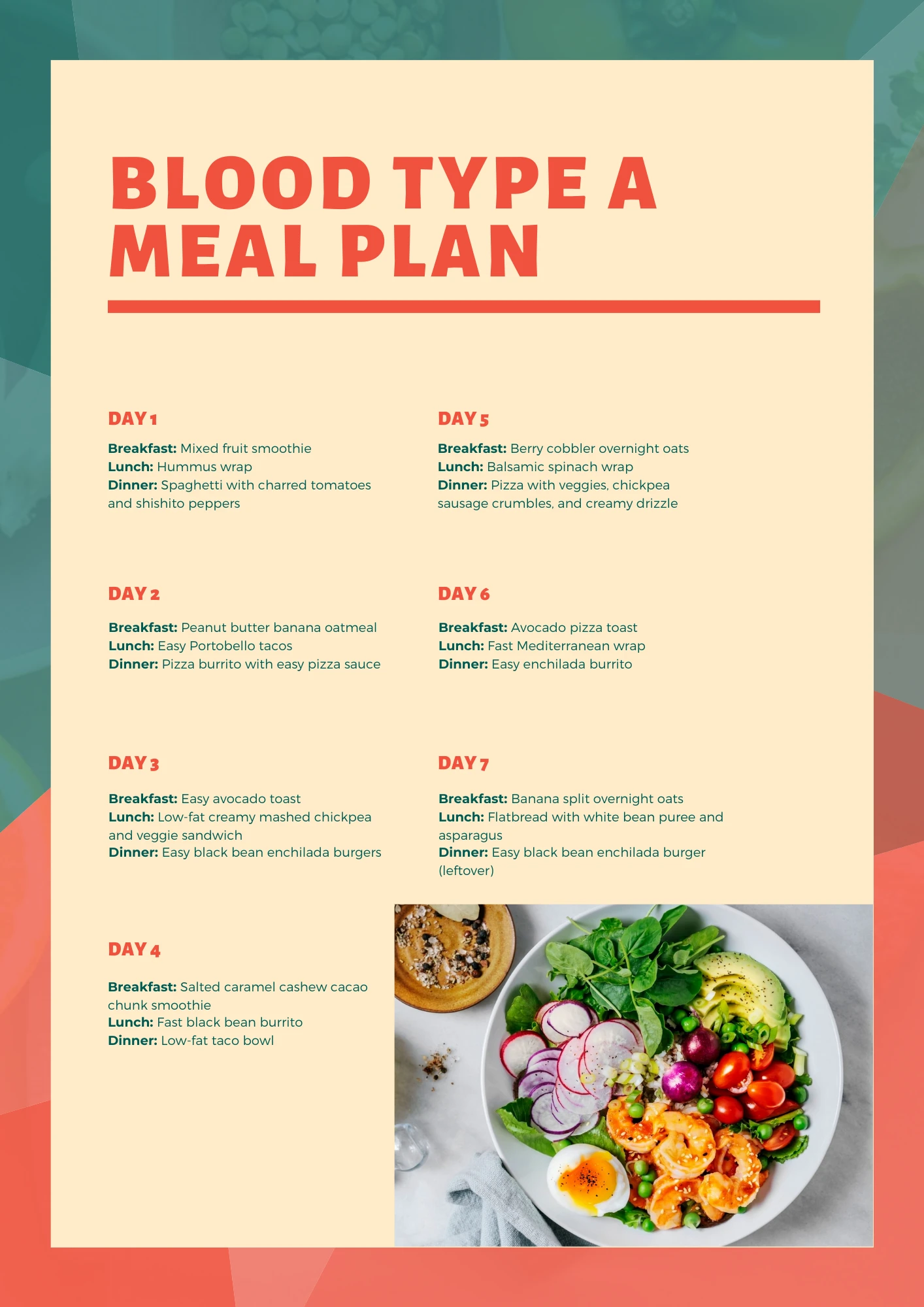 Download Here: Blood Type A Meal Plan
Day 1
Breakfast
Lunch
Dinner
Day 2
Breakfast
Lunch
Dinner
Day 3
Breakfast
Lunch
Dinner
Day 4
Breakfast
Salted caramel cashew cacao chunk smoothie
Lunch
Dinner
Day 5
Breakfast
Berry cobbler overnight oats
Lunch
Dinner
Day 6
Breakfast
Lunch
Dinner
Day 7
Breakfast
Banana split overnight oats
Lunch
Flatbread with white bean puree and asparagus
Dinner
Extra Tips
Purchase produce to be used as fresh as possible. Cook them before their viability runs out, and save the cooked portions for later use.
Some recipes are repeated in subsequent days, so make extra of those and save portions for another day.
You can consider snacks between meals made of nuts, seeds, and fruit bowls.
All vegetables are fair game in this meal plan, and the more, the better.
You're obligated to stay off dairy and animal protein, but you can take as much plants milk as you like.
If you're taking nuts in this meal plan, ensure to check for allergies before proceeding.
You can swap the seeds with any other option of your choosing.
Consider merging this meal plan with gentle, mind-focused exercises like Tai-Chi and yoga.
Eggs and seafood aren't permitted in this meal plan.
While this diet plan is considered healthy, it also helps to consult your dietician before proceeding with it.
During this diet plan, you're not to drink water or beverages with foods so that the natural digestive enzymes won't be diluted.
Shopping List
Fruits
Grain and Grain Products
Pizza crust
Pita bread
Flatbread
Rolled oats
Brown rice
Oat flour
Brown rice flour
Corn tortillas
Burger buns
Cornmeal
Tortilla wraps
Milk
Vegetables and Legumes
Spinach
Shishito peppers
Arugula
Lettuce
White beans, canned
Black beans, canned
Chickpeas, canned
Portobello mushrooms
Basil
Dill
Mint leaves
Potatoes; russets or red
Hummus
Asparagus
View this post on Instagram

Seeds, Nuts, and Nut Products
Peanut butter
Cashews
Chia seeds
Hemp seeds
Almond meal
Others
Molasses
Olive oil
Vegetable broth, low-sodium
Hot sauce
Dark chocolate
Almond extract
Dried oregano
Ground black pepper
Cumin
Chili powder
Fennel seeds
Crushed red pepper
Apple cider vinegar
Nutritional yeast
Conclusion
Considering a blood type A meal plan seems ludicrous, but it's a highly healthy diet in its basest form. And it's a great way to boost the body's immunity while promoting weight shedding, calorie control, blood sugar regulation, and overall clean health. So, if you fall into this blood type category, you should give the meal plan a shot.