Following a daily meal plan promotes excellent health and nourishes the body. As a result, a men's weight loss and muscle gain diet has been developed to guide you in this endeavor. If you want to lose weight while also gaining muscle, eat well, and improve your overall health, you'll find that its low-calorie content is just right for you.
Feature
You must expend more calories than you consume to lose weight. When you reduce your calorie intake, your body relies on stored energy to perform effectively. As a result, fat and weight are lost, but muscular mass is also lost. That's why it's critical to eat nutritious foods like protein, carbs, healthy fats, and fiber to maintain muscle mass. This is where the full-fat dairy (Greek yogurt), eggs, fish (salmon, tuna), whey protein, apple cider vinegar, meats (lean beef and chicken breast), nuts, beans, and legumes in this meal plan come in helpful.
For people who live a somewhat active lifestyle, this diet is ideal. Please consult with your dietician to ensure that the diet meets your nutritional demands to the best possible standard.
Benefits of the Diet
The benefit of this meal plan is that it comprises nutritional foods and helps remove processed meals, allowing you to consume healthier food as naturally as possible. And, thanks to its high protein content, it has helped a lot of people lose weight while also gaining muscle. The plan is also quite adjustable since you can modify it to your keto dietary requirements. This alternative is feasible by lowering carbohydrate content while increasing protein and healthy fats.
You can also utilize this meal plan to follow a vegetarian diet. Most of its contents are fresh and natural by default, and these characteristics are known for limiting the ingestion of harmful nutrients into the body system. You can always add your vegan dish to the meal, which gives you a lot of flexibility.
It's been proven that eating a low-carb, high-protein diet helps you lose weight and gain muscle. The Atkin diet is also one of those diets, and if you follow it, this meal plan will help you stay on track. Proteins, beans, lentils, and healthy fats abound in this meal plan.
This diet is good for weight loss and muscle growth and for individuals who want to live a healthy lifestyle. It's also an excellent way to manage blood sugar in diabetes patients because it doesn't cause a surge in blood sugar.
Meal Plan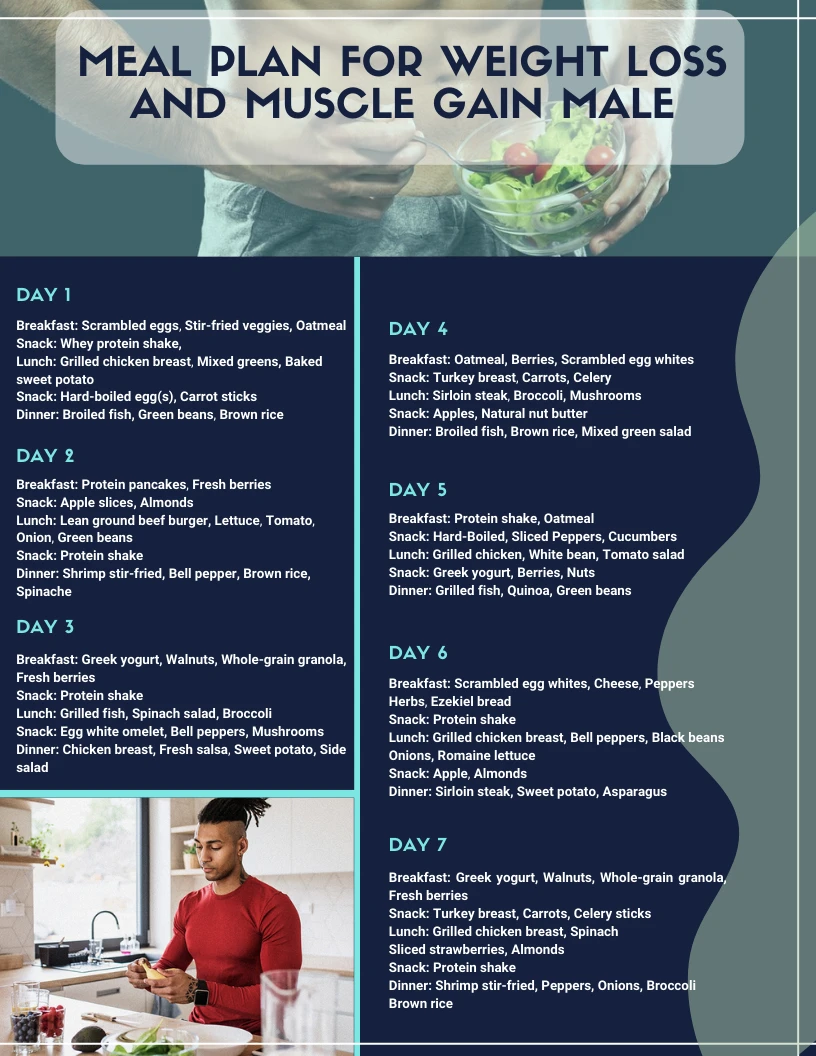 Day 1
Breakfast
Snack
Lunch
Snack
Dinner
Day 2
Breakfast
Snack
Lunch
Snack
Dinner
Day 3
Breakfast
Greek yogurt
Walnuts
Whole-grain granola
Fresh berries
Snack
Lunch
Grilled fish
Spinach salad
Snack
Egg white omelet
Bell peppers
Dinner
Chicken breast
Sweet potato
Side salad
Day 4
Breakfast
Oatmeal
Berries
Scrambled egg whites
Snack
Lunch
Sirloin steak
Broccoli
Mushrooms
Snack
Dinner
Broiled fish
Brown rice
Mixed green salad
Day 5
Breakfast
Snack
Hard-boiled egg whites
Sliced peppers
Cucumbers
Lunch
Grilled chicken
White bean
Tomato salad
Snack
Dinner
Grilled fish
Quinoa
Green beans
Day 6
Breakfast
Scrambled egg whites
Cheese
Peppers
Ezekiel bread
Snack
Lunch
Grilled chicken breast
Bell peppers
Black beans
Onions
Snack
Dinner
Sirloin steak
Sweet potato
Day 7
Breakfast
Greek yogurt
Whole-grain granola
Berries
Snack
Turkey breast
Celery sticks
Lunch
Grilled chicken breast
Spinach
Sliced strawberries
Almonds
Snack
Dinner
Shrimp stir-fried
Peppers
Onions
Brown rice
Extra Tips
To fit your unique needs, you can vary the number of veggies or proteins in each dish.
Supplements can be added to your diet to help you gain muscle. To be on the safe side, look for supplements that have their goods verified by a third party. You should also get guidance from your nutritionist before picking a supplement.
You must combine this meal plan with regular workouts to attain the goals of this diet plan. This will help you grow muscle as well as lose weight.
Drinking water can help you lose weight and gain muscle mass. It is completely calorie-free, aids in calorie burn, and may even reduce your hunger. The metabolic process known as lipolysis helps our systems break down fats and other lipids. As a result, drink plenty of water during meals and throughout the day.
Processed foods contain hidden sugars and bad fats, which might add more calories to your body. These foods should not be found in your grocery; avoid them at all costs. You might use whole wheat flour instead of refined white flour in your baking.
To spice things up while cooking your meals, you can use spices and herbs to give aroma and flavor impacts to the meal.
Shopping List
Proteins
Eggs
Lean red meat
Chicken and turkey breasts
Legumes
Low-fat dairy products
Nuts
Carbs
Oatmeal
Quinoa
Rice
Cereals
Fruits
Vegetables
Leafy greens
Cucumbers
Broccoli
Fats
Conclusion
The male weight loss and muscle growth eating plan is an excellent approach for guys to stay physically fit while keeping their bodies alive. The meal plan also has numerous benefits, such as the ability to customize it and promote good physical fitness. So, if you think this diet will boost your health, don't be reluctant to give it a chance.