When the contents of your stomach migrate back up into your esophagus, this is known as acid reflux. This is a disease condition, and eating healthy is one of the simplest approaches to manage it. As a result, to provide daily abundant nutrients to the body system, it is critical to consume meals that support good health. The acid reflux meal plan is recommended to help you because it promotes overall health.
Features
The acid reflux meal plan was developed to include meals and ingredients that will provide you with a consistent daily intake of high-fiber foods. Eating foods like these has been demonstrated to help people avoid developing acid reflux disease or symptoms while also losing some weight. It includes a lot of fiber-rich meals such as fruits, vegetables, healthy grains, and lean meats. It also has an outstanding taste, as the plan allows for the richness of flavor in each meal.
Your dietician would most likely have a greater understanding of your eating habits, so speak with them before continuing with this meal plan. If you have a sedentary lifestyle, this food plan is for you.
Benefits of the diet
One of the benefits of the acid reflux meal plan is that it encourages you to eat more high fiber foods while avoiding foods that can aggravate the illness, such as high fat and salt meals and spices like chili powder. And its daily dose of high-fiber foods is credited with helping many people substantially reduce acid reflux and even lose weight. The plan is also adjustable, as you can tailor it to your vegetarian dietary requirements, and this is achievable since both diets are high in fiber and low in fat.
You can also use this meal plan to help you stick to a paleo diet. Because the paleo diet is a low-carb diet, it can aid with acid reflux, especially because the ingredients are all-natural and fresh. Plus, the recipes are incredibly adaptable, so you can leave out any ingredients you don't like and replace them with paleo-friendly alternatives.
You don't have to be concerned if you follow a Mediterranean diet. This meal plan includes fresh fruits, vegetables, lean proteins, whole grains, nuts, and healthy fats. These foods are necessary for weakening and neutralizing gastric acid while keeping you full.
This diet is beneficial for acid reflux control and weight loss and for those who lead sedentary lifestyles. It's also a useful approach for diabetics to control their blood sugar. Additionally, if you want to lower your cholesterol, you can use the meal plan.
Meal Plan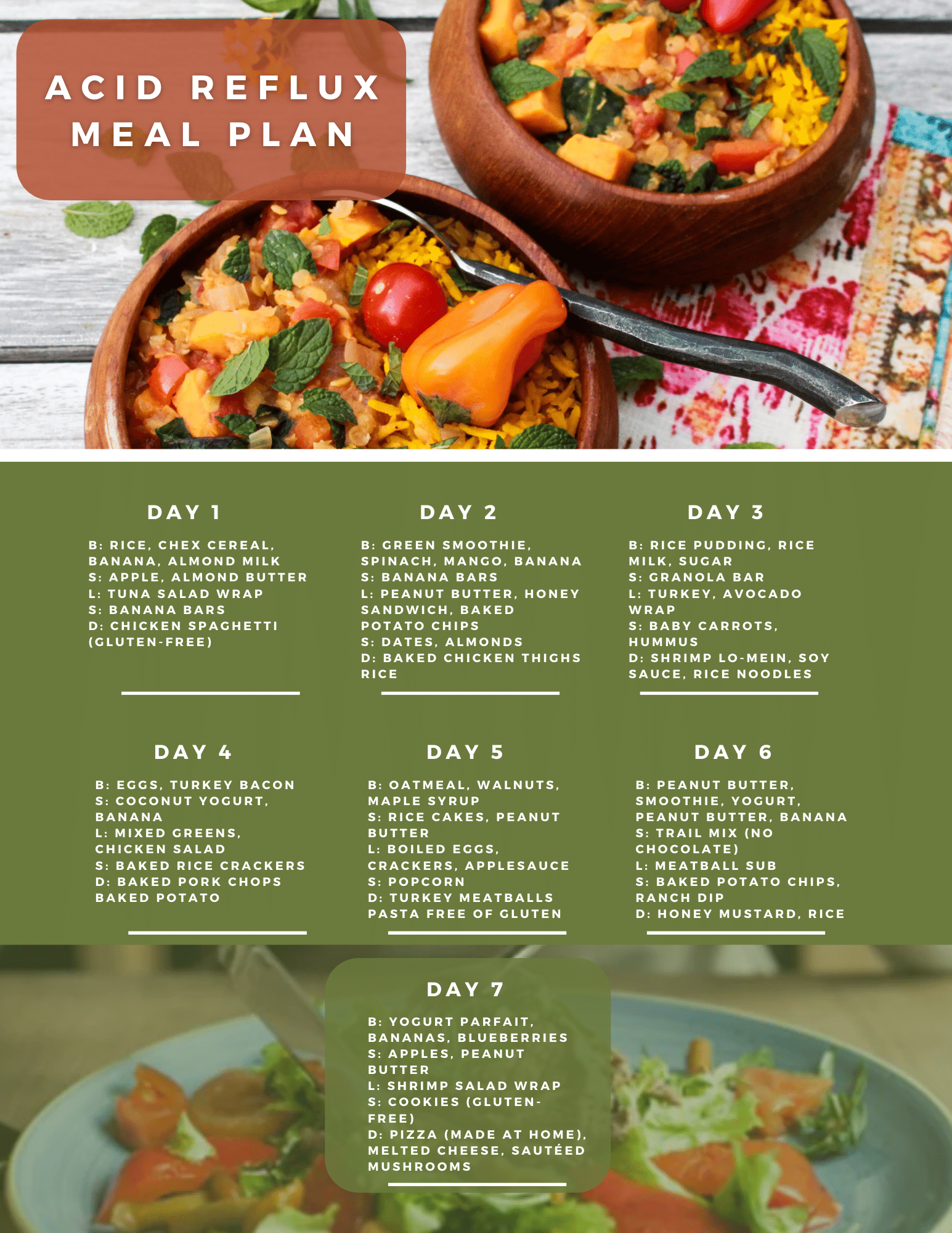 Day 1
Breakfast
Snack
Lunch
Snack
Dinner
Day 2
Breakfast
Snack
Lunch
Snack
Dinner
Day 3
Breakfast
Snack
Lunch
Snack
Dinner
Day 4
Breakfast
Snack
Lunch
Snack
Dinner
Day 5
Breakfast
Snack
Lunch
Snack
Dinner
Day 6
Breakfast
Peanut butter smoothie
Peanut butter
Banana
Snack
Lunch
Snack
Dinner
Day 7
Breakfast
Yogurt parfait
Bananas
Blueberries
 Snack
Lunch
Snack
Dinner
Extra Tips
If you think you're running out of ingredients, you're probably not. Because the acid reflux diet isn't particularly limiting, you should be able to make a great meal even if your cupboard is running low.
Decide what you want to eat for the week before going to the grocery store, prepare a list, and stick to it at the store.
You can increase the number of certain food groups such as vegetables and or protein in your meal to receive extra nutrients for your needs.
Purchasing slow-perishing foods in bulk, such as rice, oats, and other grains, can save you a lot of money.
If you're gluten-sensitive, keep an eye out for gluten in foods like bread and yogurt. Before adding this item to your shopping basket, look at the labels of the products that comprise it.
Tomatoes, onions, citrus fruits, and spices that are acidic and cause discomfort to the lining of the esophagus should be avoided as they trigger acid reflux. Foods and drinks that induce the stomach to distend should be avoided, such as carbonated beverages and large, calorie-dense meals.
Shopping List
Meat
Seafood
Grains
Dairy
Egg whites
Low-fat milk
Soy milk
Rice milk
Feta cheese
Soy cheese
Vegetables
Asparagus
Arugula
Carrots
Celery
Collards
Green beans
Lettuce
Parsley
Spinach
Fruit
Apples
Avocados
Bananas
Berries
Papaya
Peaches
Pears
Prunes
Others
Snacks
Jelly beans
Licorice
Baked potato chip
Conclusion
Dealing with acid reflux isn't easy, which is why the meal plan is recommended as a simple yet effective strategy to deal with this health problem. The acid reflux meal plan is a fantastic method to stay active while maintaining a healthy lifestyle. And the meal plan comes with several benefits, including the ability to regulate and prevent acid reflux and aiding in the development of a healthy lifestyle. So, if you think this diet plan will benefit your health, don't be afraid to give it a shot.