The meal you're going to consume should primarily give your body the nutrients it requires, as well as aid you improve your overall health daily. With the suggested PCOS meal plan, you'll be able to acquire a good supply of the nutrients your body requires, resulting in healthy meals and overall healthiness.
Features
The PCOS meal plan is made up of foods and substances that provide a consistent daily dose of fiber to aid with insulin resistance by slowing digestion and lowering blood sugar levels. This plan's fiber-rich foods include vegetables, fruits, whole grains, beans, lentils, berries, and lean proteins. You can also savor its outstanding flavor because it provides you with a complete burst of flavor in every meal.
Before beginning the meal plan, it is strongly recommended that you consult with a dietician; this will allow you to adapt the plan to your exact dietary needs. This meal plan is particularly great for people who live a sedentary lifestyle.
Benefits of the diet
If you want to eat a healthful diet and eat foods high in nutrients, this meal plan for PCOS is for you. One of its benefits is that it aids in the elimination of foods that add unnecessary processed sugar to your system, causing your blood sugar levels to increase. It's also known for assisting many people in losing considerable amounts of weight in a couple of weeks. The plan is also entirely adjustable since you can adjust it to your keto dietary requirements. The keto diet improves insulin sensitivity, promotes weight reduction, regulates appetite, and improves the PCOS hormone profile; therefore, it's an excellent choice.
You can also use this meal plan to help you keep to a paleo diet. Ingredients in this meal are supplied fresh and natural as is customary to extract the most nutrition. Some women use the paleo diet plan as a way to address PCOS.
Vegetables, fruits, legumes, nuts, beans, cereals, grains, fish, and unsaturated fats like olive oil are all recommended in the Mediterranean diet. Fresh fruits, vegetables, lean proteins, complete grains, and healthy fats are all included in this meal plan. As a result, if you're a fan of the Mediterranean diet, this should also work for you.
This diet is excellent not just for individuals who need to lose weight but also for those who live active lifestyles. It's also a useful approach for diabetics to control their blood sugar. Additionally, if you want to lower your cholesterol, you can use the meal plan.
Meal Plan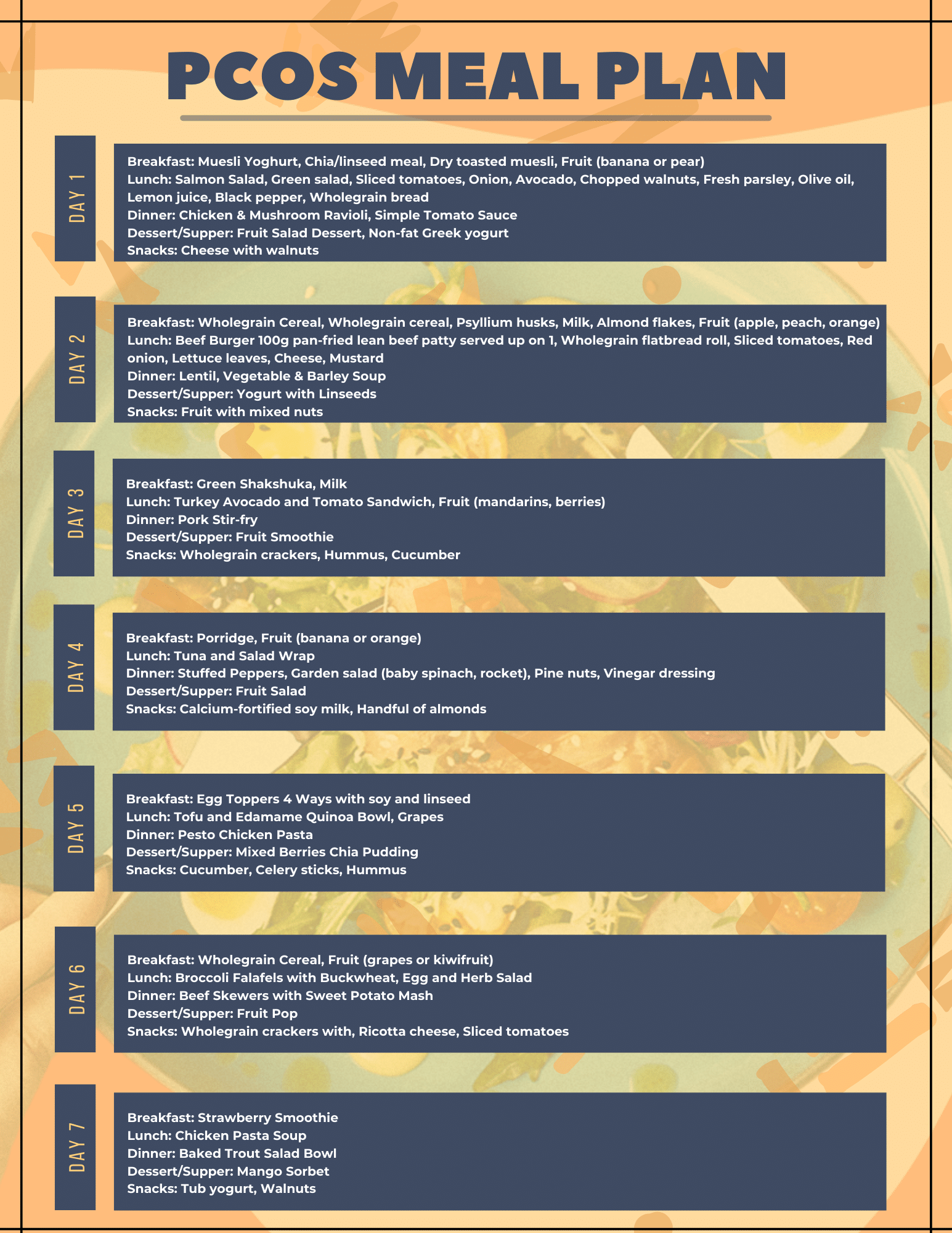 Day 1
Breakfast
Chia/linseed meal
Dry toasted muesli
Fruit (banana or pear)
Lunch
Dinner
Dessert/Supper
Snacks
Day 2
Breakfast
Lunch
Wholegrain flatbread roll
Sliced tomatoes
Red onion
Lettuce leaves
Cheese
Dinner
Dessert/Supper
Snacks
Day 3
Breakfast
Lunch
Dinner
Dessert/Supper
Snacks
Wholegrain crackers
Hummus
Day 4
Breakfast
Porridge
Fruit (banana or orange)
Lunch
Dinner
Garden salad (baby spinach, rocket)
Pine nuts
Vinegar dressing
Dessert/Supper
Snacks
Calcium-fortified soy milk
Handful of almonds
Day 5
Breakfast
Egg Toppers 4 Ways with soy and linseed
Lunch
Dinner
Dessert/Supper
Mixed Berries Chia Pudding
Snacks
Cucumber
Celery sticks
Hummus
Day 6
Breakfast
Wholegrain Cereal
Fruit (grapes or kiwifruits)
Lunch
Dinner
Dessert/Supper
Snacks
Wholegrain crackers with
Ricotta cheese
Sliced tomatoes
Day 7
Breakfast
Lunch
Dinner
Dessert/Supper
Snacks
Extra Tips
Because carbs affect insulin levels, lowering your carb intake may help you control PCOS. Insulin is required for the regulation of blood sugar and the preservation of energy for the body.
To meet your unique demands, adjust the number of fiber components or proteins in each dish. They will aid in the correction of insulin resistance.
Avoid processed meats/foods like hamburgers, hot dogs, candies, sweetened yogurt, and ice creams with added sugar to keep PCOS in control. You should also avoid refined carbohydrates like white bread, spaghetti, and pastries.
Including healthy fats in your diet, such as avocado, olive oil, coconut oil, and nut butter, might help you feel more full after meals while addressing weight loss and other PCOS symptoms. Trans fats are bad for you and should be strictly avoided at all costs.
Exercise is a well-known method for losing weight. An exercise routine can help you lose abdominal fat and increase insulin sensitivity.
Sleep is increasingly being acknowledged as an essential component of overall health. Sleep deprivation has been shown to increase the activity of hunger hormones like ghrelin and cortisol, which may induce you to eat more during the day, perhaps leading to overweight or obesity.
Shopping List
Fruits
Vegetables
Broccoli
Tomato
Leafy greens such as spinach, kale, and collards
Celery
Cucumber
Green beans
Mushroom
Onion
Peppers
Protein
Beans
Lean beef
Yogurt
Chicken
Eggs
Fish
Hummus
Milk (low–fat)
Nuts
Pork
Tofu
Carbohydrates
Bread (whole wheat)
Brown Rice
Whole Grain Cereal
Corn
Sweet Potato
Tortilla
Oats
Quinoa
Fat and Dressings
Conclusion
The PCOS meal plan is an amazing way to stay in shape while maintaining a balanced diet. The meal plan also has several benefits, including the flexibility to incorporate it into other diets and promote a healthy lifestyle. So, if you believe this diet plan can help you enhance your health, don't be afraid to try it.